Apple reseller and service provider Power Mac Center and Microsoft announced the availability of Microsoft Office 2019 for PC and Mac designed for customers who are not yet cloud-connected.
The Office 2019 has new updates of Microsoft's productivity software, including advanced presentation or business report, data management and analysis, email management, among others.
The operating system that supports Office 2019 on PCs is Windows 10 while for Mac, Microsoft supports latest versions of MacOS Sierra.
Using Office 2019, it can open files or documents which were done on early versions of Microsoft Office. It is backward-compatible where all features or previous documents can be opened using the 2019 version. However, the extension file for 2019 cannot be opened on previous versions like 2010 because the extension file is different. It uses the .doc extension file before compared to the current's .docx.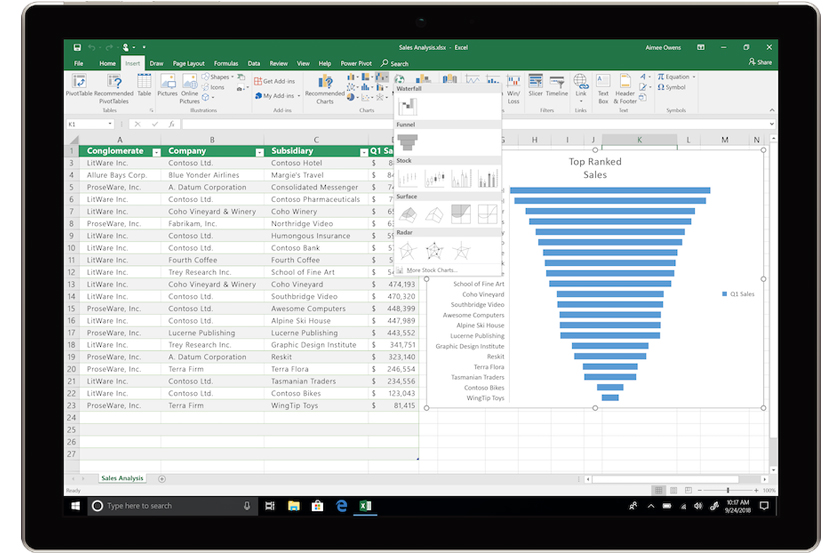 Unlike Office 365 which is subscription-based, Office 2019 is a perpetual software update where a user pays a one-time fee to own and use it on a single PC forever without having to pay an annual subscription fee. Internet access is not necessary in using Office 2019 but for Office 365, it can be used offline and can utilize its full potential if a user has Internet connection.
A subscription-based software, Office 365 offers Word, Excel, PowerPoint, and OneDrive either online or on-premises, optimized for different kinds of devices. It has bundles that caters to various demands and comes with one terabyte (TB) OneDrive cloud storage space accessible on multiple devices over a 12-month subscription period.
Office 365 subscribers are assured that their Office version is always updated especially with the latest security updates and provided with support from Microsoft-trained experts, by phone or by chat.
Fit for students, and other digital enthusiasts, Microsoft Office 365 Personal offers a premium set of fully-equipped Office applications including Word, Excel, PowerPoint, OneNote, Outlook, Publisher, and Access applicable for one user.
The Microsoft Office 365 Business Premium provides tools and applications for organizations with up to 300 people. It is also equipped with features like Exchange (email syncing), Teams (virtual team hangouts), SharePoint (content sharing and management), Skype for Business, Outlook Customer (customer data management), and Bookings (customer-initiated actions), for business to compete better.
Additional paid licenses are required for Office 365 Business Premium to support a full suite of Office apps on multiple iPhones, iPads, and iMacs/MacBooks.
The Microsoft Office 365 Home, with full Office suite and 1TB OneDrive cloud storage per user, is intended for groups of up to six users. It also offers ransomware detection to protect digital assets from cyber attacks.
Through Microsoft Office 2019 Home and Business or Microsoft Office 2019 Home and Student, customers can have the option to install the Classic 2019 version of Office applications which include Word, Excel, PowerPoint, and Outlook installed on only one device.
These Microsoft Office applications are now available at all Power Mac Centers with their respective prices: Office 365 Personal – Php3,790; Office 365 Home – Php4,790; Office Business Premium – Php9,900; Office 2019 Home and Student – Php6,990; and Office 2019 Home and Business – Php17,390.
Customers who purchase any of the participating Apple devices can get a Microsoft Office 365 Personal for free until October 31.