Introducing the DIR-882 AC2600 MU-MIMO Wi-Fi Gigabit Router, a wireless networking solution that can help make the most of a broadband connection because it is designed for high-bandwidth applications such as HD, 4K, and 3D video.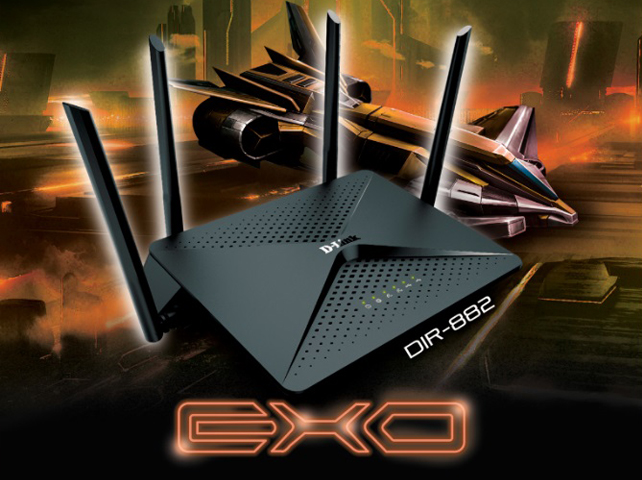 Depending on the ISP on the WAN side, the DIR-882 has a Gigabit WAN port to support faster Internet connection speeds of up to 1000Mbps/1Gigabit. The Wi-Fi speeds on 2.4GHz (up to 800Mbps) and 5GHz (1,732Mbps) add up to a total of 2600Mbps. If these are combined via the four Gigabit LAN ports, the DIR-882 can upgrade network speeds locally while streaming and transferring files for faster Internet access.
On top of the dual-band Wi-Fi, the DIR-882 features improved range, backward compatibility, and QoS engine to help prioritize traffic to ensure uninterrupted bandwidth. With the 4×4 Multiple Users-Multiple Input, Multiple Output (MU-MIMO) antenna configuration, it can get concurrent communication with multiple compatible devices, which means faster speeds and smoother streaming of 4K video and online gaming.
Built based on the latest 802.11ac wave II technology, the DIR-882 boasts four 10/100/1000 Gigabit Ethernet LAN ports for Network Attached Storage (NAS), media centers, and gaming consoles. It has the Super Speed USB 3.0 and USB 2.0 ports. The lightweight portability of the DIR-882—a mere 10.1×7.2×1.8 inches and 1.25 pounds—goes well with its futuristic design.
It has the Wi-Fi Protected Setup (WPS). With the advanced algorithms from D-Link's Smart Connect Technology, one can identify the best connection for a device by letting the DIR-882 automatically distribute the devices to the most optimal wireless network for connection and stability. The Smart Beam technology will detect the location of the connected devices and focus the wireless communication accordingly to provide a wider coverage.
The DIR-882 will be available in the Philippines starting October with an SRP of P11,490.