Introducing the high power audio system, MUTEKI MHC-V90DW, from Sony.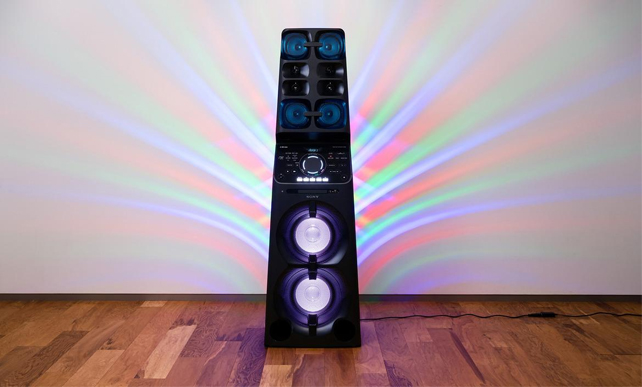 Standing at 170cm tall, the speaker is large. It lights up the night with lighting feature options. The V90DW features a Spread Sound Generator (an open back-type cabinet) that supports the spread and distance of high quality music. To increase the range and spread of sound, front-facing mid-range Angled Speakers and tweeters are angled outward at 20 degrees. The speakers carry a 'horn' like style to maximize the reproduction of sound across the room.
The V90DW supports music services, including Google's Chromecast built-in and Spotify. The touch panel user interface is also back-lit, so there's no fumbling around in the dark when attempting to skip a track.
The speaker lights and multi-color woofer lights change according to the beat and in turn lights up the surroundings all night long. It also has dedicated inputs for a microphone and guitar.
Additionally, with the Sony Music Center and Fiestable mobile apps, the V90DW can wirelessly (via Wi-Fi) synchronize up to 10 compatible speakers . The V90DW connects wirelessly with the already available V77W and can be easily transported due to its built-in casters.
By connecting via the Sony Music Center and Fiestable app, users can adjust the lighting, add sampler and DJ effects as well as control the basic functions of the speaker. With a wave of the hand, various options can be controlled through Gesture Control.