Apple previewed watchOS 10, bringing Apple Watch users a fresh approach to quickly view information with redesigned apps, a new Smart Stack to show relevant widgets right when they're needed, and delightful new watch faces. New metrics, Workout Views, and Bluetooth connectivity for power meters, speed sensors, and cadence sensors arrive for cyclists, while new Compass Waypoints and Maps capabilities further help hikers. The Mindfulness app offers additional tools to support mental health. watchOS 10 is available as a developer beta today, and will be available as a free software update this fall.
"watchOS is the world's most advanced wearable operating system, and it has redefined how people all over the world think of what a watch can do," said Kevin Lynch, Apple's vice president of Technology. "watchOS 10 is a major milestone and an energizing new approach for Apple Watch, introducing a fresh new design for quickly viewing information, delightful new watch faces, new features for cyclists and hikers, and important tools for health."
New Design Language and Navigation
With watchOS 10, redesigned apps provide more information at a glance, and there are new ways to navigate and quickly access content.
"With watchOS 10, we've redesigned the interface, allowing users to experience Apple Watch like never before," said Alan Dye, Apple's vice president of Human Interface Design. "The update gives users the information that matters most to them at a glance, simplified navigation, and a new visual language that takes full advantage of the Apple Watch display. We're also introducing the Smart Stack, offering quick access to proactive and relevant information, right from the watch face."
Pause playback of video: The Smart Stack
Introducing the Smart Stack, which enables users to see timely information that adapts to their context.
Apple Watch apps, including Weather, Stocks, Home, Maps, Messages, World Clock, and others, now utilize more of the Apple Watch display for more glanceable information. The Activity app on Apple Watch and the Fitness app on iPhone make tracking daily movement even easier with more details, improvements to sharing, a redesigned trophy case, and Apple Fitness+ trainer tips.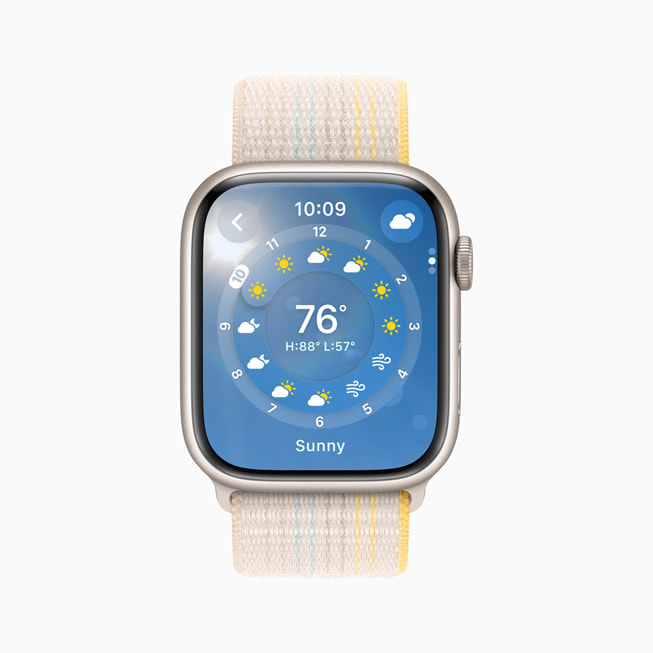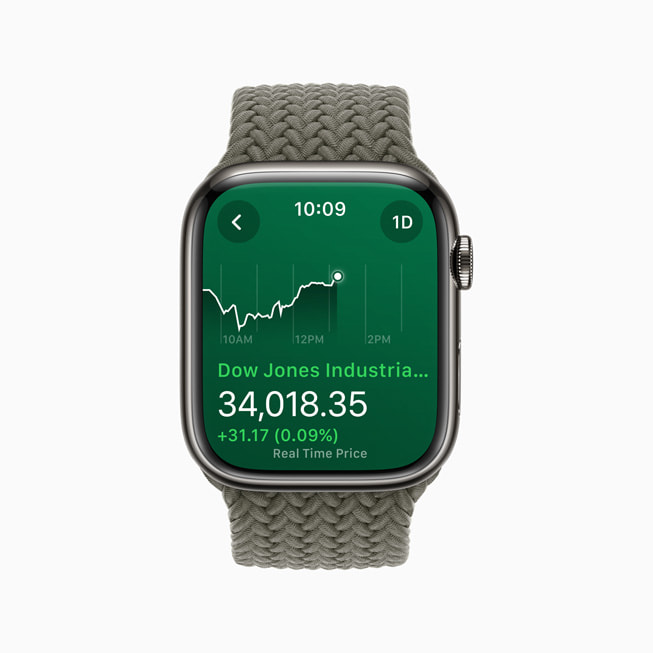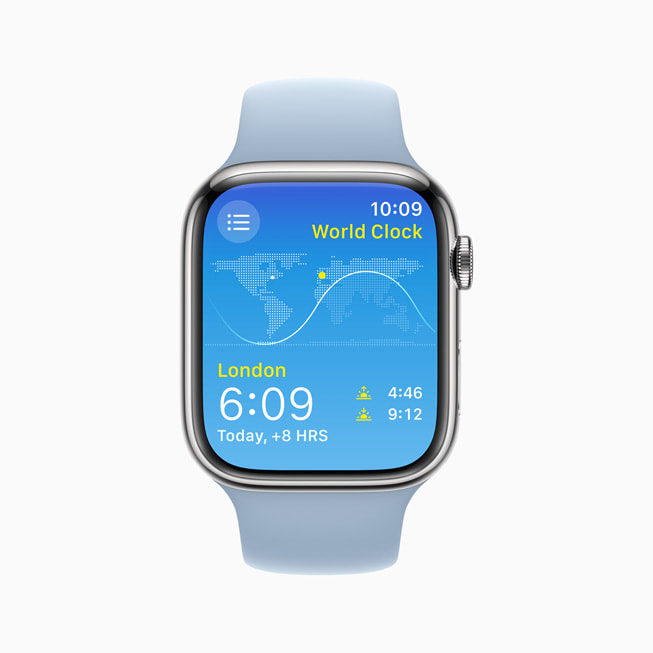 A new Smart Stack contains widgets that display timely information that adapts to the user's context and can be revealed with a simple turn of the Digital Crown from any watch face. For example, at the beginning of the day, Weather will show the forecast, or, when traveling, the Smart Stack will show boarding passes from Wallet. Calendar and Reminders will reshuffle to the top to display upcoming meetings or tasks, and apps that are running, such as Podcasts, will also move up so they are readily available. Smart Stack also enables users to enjoy a beautiful watch face, like Portraits, while still offering a way to quickly access information they care about.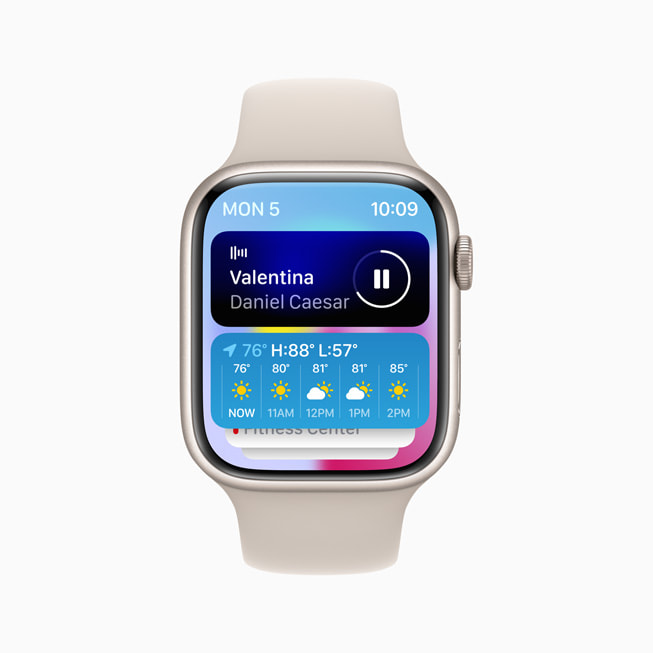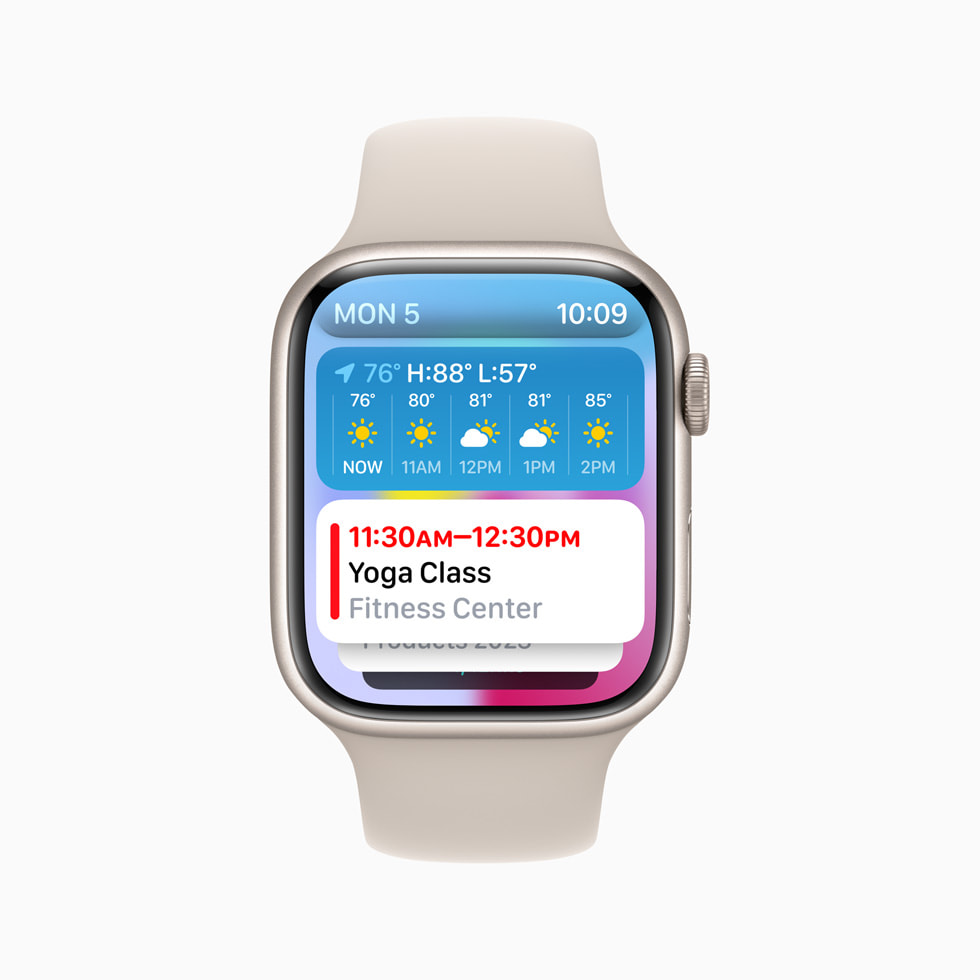 Developers can also use the new design language to update their apps. For example, Streaks now utilizes the entire display to easily show progress and access tasks, the NBA app makes keeping up with a favorite team even more compelling with team colors and new game details, and with Waterllama's redesign, users can quickly glance at their hydration from the last seven days with just a turn of the Digital Crown.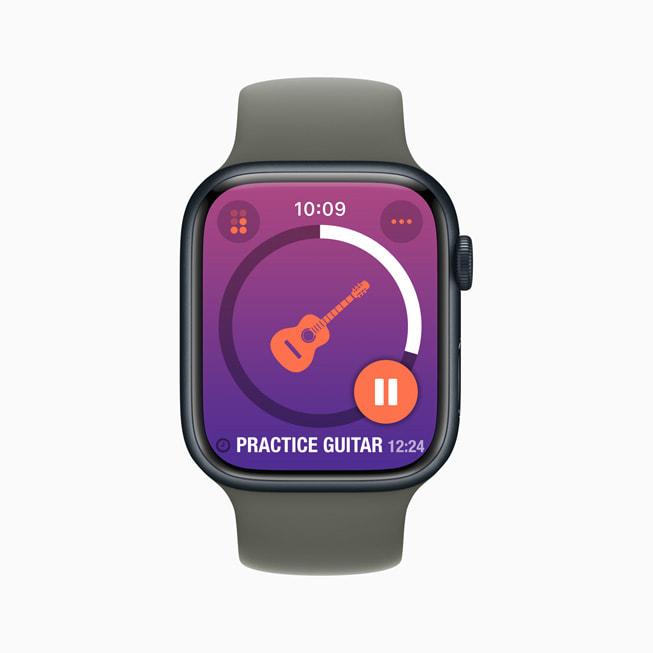 Control Center is now accessible using the side button, making it easy to quickly open it at any time, over any app. A double-click of the Digital Crown reverts back to any apps used recently.
New Watch Faces
watchOS 10 introduces two new artistic and joyful watch faces: Palette and Snoopy. The Palette face depicts time in a wide variety of colors using three distinct overlapping layers, and as the time changes, the colors on the display also shift.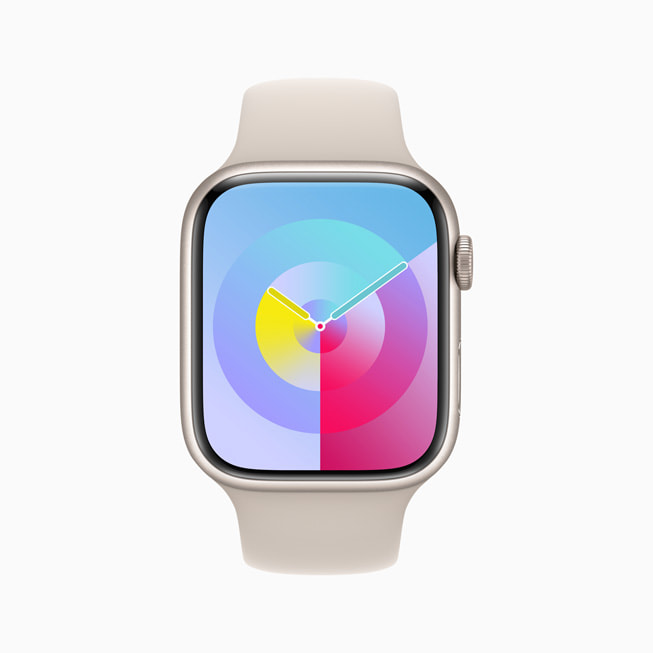 Additionally, the beloved comic strip Peanuts comes to life on Apple Watch with a new watch face featuring Snoopy and Woodstock. The characters interact and play with the watch hands, react to the weather conditions in the area, or even get active when the user does a workout.
Pause playback of video: Peanuts Watch Face
The beloved comic strip Peanuts comes to life on Apple Watch with the new Snoopy face.
Cycling
Apple Watch is a great device for cyclists, with features including automatic Workout reminders, calorimetry for e-biking, and Fall Detection. watchOS 10 takes this popular activity even further with advanced new metrics, views, and experiences.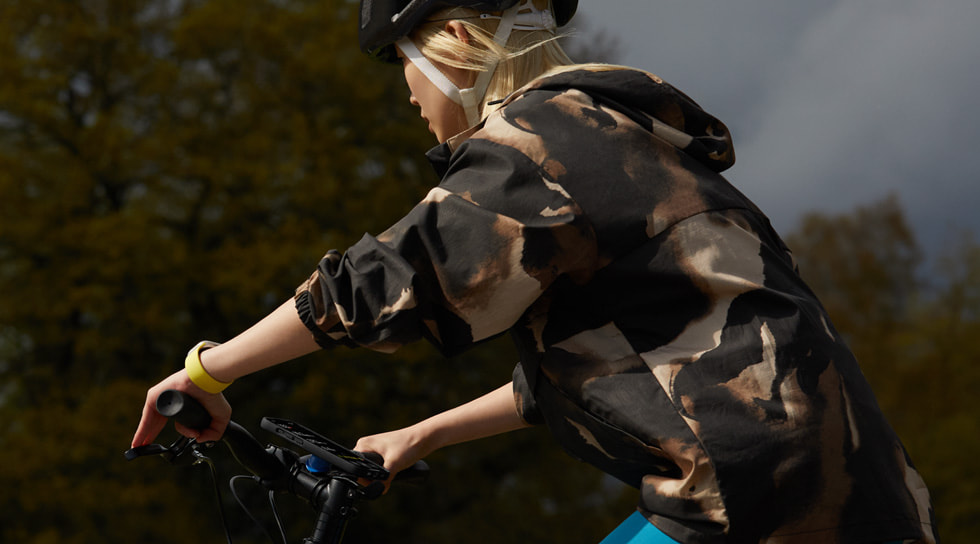 When a cycling workout is started from Apple Watch in watchOS 10, it will automatically show up as a Live Activity on iPhone and, when tapped, will utilize the full screen. Workout Views, such as Heart Rate Zones, Elevation, Race Route, Custom Workouts, and a new Cycling Speed view, have been optimized for the display size of iPhone, which can be mounted to a bike for convenient, easy viewing during a ride.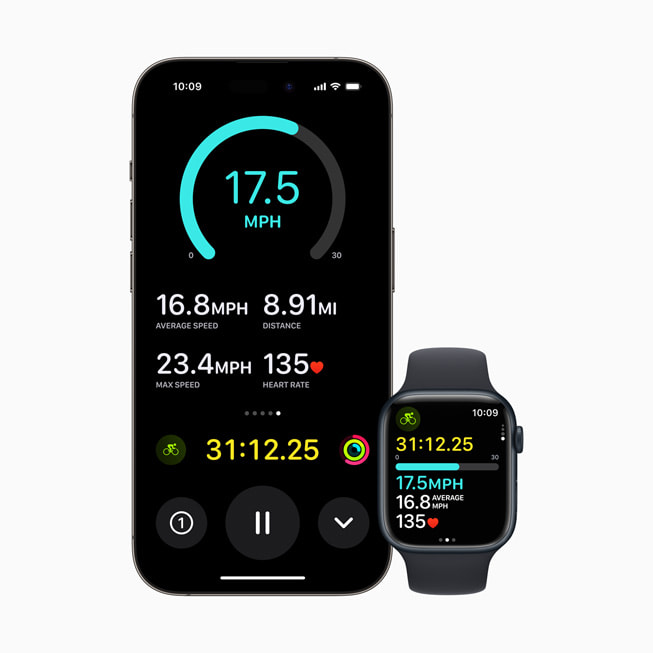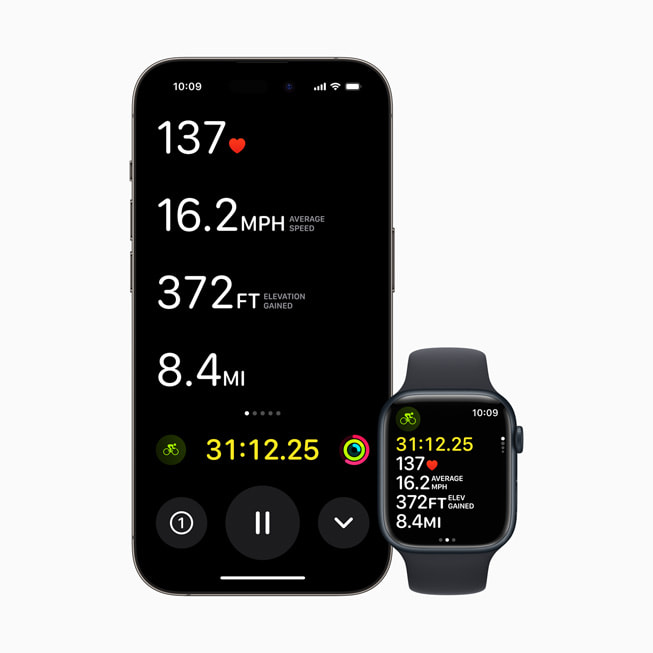 Apple Watch can now automatically connect to Bluetooth-enabled cycling accessories, such as power meters, speed sensors, and cadence sensors. This enables brand-new metrics, including cycling power (watts) and cadence (RPM), and additional Workout Views, including Power Zones. Bluetooth connection is supported for Indoor and Outdoor cycling workouts, as well as GymKit.
New algorithms combining sensor data from Apple Watch and connected power meters can estimate Functional Threshold Power (FTP), the highest level of cycling intensity that a rider could theoretically maintain for an hour. Using FTP, Apple Watch calculates personalized Power Zones, used to easily see the current zone and track how long is spent in each, which is an effective and popular way of improving performance.
Hiking
The Compass app on Apple Watch is a helpful tool for exploring the great outdoors. With watchOS 10, Compass automatically generates two new waypoints: A Last Cellular Connection Waypoint will estimate the last place with cellular reception, which may be useful for checking messages or making a call. In case of emergencies, a Last Emergency Call Waypoint will estimate where on the route their device had the last connection to any available carrier's network so that an emergency call can be made.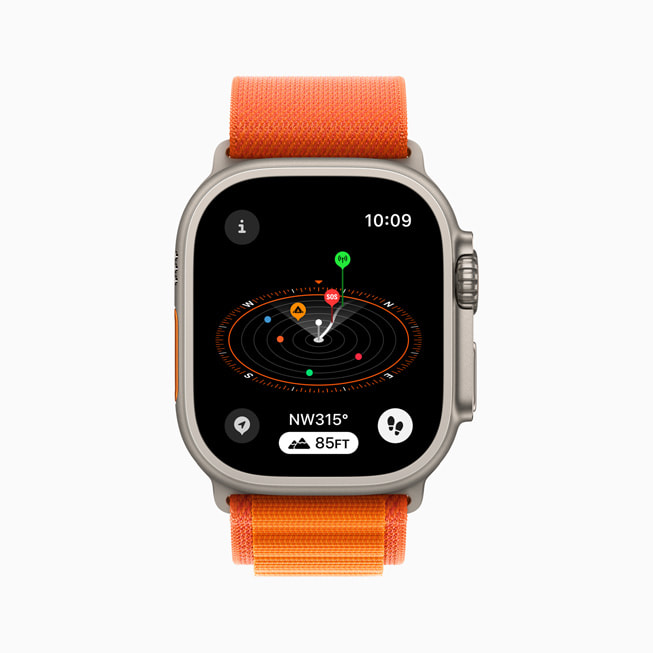 When preparing routes, a new Elevation view uses altimeter data, offering a three-dimensional view of saved waypoints. And starting in the U.S., Apple Maps displays a new topographic map featuring contour lines, hill shading, elevation details, and points of interest. Users can also search for nearby trails and trailheads, with place cards that include detailed information, like trail length, type, and difficulty.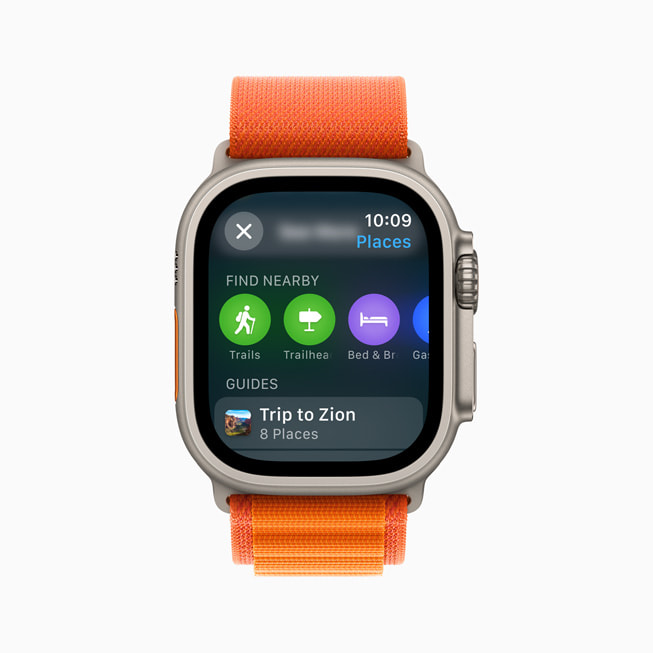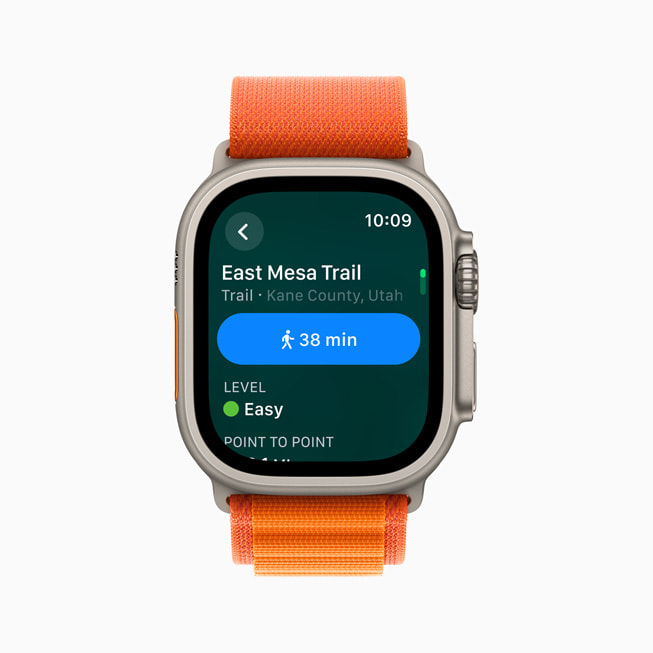 Mental Health
Mental health is as important as physical health, and research shows that reflecting on state of mind can help build emotional awareness and resilience. With the Mindfulness app in watchOS 10, users can discreetly and conveniently log their momentary emotions and daily moods. Users can turn the Digital Crown to scroll through engaging, multidimensional shapes to choose how they are feeling, select what is having the biggest impact on them, and describe their feelings.
Pause playback of video: The Mindfulness App
With the Mindfulness app, users can discreetly and conveniently log their momentary emotions and daily moods.
In the Health app in iOS 17 and iPadOS 17, users can see valuable insights to identify what might be contributing to their state of mind — whether it's associations or lifestyle factors, like sleep or exercise. Additionally, depression and anxiety assessments often used in clinics are now easily accessible in the Health app and can help users determine their risk level, connect to resources available in their region, and create a PDF to share with their doctor.
Vision Health
Myopia, or nearsightedness, is the leading cause of vision impairment globally. To reduce the risk of myopia, the International Myopia Institute recommends children spend at least 80-120 minutes a day outdoors. With watchOS 10, Apple Watch introduces the ability to measure time spent in daylight using the ambient light sensor. Users can view this information in the Health app on iPhone or iPad.
Time spent in daylight can provide additional benefits to physical and mental health for all ages. And children who do not have their own iPhone can use Family Setup to pair their Apple Watch to their parent's iPhone, giving parents visibility into the amount of time their kids are spending in daylight with Health Sharing.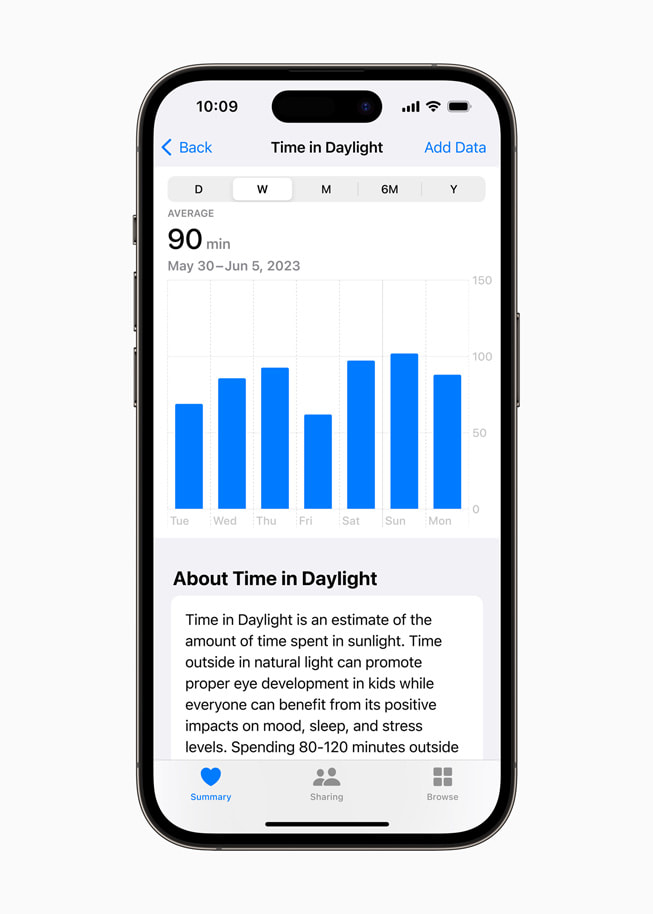 Viewing something like a device or a book too closely has also been documented as a myopia risk factor. The new Screen Distance feature uses the same TrueDepth camera that powers Face ID in iPad and iPhone to encourage users to move their device farther away after holding it closer than 12 inches for an extended period of time.
When a device is locked with a passcode, Touch ID, or Face ID, all Health app data, including mental health and vision health data, is encrypted.
Additional watchOS 10 updates include:
NameDrop allows users to easily share contact information by bringing Apple Watch close to someone else's iPhone. Apple Watch users can also use NameDrop by tapping the Share button in My Card in the Contacts app, or by tapping the My Card watch face complication, and then bringing Apple Watch face to face with someone else's Apple Watch.
Offline maps on iPhone provide access to turn-by-turn navigation, estimated time of arrival, places in Maps, and more while away from Wi-Fi or cellular services. These features can also be used on a paired Apple Watch that is in range of its companion iPhone.
Users can now initiate playback of a FaceTime video message and view it directly on Apple Watch. Additionally, Group FaceTime audio is now supported on Apple Watch.
The Medications app can send follow-up reminders if a medication hasn't been logged 30 minutes after the scheduled time.
Apple Fitness+ introduces Custom Plans, a new way to receive a custom workout or meditation schedule based on day, duration, workout type, and more; Stacks, which allows users to select multiple workouts and meditations to do seamlessly back to back; and Audio Focus, which gives users the ability to prioritize the volume of the music or the trainers' voices.
Enterprise
Apple Watch offers enterprise customers features to enhance productivity and safety in the office or in the field, such as hands-free communication and responding to notifications on the go, or Fall Detection on a job site. watchOS 10 introduces support for Mobile Device Management (MDM), enabling enterprise customers to remotely and centrally install apps and configure accounts on a fleet of devices, with features such as passcode enforcement, and configuring Wi-Fi and VPN settings. With this update, Apple Watch can further help improve employee wellness, productivity and health, and safety monitoring.
APIs for Workout App Developers
watchOS 10 includes new APIs for workout app developers that will allow them to create compelling new experiences. The powerful motion sensors on both Apple Watch Series 8 and Apple Watch Ultra can detect rapid changes in velocity and acceleration, such as when swinging a golf club or a tennis racket. Now, developers will have access to this high-frequency motion data, so apps like SwingVision can analyze serve pronation, which is the twisting motion of the forearm, wrist, and hand, and Golfshot can detect small wrist movements to refine a golf swing.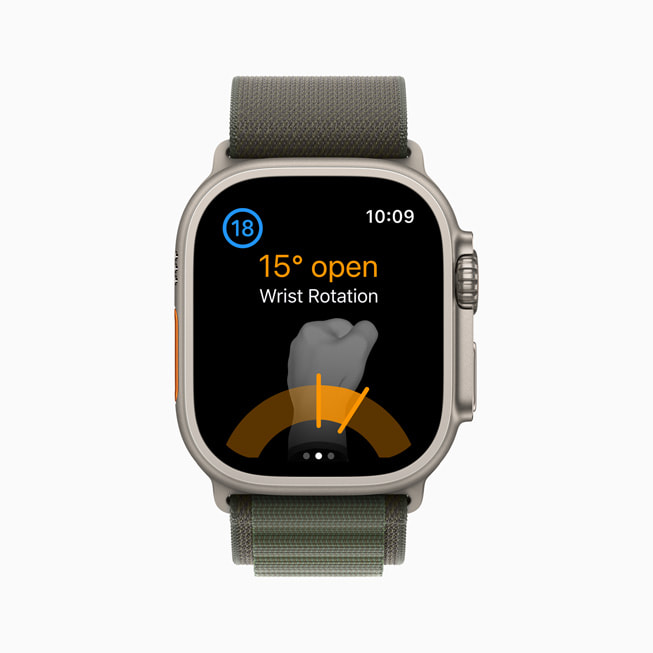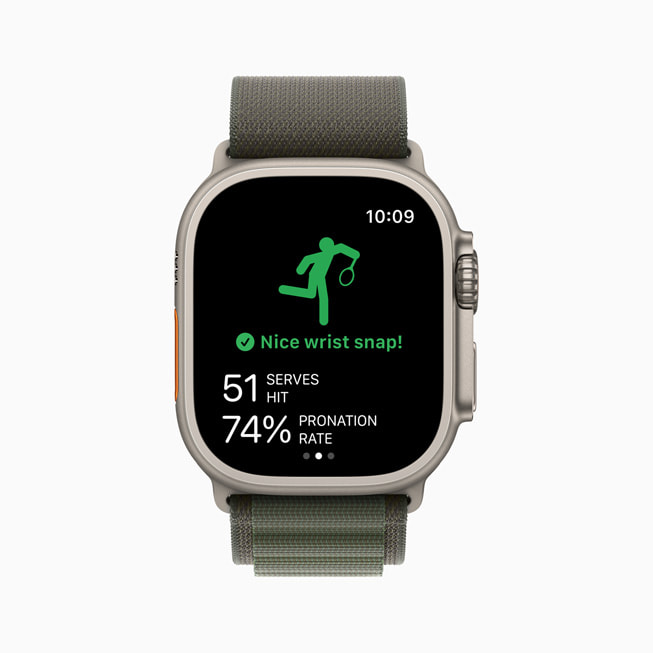 Popular coaching platforms such as TrainingPeaks can use a new API to create a Custom Workout that can be imported directly into the Workout app. App developers using HealthKit for workouts will be able to provide validated calories for golf workouts, as the variation between using a golf cart or walking on the green is now identified. Developers can also access speed, cadence, and power metrics for cycling, plus mirror workouts from Apple Watch to iPhone.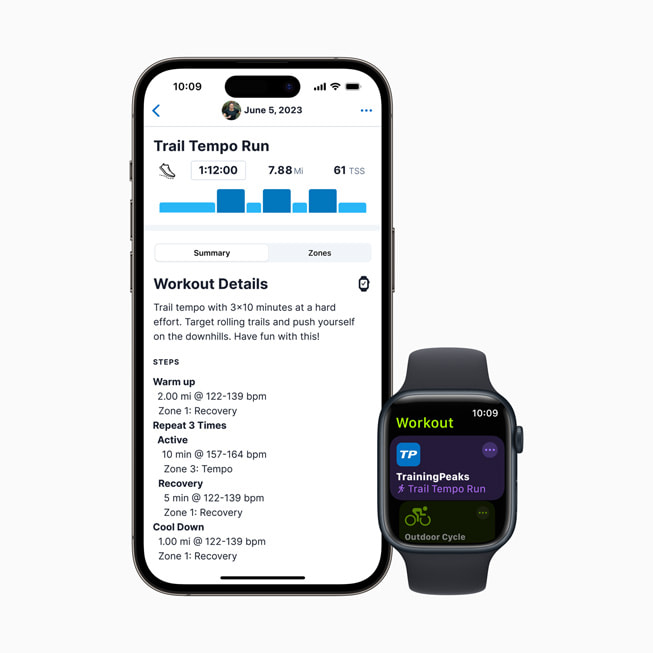 Availability
The developer beta of watchOS 10 is available to Apple Developer Program members at developer.apple.com starting today. A public beta will be available to watchOS users next month at beta.apple.com. watchOS 10 will be available this fall as a free software update for Apple Watch Series 4 or later paired with iPhone Xs or later, running iOS 17. Some features may not be available in all regions or all languages, or on all devices. Features are subject to change. For more information, visit apple.com/watchos/watchos-preview.