Canon introduced in the local market new cameras and ink efficient printers designed for businesses, students, vloggers, and content creators. These devices include the new compact, lightweight APS-C mirrorless EOS R50 camera; the latest entry full-frame EOS R8 camera; and new additions to PIXMA Ink Efficient G series printers.
Canon EOS R50
As the newest addition to Canon's growing APS-C mirrorless camera with RF mount, the entry-level EOS R50 camera is packed with many fun, creative tools, and automated features that are perfect for vlogging enthusiasts, and content creators who are looking for new upgrades in cameras.
"With the exciting new features of the EOS R50, we are confident that this will again be a crowd favorite amongst everyday vloggers and content creators," said Benny Yu, head and director of consumer imaging and information division, Canon Marketing (Philippines).
The EOS R50 is capable of producing high-quality cropless 4K 30p video oversampled (more information to reduce artefacts and other issues) from 6K worth of data. This is due to its 24.2 megapixels APS-C format image sensor which is three times larger than the 1-inch sensor on the latest smartphones, for a more detailed images and videos.
The device, which is about 375g lighter in weight, is perfect for vlogging. It comes with two different Movie IS (Image Stabilizer) levels ('Enhanced' and 'On') that digitally perform 5-axis camera shake correction, enhanced when combined with an RF lens with in-lens IS. When the monitor is in selfie mode, the default Movie IS: "Enhanced" mode optimizes image stabilization for handheld wide-angle shooting, correcting the unwanted motion that tends to become more obvious at the edges of wide-angle images. To switch between two levels, simply tap the "Wide-angle" button to avoid excessive close-ups.
For close-up demos, it has an intelligent focus switching feature to quickly and automatically switch focus to the subject closest to the camera. It also has an auto leveling mode which automatically corrects horizontally tilt. Apart from these, the device has a Camera Connect smartphone app which easily transfers videos and JPEG photos from your camera to a smartphone either through a wireless Wi-Fi or wired USB-C connection.
Available in black and white, the EOS R50 has two kit options: with the RF-S18-45mm f/4.5-6.3 IS STM, and with the RF-S18-45mm f/4.5-6.3 IS STM and RF-S55-210mm f/5-7.1 IS STM.
Now available, the new Canon EOS R50 is locally priced at PhP54,998 for the Kit variation (with RF-S18-45STM) and BODY ONLY variation at PhP47,998 and can be purchased in all Canon Image Squares, Canon Online Flagship Stores and select authorized partner retailers nationwide. Buyers of EOS R50 can get a free 64GB SD card, and access to discounted rates for the Basic Videography Workshop.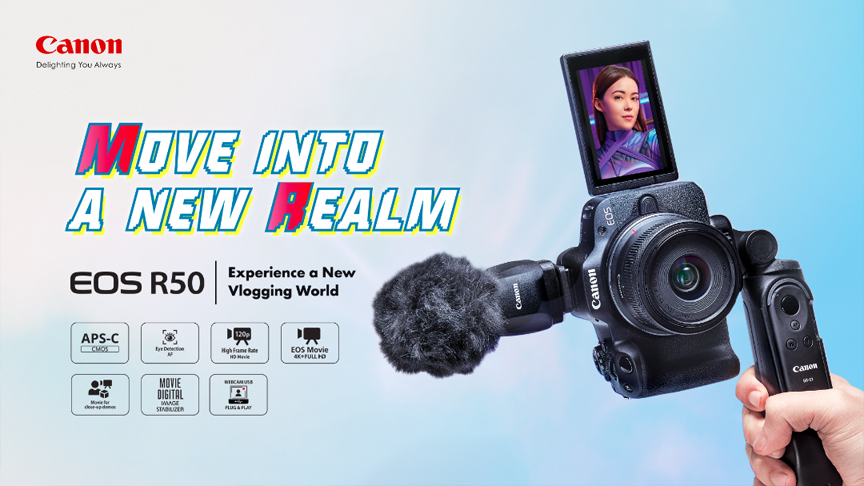 Canon EOS R8
The Canon EOS R8, a new full-frame camera, combines the powerful video and still shooting features of the EOS R6 Mark ll such as Canon Log 3 and up to 40 fps continuous shooting with the portability of the EOS RP.
Weighs approximately 461g and 20g lighter than the EOS RP, the camera keeps users agile, giving them an edge when it comes to creative camera angles and transitions. It is also equipped with Movie Digital IS which digitally performs tilt correction as well as 5-axis image stabilization during video shooting, so stable handheld videos can be ensured even when using lenses with no optical image stabilization (Optical IS). When combined with a lens that has Optical IS, the two systems perform coordinated control for enhanced image stabilization results.
The EOS R8 has a 24.2MP CMOS image sensor which enables 6K data to be obtained from its entire width, producing high-quality cropless oversampled 4K UHD footage at up to 60p. It also has heat suppression measures which allow the shoot up to 4K 30p with no recording restriction, and up to 30 minutes at 4K 60p.
Focus is crucial in both photography and videography and is near impossible to correct in post-production. The EOS R8 nails it effortlessly during both still and video shooting with the same Dual Pixel CMOS AF ll technology as the EOS R6 Mark ll.
Having EOS iTR AF X system which detects and tracks people, animals, and vehicles by deep learning as well as identifies other subjects and locks onto them using characteristics like shape, color, and brightness, it helps the EOS R8 to acquire focus in as fast as 0.03 seconds, and tract subjects tenaciously over 100% x 100% (horizontal x vertical) of the image frame.
The camera works even in low light with its high native ISO speed ranges of up to ISO 102,400 (still shooting) and ISO 25,600 (video shooting) to enhance low light usability. It also has professional cinema camera features such as focus breathing correction, advance visual aids for exposure adjustment and setting, aspect marker display for easier framing of video to fit various social media dimensions, and support for plug-and-play direct transmission of audio and Full HD video to a computer with just a USB connection.
"The EOS R8 offers real value-for-money for video professionals and advanced content creators who want to get more serious about video and require a full-frame camera capable of recording source footage that fits into more advanced production workflows," Yu said.
Available starting mid-April, the new Canon EOS R8 is priced at PhP122,998 for the Kit variation (with RF24-50mm f/4.5-6.3 IS STM) and BODY ONLY variation at PhP107,998 and can be bought in all Canon Image Squares, Concept Stores, Canon Online Flagship Stores and select authorized partner retailers nationwide.
Customers of EOS R8 can get a free 128GB SD card and a free Lens Loan Voucher worth PhP5,000, and an access to a discounted rates for the Basic Videography Workshop.
Canon PIXMA G series
Canon also unveiled the newest additions of new refillable ink tank printers to its PIXMA Ink Efficient G series lineup which consists of PIXMA G4770, G3730, G2730, and G1730. These printers are compatible with new low-cost ink bottles that allow users to buy and print according to their actual printing needs. It also maximizes productivity, yielding up to 7,600 pages for monochrome documents and 8,100 pages for color documents from a single set of ink.
The PIXMA Ink Efficient G4770 is a print, scan, copy, and fax printer with a 35-sheet capacity automatic document feeder design. This all-in-one printer is ideal for families who find scanning documents with mobile phone apps inadequate, or home offices with multi-page documents to digitize.
The PIXMA Ink Efficient G3730 and G2730 all-in-one printer offer improved ease of use for print, copy, and scan functions designed to boost productivity at home and home offices. The G3730 features wireless connectivity and supports mobile printing and scanning with smart devices on a local network or to cloud services, offering wireless mobility and flexibility.
The PIXMA Ink Efficient G1730, on the other hand, is designed for students and home users who need a compact and simple printer that meets basic printing needs.
Users of these refillable inkjet printers have the option to purchase ink supplies based on their anticipated print volume. For moderate print volumes, users can now opt for low-cost ink refill bottles that deliver up to 3,900 pages for black-and-white documents and 4,600 pages for color documents. Users with very high print volumes can also opt for standard ink bottles that deliver up to 7,600 pages for black-and-white documents and 8,100 pages for color documents. This significantly reduces the need for frequent ink tank refills.
The printers are equipped with Canon PRINT Inkjet/SELPHY app so users can set up the printers wirelessly and enjoy a smooth and seamless connection. They can print, copy, and scan effortlessly from mobile devices, check printer status and ink levels, and connect to the cloud for more flexible control.
There is also the Easy-PhotoPrint Editor app which makes printing simple for business and personal use. Available for iOS, Android OS, Windows and macOS, this app has ready-to-use templates, photo layouts, postcards, collages, calendars, photo IDs and even business cards can be created in minutes. Apart from this, the Easy-Layout Editor app for Windows OS platform also supports editing and content-layout for documents, web pages, and many other file types. The Collation Print feature puts files with different file formats together, before sending them as a single document for printing. Users can also choose the Free Layout feature to arrange and print the content.
Now available, the new PIXMA Ink Efficient G series printers are priced as follows: G4770 – PhP13,995; G3730 – PhP10,995; G2730 – PhP8,795; and G1730 – PhP6,595.