Apple introduced Mac Studio and Studio Display, an entirely new Mac desktop and display designed to give users everything they need to build the studio of their dreams.
A breakthrough in personal computing, Mac Studio is powered by M1 Max and the new M1 Ultra, the world's most powerful chip for a personal computer. It is the first computer to deliver an unprecedented level of performance, an extensive array of connectivity, and completely new capabilities in an unbelievably compact design that sits within arm's reach on the desk. With Mac Studio, users can do things that are not possible on any other desktop, such as rendering massive 3D environments and playing back 18 streams of ProRes video. 
Studio Display, the perfect complement to Mac Studio, also pairs beautifully with any Mac. It features an expansive 27-inch 5K Retina display, a 12MP Ultra Wide camera with Center Stage, and a high-fidelity six-speaker sound system with spatial audio. Together, Mac Studio and Studio Display transform any workspace into a creative powerhouse. They join Apple's strongest, most powerful Mac lineup ever, and are available to order today, arriving to customers beginning Friday, March 18.
"We couldn't be more excited to introduce an entirely new Mac desktop and display with Mac Studio and Studio Display," said Greg Joswiak, Apple's senior vice president of Worldwide Marketing. "Mac Studio ushers in a new era for the desktop with unbelievable performance powered by M1 Max and M1 Ultra, an array of connectivity, and a compact design that puts everything users need within easy reach. And Studio Display — with its stunning 5K Retina screen, along with the best combination of camera and audio ever in a desktop display — is in a class of its own."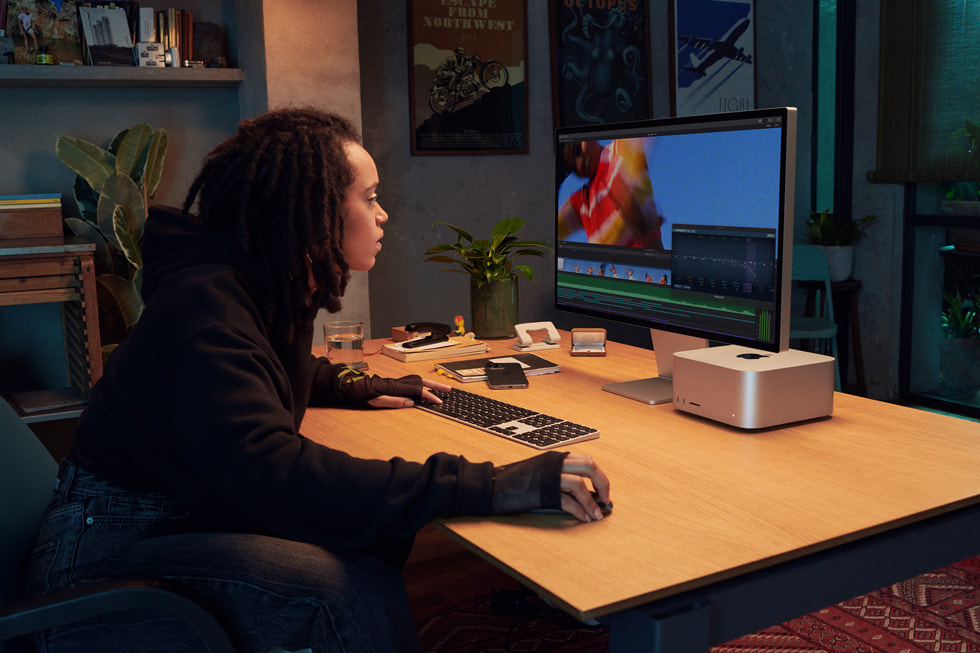 Mac Studio
Mac Studio delivers even more capability to users who are looking to push the limits of their creativity — with breakthrough performance, a wide range of connectivity for peripherals, and a modular system to create the perfect setup.
Revolutionary Desktop Design Enabled by Apple Silicon
With the power and efficiency of Apple silicon, Mac Studio completely reimagines what a high-performance desktop looks like. Every element inside Mac Studio was designed to optimize the performance of M1 Max and M1 Ultra, producing an unprecedented amount of power and capability in a form factor that can live right on a desk. Built from a single aluminum extrusion with a square footprint of just 7.7 inches and a height of only 3.7 inches, Mac Studio takes up very little space and fits perfectly under most displays.
Mac Studio also features an innovative thermal design that enables an extraordinary amount of performance. The unique system of double-sided blowers, precisely placed airflow channels, and over 4,000 perforations on the back and bottom of the enclosure guide air through the internal components and help cool the high-performance chips. And because of the efficiency of Apple silicon, Mac Studio remains incredibly quiet, even under the heaviest workloads.