Addressing the problem of skills mismatch where available jobs in the labor market do not match the skills of graduating college students, Amazon Web Services (AWS) has developed and launched its first-in-the-world event, Siklab Pilipinas, a four-day intensive technology skills training event that helps equip graduating students as well as educators in the Philippines with cloud computing skills.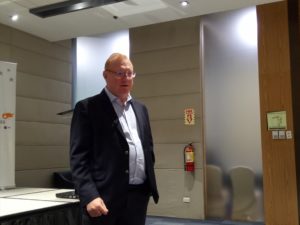 The Siklab Pilipinas 2018 event, which targets participants of around 800 students and 200 educators from higher education institutions, is currently being held at SM Aura Convention Center in Bonifacio Global City. It will run until June 7.
Peter Moore, regional managing director, Worldwide Public Sector, Asia-Pacific and Japan at AWS, said that Siklab Pilipinas was launched to address concerns about students graduating from university without the right skills the workplace needs today. One of these skills is cloud computing.
Vincent Quah, regional head for Education, Research and Not for Profit, APAC Public Sector at AWS, likewise said that "we believe this is the right time for us to be doing something like Siklab Pilipinas as according to a report published by the World Economic Forum, 35% of core skills will change between 2015 and 2020 which means that on the average, 35% of what you have learned will change."    
Quah also noted that for the last three years, cloud computing skill has been the No. 1 skill that employers are looking for.
Moore said they implemented the training in the Philippines because a lot of its population is young and believe they can get a very good outcome and opportunity for them.
"The Philippines has a tremendous picture ahead of it if they can really take advantage of its precious asset," said Moore. "We believe that globally, not just in the Philippines, the classical education that students are getting in the university is missing out on some very important new capabilities when it comes to what is necessary in entering the workforce, with cloud computing as a primary one." 
What AWS does is supplementing the tertiary education with the Siklab Pilipinas event training which provides students with all skills they would need to be able to land a job, according to Moore. 
There are no academic qualifications needed in Siklab Pilipinas program, according to Moore.
 "What we are looking for is to give students the opportunity to demonstrate their affinity to pick up new information and knowledge of Amazon Web Services. We want potential employees to come along during the workshops to see students in action and use their criteria to tap some of them. The criteria is really the people who are about to enter the workforce," Moore said.
The Siklab Pilipinas is developed based on the contents of AWS for AWS Cloud. It is a combination of lectures based on a set of training programs called Cloud Practitioners Essentials (CPE) and hands-on trainings.
Participants will study everything from the basic of cloud computing to different types of structured and unstructured database to different types of analytics tools and services, looking at some machine learning, AI services that we have to bring up insights and data that was never possible before, according to Moore.
Quah shared the knowledge of the students will then be checked and measured by what they understood and learned, and what they have applied in terms of information, and applications. Their checks in quizzes are important as these will elevate them if they want to have real skills.
Once they have learned contents, there would be hands-on experiences and knowledge-check to give them the opportunity to do something. This is called the AWS GameDay Hackathon where participants will get to solve challenges related to real-life scenarios, said Quah.
Moore said once participants finished the trainings, they will get a Certificate of Completion with the intention that these participants will land a job. These certifications are also available for educators or the faculty themselves who also become part of this AWS Educate program.    
AWS has worked with 20 potential employers to participate by hosting a job fair in the event. Some of these organizations include ABS-CBN, Coins.ph, eScience, Globe, Jollibee, Max's Group, Meralco, QuadX, Robinsons Retail Holdings, Titanium Technologies, and Union Bank.      
Asked if they have established partnership with the government on skills development, Moore said they have worked with the Department of Education to ensure that they are supported with what they are doing. He added that it is an opportunity to work with the government on helping re-skilling the workforce because they believe there are lots of people in the workforce that needs re-skilling in order to take advantages of new jobs that will come about.