Demonstrating eight years of partnership, Philippine Seven Corporation (PSC), the licensor of global convenience store chain giant 7-Eleven, and Chevron Philippines Inc. (CPI), the marketer of the Caltex fuel brand, opened the 100th 7-Eleven-Caltex store at the Aseana Square along Macapagal Avenue in Pasay City. The newly opened C-store brings to 2,209 the total number of 7-Eleven stores in the country.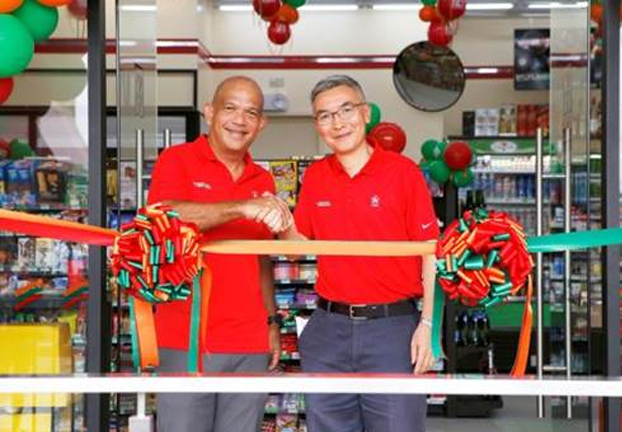 According to Louie Zhang, the new GM for Philippine Products of CPI: "Our eight years of partnership has built success and confidence and will continue to inspire us to bring this business to even greater heights. We are looking forward to seeing more joint endeavours, with this milestone serving as a foundation for more successful projects ahead."
For his part, Jose Victor Paterno, president and CEO of PSC, congratulated the team-up of PSC and CPI, acknowledging how it revolutionized the brand of convenience in the country while strategically leveraging the marketing and retail strengths of both organizations. He said the two organizations continue to share a commitment to serve and provide services for customers – from everyday passers-by to motorists in the metro as well as in key provinces and cities in the country.
"In other countries such as the US, convenience and fuel go side by side. In the Philippines, while car ownership is still an emerging market, we see this increasing segment as a factor that will help accelerate our expansion, more store openings together with Chevron," said Paterno.
The creation of the 7-Eleven-Caltex store format, according to Paterno, has spawned greater convenience features that allow consumers access to round-the-clock services and grab-and-go food, grocery supplies and fuel refilling – all in one location.
"The value-added offering for customers and motorists, which 7-Eleven stores and Caltex refilling stations have served dutifully in the past eight years, has and still is dynamically reshaping the landscape of modern retail convenience in the Philippines. We are proud to be long-standing partners in the industry. As the pioneers of this concept, we are looking forward to deliver more products, services and exciting deals to our loyal patrons," he said.
Francis Medina, PSC business development unit head, said that in line with its 2017 expansion target, the company will continue to scale up its C-store network with the opening of 25 more 7-Eleven-Caltex branches in the provinces, specifically in the Visayas and Mindanao. These new territories, according to him, will further cement 7-Eleven's dominant presence across the country. The new territories that will open up hopefully by next year include Region 2, Mindoro (Calapan) and Tacloban (Ormoc).