honestbee has been launched as an all-in-one, on-demand concierge delivery service app. Available for free download, the Singaporean-owned platform started in July 2015 as a grocery delivery service in Singapore. It has since expanded to include on-demand food and laundry delivery services.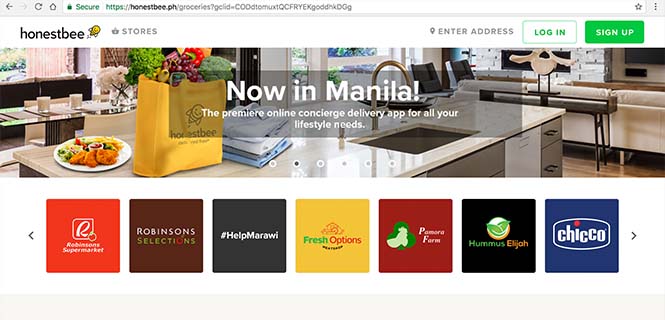 The concierge app is now available in nine cities, including Taipei, Hong Kong, Jakarta, Kuala Lumpur, Bangkok, Niseko, Tokyo and Metro Manila.
Through honestbee, users can access the online grocery store divided into departments where groceries are arranged by aisles and choose items. The rates are the same as in-store prices. After grocery orders are received, a shopper handpicks groceries from Robinsons Supermarket, the platform's key grocery partner, for a shopping list, looking out for expiration dates and information if products ordered are out-of-stock and suggestions of substitutes. The groceries are then delivered after orders are placed.
Delivery services are currently available from 10:00AM to 9:00PM daily in Metro Manila only.
There are plans to expand the services to include places outside the National Capital Region, according to Crystal Gonzales, Country Manager at honestbee Philippines.
The concierge fee is P99 and free delivery for groceries costing at least P1,500, while the delivery charge for purchases below P1,500 is P99. honestbee accepts cash on delivery (COD) and credit card as modes of payment. Receipts for purchases will be issued after the delivery.
Aside from Robinsons, honestbee has also partnered with specialty stores, including Solo Meat Group, Fresh Options Meat Shop, G-stuff, Foodsource, AWC, Boozy PH, Chicco, Hummus Elijah, Pamora Farms, Figures of Beans, and Incredible India.
Food orders are delivered in an hour, free of charge. Partner restaurants include Sprout, Eric Kayser, Early Bird Breakfast Club, Bono Gelato, Green Pastures, La Lola Churreria, The Old Swiss Inn, Rico Rico, Tipsy Pig, Reserve Gastropub, The Grind Bistro, Cyma, Hummus Elijah, Pink Panda, and Crisp on 28th.