A premium but affordable smartphone. This is how I would sum up my review of the Alcatel Idol 4S that comes with a virtual reality headset.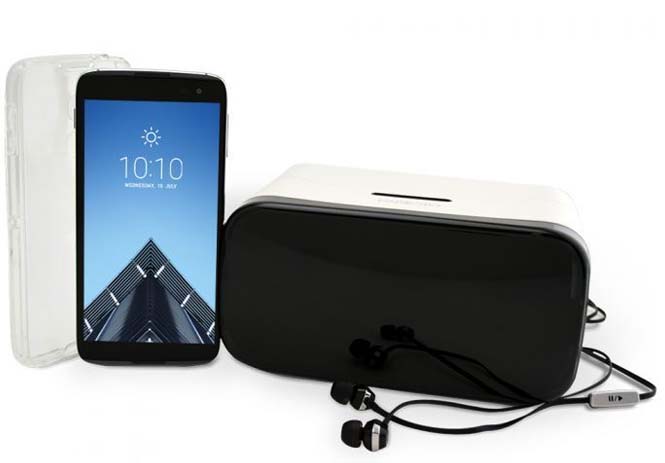 Clearly, Alcatel is riding on the VR wave because you don't only get a headset (it's plastic, not a cardboard headset like Google's) but an armada of VR games, 360 videos, and photos pre-installed in the phone.
The headset has a back and a select button to let you control what you see on the phone's 5.5-inch quad HD AMOLED display once it's attached.
Because I easily get nauseous, the VR capabilities of the phone was tested by my husband who ended up using the device for almost an hour. His verdict: the phone gets really hot after just a few minutes of a VR session that lacks that "wow" effect. Which means Alcatel needs to work on the immersive capabilities of its VR technology.
Software
The review unit I got had Android 6.0 Marshmallow. After setting up the phone with the information it needed, I immediately explored the phone's features. The Idol 4S' Android OS is pretty much the Android Marshmallow you'll see on other brands. However, with Idol 4S, Alcatel tweaked the lock screen which has four customizable app shortcut icons.
Design
On the design, the Alcatel Idol 4S' front and back are made of Dragontrail glass which gives it that premium look and feel. The glass features a specialized Oleophobic coating to protect against fingerprint smudges. It looks sleek but since it's almost all glass, I'd buy a protective casing for it.
On the right side of the phone you'll find the volume keys and a small, round button called the Boom key. You can assign various shortcuts or tasks to the Boom key, such as automatically snapping a photo when your phone is locked.
Hardware
Powering the Idol 4S is Qualcomm's Snapdragon 652 processor, 3 GB of memory, and 32 GB of storage. You can add up 200 GB of additional storage through the microSD card slot, which doubles as a second SIM card slot. There is a microUSB port on the bottom of the device that adds support for Quick Charge.
The phone has a 3000mAh battery which, on a full charge, which would last for about 6 to 8 hours if you're frequently connecting to the internet. Of course, battery life will be cut shorter after a VR session.
The Idol 4S's speakers are loud and sound good. You get real mid-range and true stereo with the dual front-facing speakers.
Camera
The phone has a 16-megapixel camera on the back, and an eight-megapixel from camera. It's capable of producing good shots but in the right conditions, such as good lighting.
The manual mode of the camera gives you access to ISO, shutter speed, white balance, and focus.
Verdict
After almost a month of testing, I noticed that the phone didn't slowdown. It's fast and responsive. It will pretty much do what you want it to do without the sluggishness you'd normally experience with most Android phones.
What I didn't like though is that the phone gets really hot when you're connected to the Internet, when it's charging, and when it's attached to the VR headset.
I really didn't find much value in the VR headset simply because I suffer from vertigo. My husband, who tested the VR headset on my behalf, eventually got bored with it. That's because he was expecting more. He wanted a more immersive experience which the Idol 4S' VR headset failed to give.
So would I recommend it?
With an indicative price of Php24,999, I think the Idol 4S is affordable considering its features but I would recommend Alcatel bring the price down further as there are a lot of cheaper phones out there that offer the same features as the Alcatel Idol 4S.
Yes, I would recommend it because it's fast and responsive not because it's bundled with a VR headset.