US-based Scosche Industries, maker of consumer devices and accessories and car audio products and accessories, has announced the availability in the local market of its magicMOUNT Pro and magicMOUNT series of magnetic and cradle-less mobile device mounts which allow anyone to place their device at any angle for convenient viewing.
These products are exclusively distributed in the Philippines by Digits Trading.
This line of magnetic mounts can be used to mount smartphone, tablet or other mobile devices in your vehicle's dash or in a bike, and on the wall in your home or office. These products work well with iPads, iPods, iPhones and a wide array of Android phones.
"The entire magicMOUNT line is built with powerful earth magnets, designed to securely maintain a light grip on devices in both smooth and bumpy terrain," said Sufiya Cheung, International Business Development Head at Scosche. "These Neodymium magnets are 100% safe and will not damage mobile devices."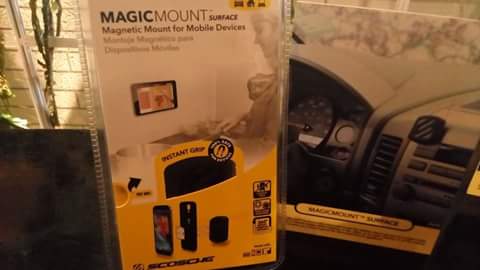 With magicMOUNT's open design, devices can be mounted 360-degree to allow unlimited viewing angles and full access to device controls and ports. To do, apply magicPLATE directly to the smartphone, tablet or GPS, and hover it over one of Scosche's new magicMOUNTs to securely lock the device into place. This enables drivers to keep their both hands on the wheel and eyes on the road while making hands-free calls, activating Siri, Internet browsing, audio and video media streaming and carefully navigating via GPS.
The magicMOUNT Pro series, which consists of magicMOUNT Pro Vent; magicMOUNT Pro Window/Dash and magicMOUNT Pro Dash, has two stylish, interchangeable trim rings in black and silver. Additional color options – in carbon fiber,  rose gold, gold and space gray – will be available soon.
The magicMOUNT Pro Vent securely attaches to horizontal, vertical, angled or circular vents. This mount, which is an ideal companion in meetings and flights, and used as a kickstand for phones and tablets when not in the car, is sold at a price of Php1,495.
Built with Scosche's StickGrip technology so it can stick on multiple surfaces, the magicMOUNT Pro Window/Dash securely mounts mobile devices to a vehicle's dash or window for portrait or landscape viewing. This mount, which rotates 360-degree for virtually unlimited mounting and viewing angles, can be bought at Php1,895.
With four-axis adjustable angle and enhanced soft touch rubber lock-nut, the magicMOUNT Pro Dash mounts mobile devices to a vehicle's dashboard in any desired angle for safe access and use. This mount, which has a bendable base to secure it to curved, angled or flat surfaces in the vehicle, can be acquired at a price of Php1,495.
Other magicMOUNT products with their corresponding prices include the portable magicMOUNT Mini Mat that has a stickGRIP mat (Php1,495); the magicMOUNT Power that permits mobile device charging via two 12-watt Fast Charge USB ports (Php1,650); the magicMOUNT Rear Seat Headrest which attaches tablets to the back of vehicle's headrest (Php1,995); the magicMOUNT Window which is perfect for drivers looking for windshield mount for their mobile devices (Php1,295); magicMOUNT XL Dash/Window (Php1,650); magicMOUNT Surface (Php695); and magicMOUNT XL Surface (P1,350).
Apart from these magicMOUNT models, the company also unveiled other products such as Scosche reVOLT Dual, its smallest but most powerful car charger (Php1,195); Scosche flatOUT charge-and-sync micro USB cable (Php1,395); Scosche motorMOUTH III hands-free and audio car kit (Php2,495); and the Scosche hookUP 90-degree audio cable (Php295).