The Philippines' Internet connection speed rose in the fourth quarter of 2015, according to Akamai Technologies, Inc.'s Fourth Quarter, 2015 State of the Internet Report.
However, with an average connection speed and average peak connection speed of 3.2Mbps and 27Mbps, respectively, the country still has the second lowest connection speeds in the Asia Pacific Region.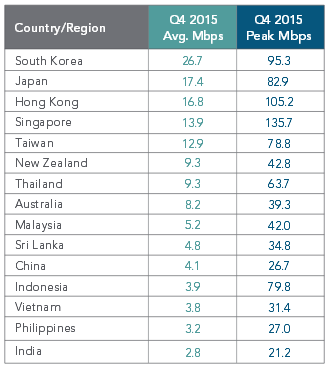 In the third quarter of 2015, the country's average Internet connection speed and peak connections were at 2.8Mbps and 25.3Mbps, respectively, dropping one notch from the previous quarter.
In the second quarter, the country's average Internet connection speed and peak connections were at 3.1Mbps and 25.6Mbps, respectively.
Global results
Global average connection speed increased 8.6% to 5.6 Mbps from the third quarter, a 23% increase year-over-year.
South Korea had the top average connection speed at 26.7 Mbps, posting a 20% increase over the fourth quarter of 2014.
After a slight decline in the third quarter, the global average peak connection speed bounced back with a 1% increase to 32.5 Mbps in the fourth quarter. This led to 21% year-over-year growth.
South Korea (95.3 Mbps) and Macao (83.1 Mbps) were the only country/regions to post double-digit quarterly gains in average peak connection speed at 10% and 13%, respectively.
Globally, 7.1% of unique IP addresses connected to Akamai at average speeds of at least 25 Mbps, a dramatic 37% increase over the previous quarter. Year-over-year, global 25 Mbps adoption increased by 74%, in contrast to the 15% yearly decrease seen in the third quarter.
Each of the top 10 countries/regions saw double-digit growth in 25 Mbps broadband adoption except for Hong Kong (15%), which posted a 9.8% change quarter-over-quarter. Norway (21%) and Denmark (15%) saw the greatest yearly gains at 165% and 188%, respectively.