Storage provider EMC unveiled new offerings of its EMC Isilon Scale-out Network-Attached Storage (NAS) Data Lake that allow organizations to scale to edge locations as well as to public clouds. These solutions include the IsilonSD Edge, Isilon OneFS and Isilon CloudPools.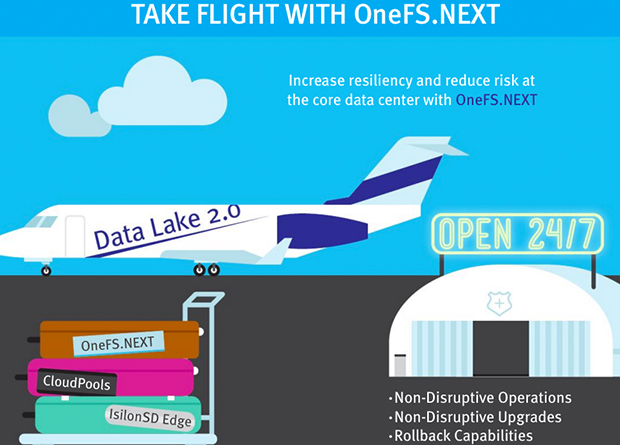 The offerings enhance the Data Lake by allowing unstructured data to be available not only within the core data center, but also at data center edge locations, such as remote offices and archived in the cloud.
According to EMC Philippines country manager Ronnie Latinazo, these solutions were designed to address trends and challenges enterprises face, such as the growing volume of unstructured data and the need for an efficient management of data; shift of enterprises as more global with a distributed workforce; and the choice of customers for hybrid cloud to run data centers.
"Driven by unstructured data that was put in a data lake, the strategy of data lake is to focus on single data center architecture and supports multi-protocols while providing agility and efficient manageability of data," said Latinazo.
Aside from supporting next-generation enterprises, EMC Isilon is also scalable, and can reach to as much as 50 petabytes in a single Isilon cluster without disruption.
EMC IsilonSD Edge is a software-defined storage version of its clustered NAS system designed to simplify data management in remote offices or edge locations. The IsilonSD Edge, a 100% software-defined offering that runs on commodity hardware, allows users to build Isilon NAS clusters with capacity of up to 36 terabytes at remote locations. It also supports VMware ESX and can be integrated with VMware vCenter for simpler management. Besides, it supports Isilon's scale-out NAS operating system, OneFS's data services and protocols.
IsilonSD Edge will be free for non-production use and licensed per cluster for production use.
The company is also enhancing Data Lake by optimizing the next-generation Isilon OneFS operating system through its Non-Disruptive Upgrade (NDU) support. OneFS enhances the Data Lake through NDU supports for minor code families that work across major code families.
OneFS also offers flexible software upgrade rollback capabilities allowing users to restore their applications or enduser environments to a pre-upgrade state as required.
In addition, EMC is offering its CloudPools, a new software application for the Isilon product line which allows Isilon to easily extend to public, private and hybrid clouds. CloudPools allows Isilon to tier data to public clouds such as Amazon Web Services, Microsoft Azure and Virtustream without the need for a cloud gateway.
Likewise, CloudPools can expand data center through EMC Elastic Cloud Storage and Isilon as a private cloud. Isilon can extend its core namespace to the cloud ensuring data access, regardless of location. Data are encrypted in transit and compressed to secure enterprise data when it is tiered to the cloud.