Robots Love Ice Cream, the first release from Atlanta-based indie studio, Dragon Army, is now available for iOS devices everywhere.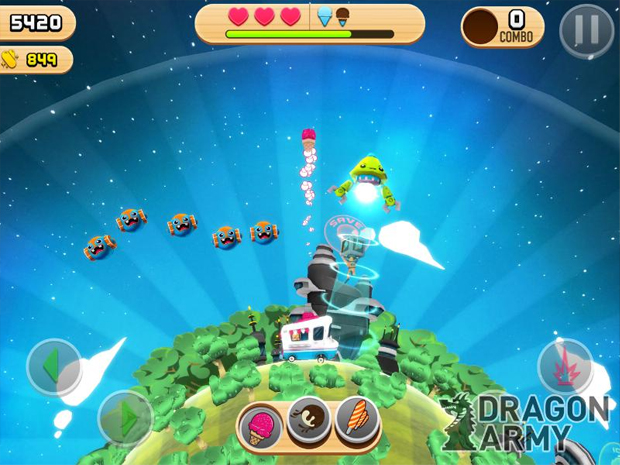 This arcade-style shoot 'em up takes players throughout the galaxy battling ice cream-loving robots in order to save the universe's ice cream supply. Playing the role of the ice cream truck driver, a user will travel to each planet to shoot at each robot until they explode with joy, as well as completing mini-objectives to help earn more Sprinkletonium, the element that makes these robots love ice cream, along the way. The more Sprinkletonium collected, the more upgrades one can purchase for each flavor of repository of frozen treats.
From desert terrains to frozen tundras, each planet in the galaxy creates a new challenge for the player. With each new planet also brings new robots, including Lil' Chip, Peaboty, and the game's antagonist, Spinston. Users must use weaponized ice cream such as Single Scoop, Rapid Pop and Boomsicle to defeat enemies and save the ice cream from capture.
The design elements of the game pay homage to classic arcade games, such as Space Invaders, Defender and Galaga. The Dragon Army design team wanted to have vintage-inspired elements in the game with a 21st-century update, and have accomplished this goal by designing the game in 3D, creating a realistic yet cartoony feel in a playable, two-dimensional landscape. With the addition of simple control mechanics, the ease of use and attractive design make this game appealing to gamers of all ages.
Robots Love Ice Cream is available in the iTunes App Store for $0.99.
Dragon Army, based in Atlanta, GA, is a mobile-first game studio built to deliver the best entertainment to mobile devices everywhere. Consisting of a blended group of marketers, designers, developers and artists, the team intends to apply their diverse skillsets to create the most visually-stunning, engaging and entertaining games in the market.
Learn more at www.dragonarmy.com.