Microsoft Philippines has revealed the results of a survey of 2,017 Microsoft partners in 11 countries in Asia Pacific that shared the most common misconceptions about cloud services still prevalent among their customers. This new data signals the need for greater awareness of the benefits of cloud services and has driven Microsoft Philippines to step up efforts to reduce barriers to cloud adoption so more companies, especially SMBs, can benefit from increased productivity and agility.

IDC2 predicts that spending on Public Cloud Services in Philippines will grow from $124 million in 2013 to $429 million in 2017.
"While there's no denying that cloud adoption is accelerating amongst some business, there is a lack of awareness among other businesses of how their concerns can be easily addressed. We have seen customers across all industry verticals the world over benefitting greatly from adopting Office 365. These myths prevent organizations from becoming more agile and having a cost-effective way to improve productivity in a new world of work where employees are demanding more flexibility, more mobility and who collaborate better with social tools," said Issa Aviles, SMB and enterprise marketing lead of Microsoft Philippines.
In the online survey, Microsoft's partners ranked the misconceptions most commonly brought up by their customers and prospects about the cloud and shred their outlook on the growth of their cloud business.
The lists below compare rankings of misconceptions between Asia-Pacific and Philippines respondents.
Top 5 Myths in Asia-Pacific:
Lack of privacy
Not secure
Not mature
No ownership
Less productive
Top 5 Myths in Philippines:
Lack of privacy
Not secure
No ownership
Less productive
No ownership
Other misconceptions that customers had about the cloud were around the cost and reliability of the service, the lack of value-add compared to on-premise versions, that it's too complicated and the lack of a clear return on investment.
In response to these insights, Microsoft is working to debunk each of these myths with more education in the market via a Webcast and access to resources like the Office 365 Trust Center Web site where many of these concerns can be addressed. In addition, more details of the 11 myths and the facts can be found via this interactive infographic.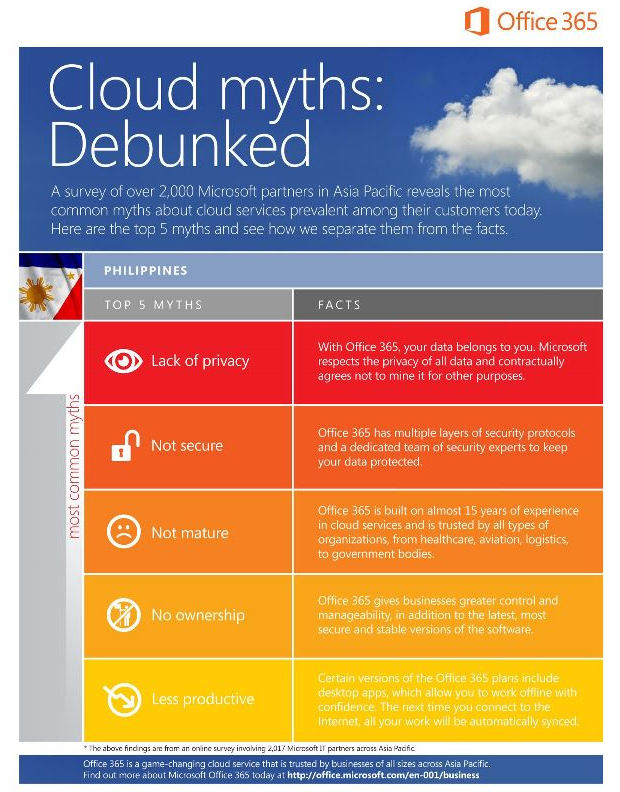 "Acknowledging the need to continue to be productive at all times, Microsoft's Office 365 was designed to address many of these concerns right from the beginning. In contrast to other cloud solutions, Office 365 takes full advantage of the cloud while still enabling customers to be productive off-line in certain scenarios. It also enables new device and social scenarios and simplifies IT control and management," Aviles said.
Microsoft Philippines partners also shared ways on how they are endeavoring to change misconceptions towards the cloud.
According to Dindo Fernando of Barhead, "We do product demonstrations – one-to-one interactions with customers to show the product in action. I even use my 3G-enabled Windows phone to prove that Office 365 works regardless of device and Internet connection strength. In addition, we are using our own Barhead Office 365 – we show what we really use every day not just the demo script to showcase that the solution really works.
According to Randy Cabredo of Mannasoft, "At Mannasoft, we present case studies or stories to customers showing how Office 365 has helped many businesses. This strategy also allows us to compare and show the big difference between Office 365 and other offerings enabling customers to see the more powerful benefits of Office 365 than that of competition."
Office 365 is also supported by industry leading security and privacy policies and a financially backed 99.9% uptime guarantee which are shared in further detail at the Office 365 Trust Center Web site.
Additional insights from Philippines include:
34% (versus 46% in Asia-Pacific) frequently (daily or at least a week) encounter decision 

makers who have relatively little understanding of cloud services
68% already have more than 10% of their business focused on cloud services
The majority agreed that Gen-Y decision makers are more knowledgeable of the benefits of cloud than other business decision makers in general
The top three benefits of adopting Office 365 by customers in Philippines are: 1. Cost savings on IT infrastructure; 2. Enabling employee mobility; and 3. Agility and flexibility in business operations
"SMBs are a key growth and innovation engine in Philippines, our mission therefore is to ensure that we step up efforts to educate and help more business leaders gain confidence that the cloud is and has been ready for their business needs," said Aviles.
Launched in mid-2011, Microsoft's market-leading Office 365 is now the fastest growing business in Microsoft's history. One in four enterprise business customers is using Office 365 today. In Asia-Pacific, Office 365 grew three times faster than the overall public cloud services market fuelled by trends such as bring-your-own-device, an increasing need to work anywhere, and collaboration through enterprise social tools. Today, Microsoft has over 13, 500 partners across Asia-Pacific offering cloud services to companies of all sizes. Examples of Office 365 customers in Asia include the Red Cross in Asia-Pacific; Coles, Link Healthcare and V8 Supercars in Australia; MedcoEnergi in Indonesia; MPH Group and KPJ Healthcare in Malaysia; Auckland Transport and Icebreaker from New Zealand; Coca Cola FEMSA in the Philippines, as well as Kah Motor, SATS, and Tiger Airways in Singapore.
Conducted in October 2013, the online survey received responses from Microsoft IT channel partners from Australia, Hong Kong, Indonesia, Korea, Malaysia, New Zealand, Philippines, Singapore, Taiwan, Thailand and Vietnam.