Tattoo@Home, the home broadband brand of Globe Telecom, has announced that it is offering landline deals featuring free unlimited calls to Globe postpaid, prepaid and TM lines. Its new offering, Landline Plan 799, is now enhanced with free broadband with speeds of up to 1Mbps, with 3GB volume allocation every month. With 1GB, you can send up to 2,048 text emails, download no less than 246 music files, download or upload max of 1,020 photos, and send or receive until 500 documents.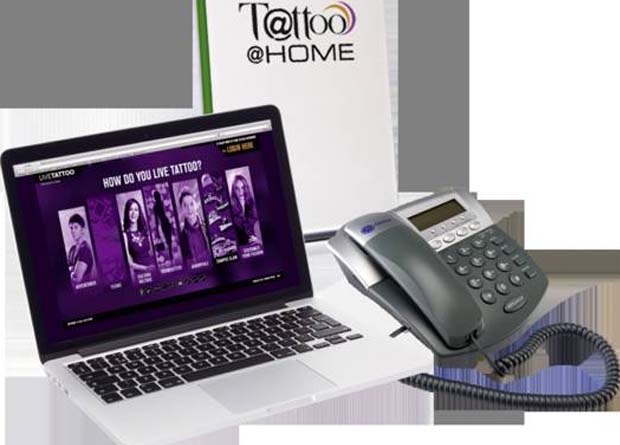 Higher speed consumable broadband bundles are also available at Plan 1099 connecting at up to 2Mbps with 10GB monthly volume allocation, or Plan 1299 running at 3Mbps, good for 15GB of data every 30 days. And even when they reach their volume allowance, subscribers can still enjoy unlimited internet connection at 10 percent of subscribed plan speed.
Meanwhile, existing broadband bundles have all been upgraded with speeds faster than before. Sign up for premium broadband plans such as Plan 1599 which clocks at 3Mbps, or accelerate your internet experience with Plan 2299, the fastest variant at 5Mbps. Also available at affordable rates are Plan 1099 with 1Mbps surfing speed, or Plan 1299 for 2Mbps.
As a standard, Head of Tattoo@Home Jurist Gamban confirmed that families getting these broadband bundles can get in touch with their loved ones on Globe and TM as much as they want with the unlicall features: "With free broadband with your landline, it's really the best deal for the budget-conscious—something competition refuses to offer to the market because they want to keep consumers paying for both landline and home broadband services. But with Tattoo@Home, we want to delight consumers more through our game-changing offers."
Gamban highlighted that the Tattoo@Home's basic landline plan at Php799 with 1Mbps free broadband is twice faster than competition's latest offer, which unfortunately is without a landline, while the brand's upgraded broadband bundles for homes with heavy internet usage are still best in the market.
"Others at less than P500 a month can only perform at 50 percent of what our lowest plan can deliver, with none of the added functionality of a landline. And it goes without saying, unlimited calls. Moreover, competition burdens its customers of having to shell out monthly fees for the modem," she said, adding that "modems come for free in all Tattoo@Home broadband plans. A Wi-Fi modem is likewise is complimentary starting at Plan 1299 with unlimited broadband."
Speaking of the convenience of having a landline, Gamban noted that at this day and age of wireless mobility, it is still very much considered as a lifeline—one of the most dependable and indispensable means to connect to loved ones. Coupled with the internet, the connectivity combination for the family indoors is doubly-enhanced: "Tattoo@Home's best-ever yet plans also foster reliable connectivity within the family circle and provides a heightened sense of security and peace of mind knowing that any time of the day, they are in-touch with their Globe-connected members."
Having said this, Gamban re-emphasized Tattoo@Home's belief that an Internet connection is an enabler, especially for the whole family. "This is the reason Globe makes broadband as accessible as possible to everyone. We do not ask people to subscribe separately for two services—landline and home Internet—that run on the same line. Consumers need not be caught in the numbers game of the competition."
With these deals heralding high-speed internet bundles, Tattoo@Home is helping change the game in the way residences connect indoors.
For more information, visit tattoo.globe.com.ph, call (+632) 7301010, visit the nearest Globe store or get in touch with authorized Globe Sales Agents.