Here we have compiled a list of the best Android phones of this year, so no matter what you may choose for your new phone, the following ones are solid choices leveraging your skills from everyday life to your work life.
The most expensive Android phones will give you a run for your money, equipped with the latest hardware and software, and cost over one thousand dollars on average. The cheapest Android smartphones cost around two hundred to four hundred dollars and can still be great devices.
The phone lineups will stay the same until the first quarter of 2022 when the Samsung Galaxy S22 is likely to be announced and released. You should also keep your sights on the Xiaomi 12 and the OnePlus 10, both of which are to be released this 2022 as well. 
Samsung Galaxy S21 Ultra
The Galaxy S21 Ultra is the most premium flagship phone Samsung has on the market right now, and it might be argued that it is truly worth the 1000+ dollar price tag it adorns.
For the first time, Samsung added S Pen support to one of its phones that aren't from the Note lineup, but even without the support, it is still a great phone.
This handset has a quad-lens camera, which also includes 10x optical zoom, and has arguably one of the best cameras zooms on the market for Android phones.
The looks of the phone can be debated, but most opinions are positive since the phone does look quite luxurious with its Gorilla Glass back that sports a matte finish, giving it a more modern look.
The front of the phone is also quite beautiful, with thin bezels and a simple punch cutout for the front-facing camera, as well as an edge-to-edge curved screen that is 6.8-inches large.
Speaking of the screen, for the first time on a Samsung you get a QHD+ resolution display with a 120hz refresh rate. This being a high-end Samsung screen it is one of the best on the market.
The phone itself is also powerful with a better chipset than previous Samsung Galaxy phones and 12GB or 16Gb of RAM. Though still expensive, this phone was and still is cheaper than the Samsung Galaxy S20 when it first launched. 
OnePlus 9 Pro
OnePlus has been known to cut quality to lower production and retail costs, this is for sure not the case with the OnePlus 9 Pro. Even though it is slightly cheaper than other phones in this price and quality category, it is also easily comparable to them.
The handset has a large screen that is very sharp and pumps out a 120Hz refresh rate at a cheaper price than the Samsung S21 Ultra. It also is extremely powerful thanks to its Snapdragon 888 chipset, a 4,500mAh battery that accepts both wired and wireless charging.
The phone also has a premium metal and glass exterior that give it a premium feel which includes water resistance, and the addition of a pretty good camera for a OnePlus phone.
The better camera on the handset is thanks to the lovechild OnePlus managed to create with Hasselblad, upgrading this camera compared to its past phones, leaving users impressed.
Samsung Galaxy S21
This phone can easily be titled the most affordable flagship on the market from this year since it is the most basic but also good phone for its price range.
This phone has a triple-lens camera that is very versatile, which are the main one, a telephoto lens, and an ultra-wide lens for those panoramic shots you may want to take.
If you're an employee struggling with your workload, this phone is great for you at a more affordable price. The Galaxy S21 comes with high-end power, a large battery for longer battery life, and an AMOLED display with a 120Hz refresh rate.
It is also more compact than the rest of the S21 range, with 6.2-inch screen size, ideal for individuals seeking a more practically sized phone.
The cherry on top of this phone is the fact that it is cheaper than its predecessor in the previous range, making this phone a steal for anyone looking for a new flagship.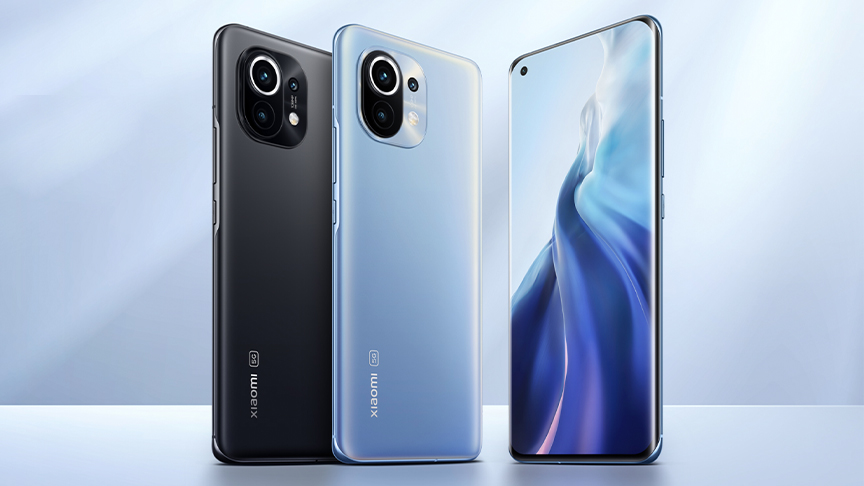 Xiaomi Mi 11
This isn't the best phone from Xiaomi, which would be the Xiaomi Mi 11 Ultra, but this is still a powerful and modern phone especially for its price.
The phone has a main camera, an ultra-wide, and a 5MP telemacro snapper that is arguably one of the best out of current phones for zooming.
The Xiaomi Mi 11 also has a 6.81-inch display that runs a 1440 x 3200 AMOLED display with the same 120Hz refresh rate as all the other phones in this list. There is also fast charging through both wired and wireless means.
The actual battery life isn't amazing though, and the addition of a telephoto camera is also missing, but other than those two things it is a solid choice for the general public.
Make sure to also anticipate next year's lineup of amazing phones, since we have many gems that have been teased throughout 2021's winter.