Whether you opt for horse racing or greyhound racing, one thing is for sure – both offer an exciting day out and are packed with speed, action and betting opportunities. Racing is a popular sport and has long been a fun-filled activity.
We've taken a look at what similarities and differences these two sports have between them and which is the better option for fans.
Horse Racing
Horse racing is typically limited to a specific number of horses in any one race and there is a racing code that owners and jockeys have to follow. Horse racing is split into two categories – flat races and jump racing, but within these categories there are other types such as steeplechases, endurance racing and harness racing. Flat racing is the most common type of race around the world and takes place on a flat oval course, without any hurdles or fences for the horses to overcome.
Horse racing includes several breeds of horses, including thoroughbreds, Quarter horses and Appaloosa, with each breed having its own unique properties for different types of race. On practically any day of the year, around the world, there are races taking place, but some of the most famous include the Melbourne Cup, the Kentucky Derby, the Dubai World Cup, Royal Ascot and the Grand National. Horse racing is one of the most popular sports for betting and it offers a wide variety of types of bet for punters to place, or using websites to place a free bet.
Greyhound Racing
Much like horse racing, there are regulations and a racing code within the world of greyhound racing which specify the number of dogs for each race, among other factors. However, the key difference is that there are just two types of greyhound race – track racing and coursing. Track races take place on an oval track while coursing involves the dogs chasing after a mechanical lure.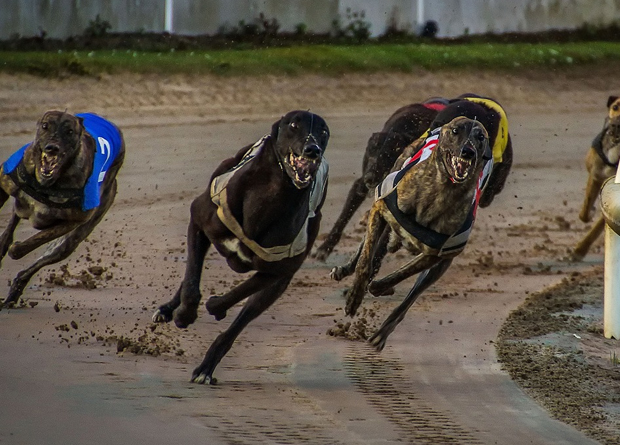 Some of the most common and popular events for greyhound racing including the English Derby, the Irish Derby, the Golden Easter Egg and the Greyhound Night of Stars. As with horse racing, greyhound racing offers betting opportunities and is a popular choice for punters.
Which is Better: Horse or Greyhound Racing?
If you're only interested in watching the races themselves, then greyhound racing is usually an easier race with less time between the races. It's also usually more affordable so it's great if you want the thrill of the race and a fun evening out on a budget. However, events like Royal Ascot and Cheltenham are more luxurious and are a true event with entertainment and fashionable attendees, which also makes them more expensive. Horse racing is known for being a more sociable event where you can rub shoulders with celebrities and soak up the atmosphere. But for this reason, it's also a busier affair so viewing can sometimes be tricky at events like flat meetings. So, if you don't want to be struggling for a viewing spot, greyhound racing may be the better option for you.