By João Santos
This week, between 3rd and the 7th of June in San Jose, California, happened the annual Apple Worldwide Developers Conference. The WWDC is for Apple consumers what NFL draft is for football fans.
Apple has finally unveiled a new Mac Pro at WWDC 2019, assembled with the modern hardware that professionals have been demanding for years and following a modular setup.
The new Mac Pro has up to a 28-core Intel Xeon processor, and up to 1.5 RAM system memory. The Pro Display XDR starts at $5,000, a fitting companion for the $6,000 starting price of the Mac Pro. However, Apple's new meme accessory has to be the new Mac Pro Display XDR monitor stand, priced at a $999, a number that let the audience in disbelief during the conference.
When it comes to price, Apple clearly announced that its new Mac Pro starts at an already pricey $6,000, but the company neglected to mention how much the top-of-the-line model will cost. According to so estimations, it turns out: $34,000 is likely the minimum — and that's before factoring in the four GPUs, which could easily increase that price up to around $45,000.
Design:
This new one is far more industrial than be previous, also debatable form. Designed to be modular, the Mac Pro is leaning towards a more traditional combination of aluminum and heat holes on the outer shell right after the multiple back panel fans. You can screw wheels on the bottom to move it around an office and three handles on the top are also very convenient. It's not, in my modest opinion, the most appealing computer design apple ever designed.
And for the high standards that we expect from the brand, it's fair to say, that unfortunately the case and the holes on the back panel do look somewhat like a cheese grater. The unique cooling system maximizes airflow while keeping work quiet – even with the massive fans, it won't distract you from your work and will keep the inner temperature decent and controlled. Multiple Thunderbolt ports were placed on top of the machine, allowing it for easier access inside and other output accessories.
Display:
Apple's trademark wide bezels have been narrowed substantially, putting more screen into a smaller frame, and the monitor's aluminum housing matches that of the Mac Pro central unit. The optional Pro stand allows users to better articulate the screen and place it in various positions, meaning you can rotate it from landscape to portrait mode, just like your iPhone.
Monitor Specifications: 31.6 inches diagonal; 6K resolution (6,016 x 3,384); HDR capability; 1,000 nits' brightness (1,600 nits peak); 1,000,000:1 contrast ratio; 576 zones of full-array local dimming; P3 color gamut with 10-bit capability; Low reflectivity with matte screen finish option; Thunderbolt connectivity.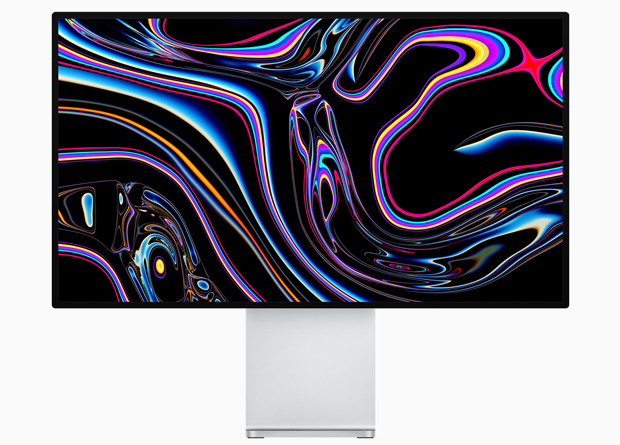 Specs:
Impressively, the Mac Pro can have two MPX Modules installed at once. you can install two Vega II Duos for a crazy 128GB of video memory and 56 teraflops of graphics performance. 1.4kW power supply is needed. The raw power of the extra cores is said to give around an extra four times the performance.
Memory-wise, the Mac Pro supports six-channel memory and comes with 12 slots, which allows you to install up to 1.5TB of RAM. Even at the entry level with an 8-core Intel Xeon processor with a max turbo boost of 4.0GHz and 32GB of ECC RAM, you shouldn't run into many problems.
It comes with a 256GB SSD – which is the only part of the specifications which seems a bit reserved, as that doesn't offer much storage space. But you'll be able to upgrade it with up to 4TB drive. It is backed up by the new Apple Afterburner accelerator card, which will allow users to playback multiple 8K RAW video streams, especially useful for video editors that shoot in extremely high resolutions.
Access to the innards of the new Mac Pro is remarkably easy, thanks to the chassis design. The outer aluminum housing lifts off from the side, granting easy access to the entire system.
The new Mac Pro is not an everyday work computer. It's a powerful engineered machine capable of some of the hardest problem solving you won't ever possibly encounter.