Biz Solutions
IPC partners with Conversant to offer content delivery network services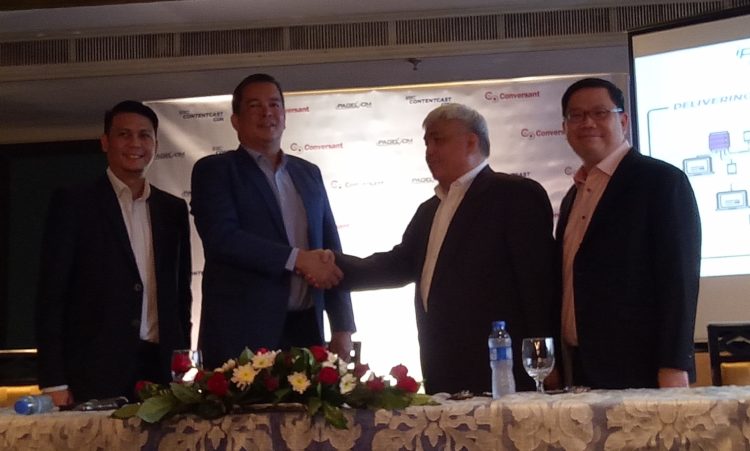 IP Converge Data Services, Inc. (IPC), a cloud services provider, partnered with Conversant Solutions, a Singapore-based digital media solutions provider, to unveil the country's first local content delivery network (CDN) service called IPC ContentCast CDN.
This locally branded CDN service, which sits in a global data center, is capable of doing global distribution of content as it is connected to a global network of CDN partners around the world. As a partner of Conversant, IPC aims to deliver to local businesses the power to provide an excellent online experience to their customers as the service is locally hosted and available.
"This partnership will actually enhance our customers' ability to deal with their own customers because content will be closer to where the action is and servicing their customers will become faster and more relevant, and customer experience that will be gained in accessing websites will actually be a lot better," said IPC chief operating officer Dave de Leon. 
The collaboration was made possible through Pagecom, a local partner of Conversant Solutions, which offer the subscription-based CDN service that allows digital firms to use it without having to invest in special hardware, equipment, maintenance, and other related operational expenses. The IPC ContentCast CDN service is up to four to five times more economical than other subscription-based CDN offerings.
Cheong Kong WAi, executive chairman and chief executive officer at Conversant Solutions, said the strategic alliance allows IPC to provide CDN services to its customers by leveraging on the reach and scale of their network, through their SwiftFederation Partners. "With CDN, the delivery of content is faster, localized and has better scale and response time."
"This is what we're trying to deliver to Philippine businesses today. CDN enables businesses with online content or online transactions to deliver that experience to their customers seamlessly in a manner that is rapid, intuitive, and accurate," said Nino Valmonte, director of Marketing and Digital Innovation at IPC.
Through a network of servers located around the world, member companies can deliver digital content such as websites or videos, faster, safer and more reliably to end-users. In a country like the Philippines where Internet speed and reliability remains an issue, the CDN service is helpful.
Using CDN, the team will make sure they will bring the content closer to subscribers. This means that if you want to upload something and go one place to another, the CDN will do that for you, making it available on the closest possible load they can be able to deliver to the subscriber. The CDN, in turn, will help the Internet in the Philippines the soonest to make it more optimized, safer and faster.
To improve customer experience, the need for a better and faster system of content delivery is necessary. To address this need, De Leon said they will continue to expand the capacity or bandwidth that is available in the country.
De Leon also said they have a network operations center which monitors their customers and alerts them in case of cyber attack attempts so they can mitigate and address these issues. And being telco-agnostic, they can get lines from other telecommunications companies so they can offer their customers connectivity or lines that are always up. 
Regarding security, the team is using a state-of-the-art infrastructure. Conversant will make sure all contents will be delivered, secured and safe for their customers. It will help content providers deliver the solution in such a way that they protect it from hackers, from any online attacks, and make sure transactions will push through, and video streaming will be played properly. Whatever hackers would do, Conversant's global infrastructure would be able to help secure the entire delivery. 
De Leon said IPC complements what Conversant already has in terms of security. It has cyber security solutions which include protection for websites in order to protect not only its contents but also transactions. They also have a service bandwidth that is protected from any harm that is happening in the Internet.
As far as resiliency of the data center structure is concerned, Valmonte said the data center was built based on seismic zone 4 standards which can withstand an intensity 8 earthquake with minimal damage. The resiliency is also present in other areas of the business – network, electricity, and security.