Hino Motors Philippines Corporation (HMP) announced its shift to the Euro 4 emission standard with the launching of its full lineup of Euro 4-compliant trucks, buses and jeepney in compliance with government requirements and to serve the growing needs for efficient and environment-friendly vehicles.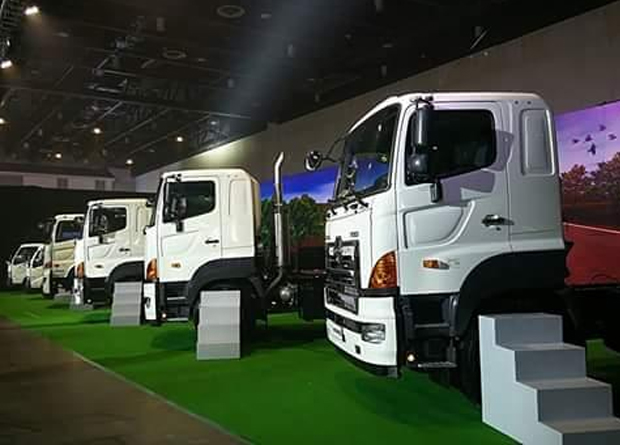 Powered by Euro 4 engines, these vehicles offer engine durability at greater cost efficiency and seek to regulate the amount of carbon monoxide and other toxic chemicals being emitted aimed at attaining a cleaner, breathable air.
The Hino Euro 4-powered fleet consists of refrigerated van, cargo crane, dump truck, can and chassis truck, tractor head, wing van, Cerito bus, Grandeza bus and the Hino Jeepney Class 3 AC, a modern Hino jeepney which is part of the prototype for the government's public utility vehicle (PUV) modernization program. This jeepney is designed like a mini bus which has a 23-person seating capacity.
"This is not only the launching of a few models. These are replacement of our product lines – not only chassis but our new offerings of bodies including what we proposed to be the new jeepney which bears specifications being developed by the Department of Trade and Industry, together with the Department of Transportation," said Vicente T. Mills, Jr., chairman at HMP.
Mills said HMP is offering the country Euro 4-compliant product lines designed and configurated specifically for Filipino requirements to help Philippines go into the next level of development. "As a reliable one-stop shop, we are equipped to provide 360-degree support to all our clients' trucking requirements – from assembly to chassis, body and more importantly, aftersales and maintenance."
The implementation of Euro 4 emission standard is considered an opportunity for HMP to incorporate this ecological innovation to its new lineup of vehicles in serving the needs of Filipinos. "As we affirm our commitment to supporting the community, we will continue to leverage our ability to assemble and distribute quality trucks and buses designed to address the different needs of Filipinos in the most efficient way possible," said Hiroshi Aoki, HMP president
Meanwhile, the company sees bright prospects for its product lines with the unveiling of many infrastructure projects under the Duterte administration that eye to transform the Philippines into a high middle-income economy.
"The boom in infrastructure construction increases opportunities for transport businesses and truck and bus requirements over the next couple of years. The rise in domestic travel activities will also provide more impetus to the bus industry. Any increase in the movement of people will require the services of modern buses. Further, fleet replacement in compliance with Euro 4 and such requirements will translate into more sales," said Mills.
Formerly Pilipinas Hino Inc., HMP is currently under the new majority ownership of Hino Motors Ltd. Apart from the assembly of vehicles and bodies, the company also distributes Hino parts and accessories and provides long-term maintenance services to its clients. It produces trucks and buses that cater to various industries including logistics, healthcare (mobile clinics, X-ray vans and hospital buses) and government use, among others.