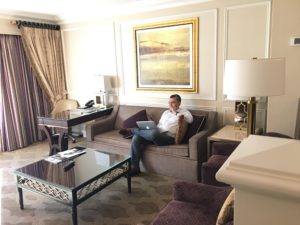 Over half of professionals in the Philippines now work from outside one of their company's main offices for half the week or more, according to latest research commissioned by Regus.
When asked where they carried out their remote working, only 33% said they mostly work from home.
The survey canvassing over 200 business people in the Philippines aims to provide a snap-shot of the world of work today and found that while remote working is clearly the norm, it certainly is not synonymous with home working: only a minority work exclusively from home (8%). Rather, workers suggest that they work remotely in order to remain productive while travelling to and from meetings within the same city or in other cities (50%).
The study also reports that only 8% of remote workers are fully-fledged home workers spending the full week working from their home office. Among the most popular locations for remote work, a fifth (19%) select business centers. Thirteen percent say that they usually work abroad when working remotely.
Lars Wittig, Regus Philippines Country Manager, comments, "These results show that today's workforce is truly mobile. Only a very small proportion of workers are true home-workers spending all their time out of the main office in a home-office. Workers report that they are not looking to replace one fixed office space with another such as the home, but are declaring that they need places to stop off and regain productivity while travelling to and from business meetings in their own, or in other cities.
"Business people clearly show that they need drop-in locations where they can productively work from a few hours to a full day. Business centres prove a popular choice as they can be found scattered across cities and provide a professional and collected environment that favours concentration, very much the opposite of noisy cafes where it is hard to find focus and privacy."