UnionBank of the Philippines (UnionBank) has tapped Voyager Innovations' Takatack Rewards digital incentive system to help offer a more modern approach to engaging their workforce, in line with its overall digital banking transformation efforts.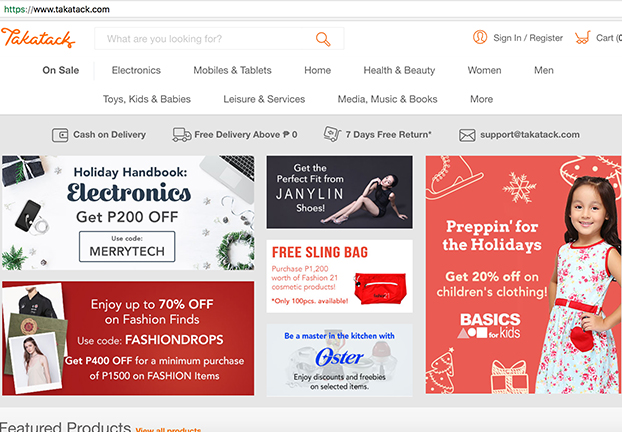 Through Takatack Rewards, UnionBank is able to simplify human resource incentive programs by enabling enterprises to credit rewards to the "electronic wallets" of employees in real time. Employees can conveniently use their reward credits to shop on Takatack.com anytime and anywhere.
"With the thrust of being the leading provider in Smart Banking, UnionBank has been actively transforming its products and systems toward the digital space," said Edwin Bautista, President and CEO at UnionBank. "That transformation also involves our own employees and processes, because we believe that the key to leading in this space is to delight our customers, both internal and external ones."
Realizing that the future of banking is online, Bautista has led UnionBank's foray into digital as the bank gears toward delivering fast and real-time transactions to customers, in whatever platform they prefer.
The transformation, driven largely by the "millennial" generation of new users who prefer using their smartphones and other devices in transacting with the bank, has likewise permeated within the halls of UnionBank itself, where the company sees an increasing amount of millennials joining their workforce.
Bautista believes that having Takatack Rewards as part of their HR engagement program will help them retain employees in the workplace.
"With the features and benefits embedded in Takatack Rewards, we are positive that this dynamic tool can help solve management concerns on keeping millennials engaged and having employees appreciate the company even more," Bautista explained. "We make sure that our digital savvy workforce receive the rewards they deserve and matter to them most because everyone's contribution to the business is important to us."
Through Takatack Rewards, employees are able to use the funds credited to their electronic wallets to shop for their preferred incentives–similar to the way they shop for their favorite products online.
"Employee engagement programs have been one of the core business strategies of enterprises as they bolster employees' growth and performance in the workplace," said Mitch Padua, VP for Digital Commerce at Voyager Innovations.
According to the study conducted by PwC in 2011, millennials are anticipated to globally dominate 50% of workforce by 2020. This future transformation urged companies to comply with these changes so they can keep millennial talents.
"Considering the increasing number of millennials in the workforce, it's important for companies to adapt to modern technology and tools such as the smartphones they use and social networks they often visit in the workplace," Padua ended.