Kingston released IronKey D300 and IronKey D300 Managed encrypted USB Flash drives. Both drives deploy advanced level of encryption that builds on the features of IronKey, which Kingston acquired in February.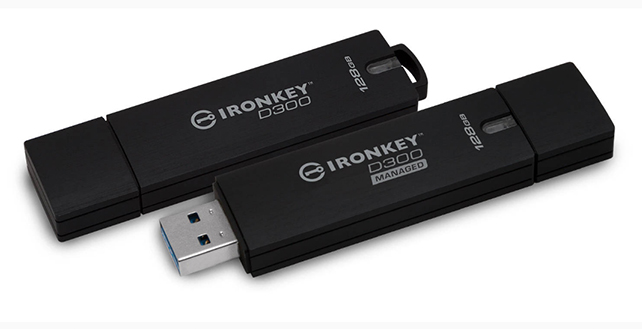 IronKey D300 is FIPS 140-2 Level 3 certified, with 256-bit AES hardware encryption in XTS mode. The drive's exterior is made with a zinc casing and waterproof to four feet, while the interior components are encased in a tamper-evident epoxy seal for physical security. IronKey D300 employs digitally signed firmware, making it immune to the BadUSB malware, and it enforces complex password protocol to prevent unauthorized access. Encryption and decryption is done on the drive with no trace left on the host system and the drive locks down and reformats after 10 invalid attempts.
IronKey D300 Managed requires IronKey EMS by DataLocker, which allows central management of drive access and usage across drives. IronKey EMS can be either cloud-based or on premises. It enforces drive-specific policies such as password strength and retry limits, and lets administrators remotely disable lost or stolen drives, and recover lost passwords.
IronKey D300 and IronKey D300 Managed drives are available in 4GB, 8GB, 16GB, 32GB, 64GB and 128GB capacities. 
For more information visit www.kingston.com.