Over half a million Filipino students attend around 6,000 schools that have no electricity, creating a digital divide that could widen if ignored by both the public and private sectors.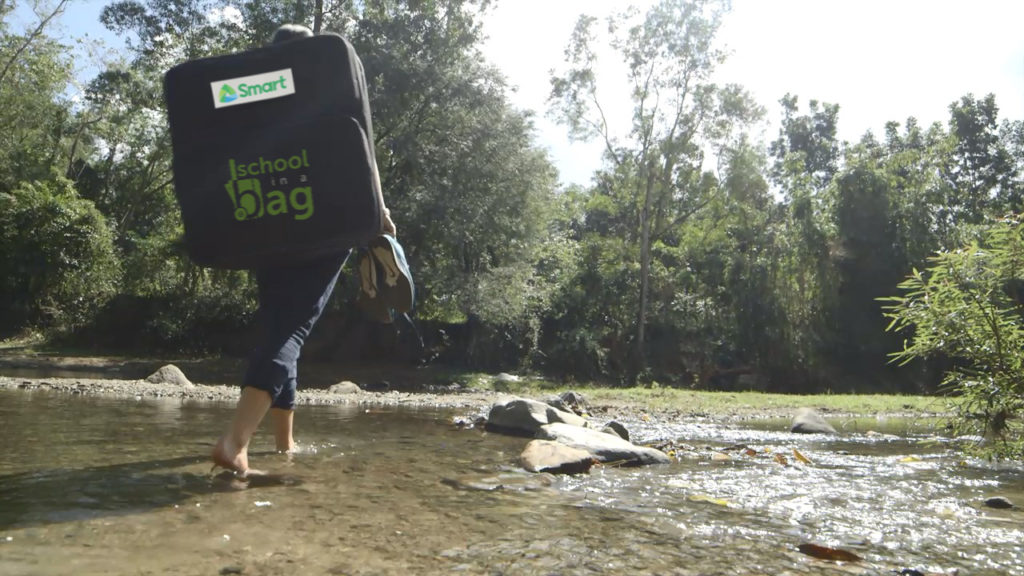 To help bridge this gap, Smart Communications has launched the School-in-a-Bag project that would give students in remote communities the opportunity to learn using educational materials delivered by digital technologies they have never seen.
"If schools can't access technology, we will bring technology to them," said Darwin F. Flores, Smart's Vice President for Community Partnerships, in a video shown during the media launch.
Worth Php100,000, a bag includes a solar panel for electricity, a laptop, a tablet, a mobile phone, a pocket WiFi with starter load, LED TV, and learning modules for K to 12 students.
So far, 10 schools have been identified as initial beneficiaries of the program, including Rawang Elementary School in Tanay, Rizal.
Katrina Apelada, a grade 2 student at Rawang, walks through hills and forests just to go to school. The community she lives in is so remote that it has no electricity. Like most of her schoolmates, she had never seen a television, computer, or tablet, until July this year when Smart donated a School-in-a-Bag package.
Maria Asuncion Tongohan, a kinder and grade one teacher, said the kids were wide-eyed and somewhat shocked when they first saw the digital tools.
"We really don't have electricity here so when we saw the solar panel, we realized we could use technology in teaching."
Teachers can now connect to the Internet and download educational videos using the Smart Pocket WiFi included in the package.
"Because of the School-in-Bag program, the burden to prepare instructional materials have been lessened," said Arlene Catampatan, Former Principal, of Rawang Elementary School, Tanay, Rizal, during the launch.
"Nakakakita na kami ng ibang mga dimensyon bukod pa sa mga puno at bato sa aming bayan [we now see a different dimension apart from the trees and stones in our town]," shares 11-year-old Sharan Bueramo, a grade 6 pupil from Rawang.
Margarita Ballesteros, Director of External Partnership Service, Department of Education, is hoping more schools will be added to the initial 10 beneficiaries.
"In remote areas, one book alone can make kids smile," said Ballesteros. "There are souls waiting to be served; and for Smart to soar higher [in this endeavor], they need more partners under its wings."
Any organization or sector can donate a School-in-a-Bag package by sending an email to TechnoCart@smart.com.ph. The logo of the donor will be imprinted on the bag.
Smart TechnoCart
The School-in-a-Bag program isn't the only educational initiative of Smart. In June last year, the company launched Smart TechnoCart, a mobile laboratory designed to enable learning and teaching for kindergarten pupils and teachers through mobile education solutions and internet technology.
Inside the Smart TechnoCart are 25 tablets for the use of students; a tablet, laptop and projector for the use of the teacher; Smart Bro pocket Wi-Fi with load for connectivity; and the Smart One Campus, a learning management system to help administrators and teachers track and measure their students' academic performance. With its compact and portable design, the cart makes it easy for teacher to transfer the laboratory from one classroom to another.
Each tablet comes pre-loaded with the Batibot mobile app in Filipino as a result of Smart's partnership with the Batibot TV show. Developed by the Community of Learners Foundation (COLF) and startup partner OrangeFix, the Batibot app is the first localized mobile software aligned with the Kindergarten curriculum which provides educational content from the show into the mobile device.
The Batboy app is also pre-installed in the tablet that comes with the School-in-a-Bag package.