Apple's latest move isn't going to calm the "we did it first" bickering among admirers of different brands of gizmos, with the introduction of the all-new iPad Pro, which features – HOLD YOUR BREATH! – a keyboard and a stylus/pencil. No, you won't be the first to think you've seen this development before, thanks to Microsoft Surface and Microsoft Surface Pro, now (for the lack of a better word) somewhat mimicked by iPad Pro (even the names carry the same "Pro" tag to separate the "toy" – that is, the plain tablet – with what can pass as a portable laptop).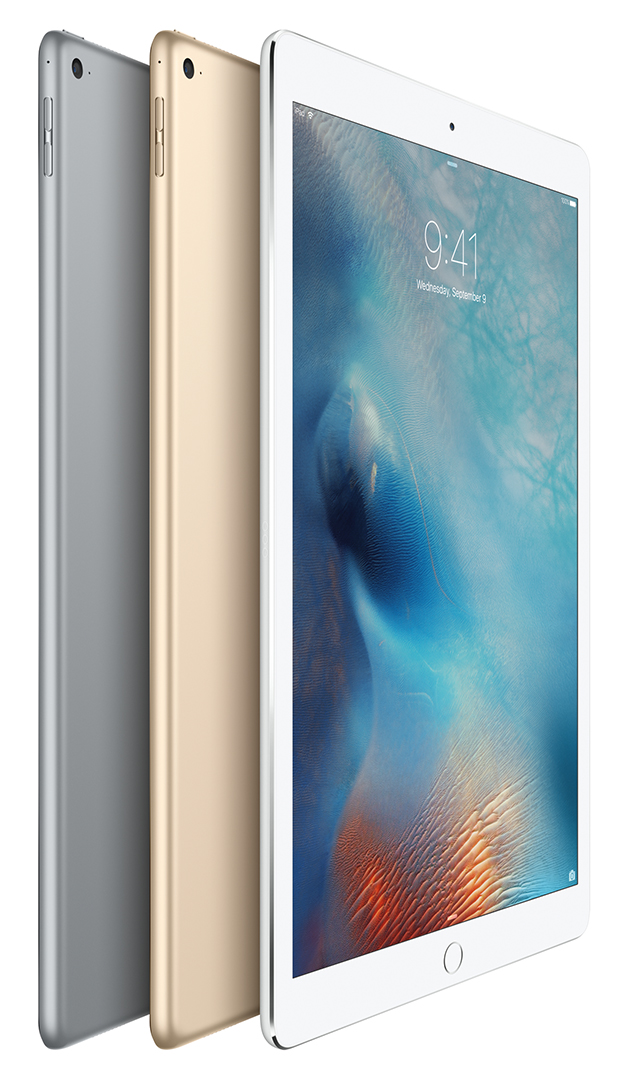 iPad Pro has a 12.9-inch Retina display with 5.6 million pixels, the most ever in an iOS device, and comes with the new 64-bit A9X chip, rivaling portable PCs. Larger size is needed because of the intent to be "more than just a tablet".  The more than 850,000 apps in the App Store designed specifically for iPad still work for the new iPad Pro.
According to Philip Schiller, Apple's senior vice president of worldwide marketing, "iPad Pro is the most advanced and powerful iPad we have ever made. Its beautiful and large 12.9-inch Retina display has 5.6 million pixels and provides an immersive experience for content and apps. The iPad Pro is far and away the fastest iOS device we have ever made — its A9X chip beats most portable PCs in both CPU and graphics tasks, but is thin and light enough to hold all day. The innovative Apple Pencil and new Smart Keyboard enable users to customize their iPad Pro experience to the particular apps they use and the work they do, making iPad Pro ideal for everything from professional productivity to advanced 3D design."
The add-on Apple Pencil is an  input device available for purchase separately, making drawing and sketching easier. The touch subsystem of the Multi-Touch display in iPad Pro was redesigned to work with Apple Pencil to reduce latency and deliver accuracy for activities like fine art illustration and detailed 3D design. Advanced sensors in Apple Pencil measure both pressure and tilt for a fast and fluid drawing experience. A built-in Lightning connector makes for quick charging. Apple Pencil also works with apps like Mail, Notes, Procreate and Office 365 for iPad.
Also available for purchase separately, Apple's new Smart Keyboard offers a full-sized keyboard in a thin design. The keyboard attaches to iPad Pro's Smart Connector port, eliminating the need for a separate battery, on/off switch or Bluetooth pairing. The keyboard is also foldable and can transform into a Smart Cover (again, easily recalling Microsoft Surface). The Smart Keyboard also works with new QuickType features in iOS 9.
iPad Pro's 12.9-inch Retina display, with 5.6 million pixels and refined Multi-Touch technology, is the highest resolution display ever in an iOS device. A new four-speaker audio design provides stereo sound, and a refined unibody enclosure of anodized aluminum gives iPad Pro a sturdy feel with a thin and light design.
Inside, iPad Pro has the new 64-bit A9X chip, with third-generation 64-bit architecture, providing desktop-class CPU performance and console-class graphics. Wireless connectivity keeps users connected wherever with 802.11ac Wi-Fi with MIMO technology, support for a wide range of LTE bands and other fast cellular network technologies (DC-HSDPA, HSPA+).
Battery life is said to be for 10 hours.
iPad Pro starts at $799 (in the US) for the 32GB with Wi-Fi model and $1079 (US) for the Wi-Fi + Cellular 128GB model. It comes in three metallic finishes including silver, gold and space gray and will be available starting in November from Apple.com, Apple's retail stores, through select carriers and Apple Authorized Resellers.
Apple Pencil will be available for $99 (in the US) and Smart Keyboard will be available in charcoal gray for $169 (US). New polyurethane iPad Pro Smart Covers will be available for $59 (US) in charcoal gray and white. New iPad Pro Silicone Cases will be available for $79 (US) in charcoal gray and white. iPad Pro accessories will be available starting in November.
Now let's see how Apple markets its Pro; and while at it, let the bickering continue.
For more information, please visit www.apple.com/ipad.