iPhones and iPads accounted for 68 percent of the 446,752 mobile devices newly activated on Intermedia's network in 2014, according to the findings of Intermedia's "2015 Small + Medium Business Mobile Trends Report." Intermedia is the world's largest independent provider of Hosted Microsoft Exchange.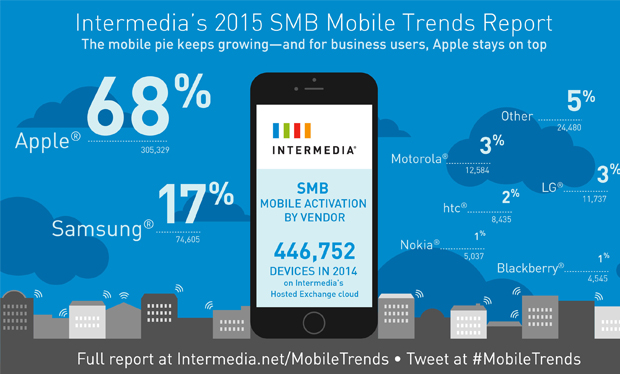 Android devices followed a distant second with 26% of activations. Among Android vendors, Samsung increased its share of activations on Intermedia networks from 16.7 percent in 2014, up from 14.9% in 2013.
Rather than tempting business users to abandon Apple, Samsung's growth appears to have come at the expense of other Android device manufacturers—most notably Motorola, which dropped to 2.8% of 2014 activations from 5.6% in 2013.
"While the conventional wisdom is that Android has greater market share, Apple has accounted for approximately two-thirds of all mobile devices activated by Intermedia's users for four years running," said Michael Gold, president of Intermedia. "Many Intermedia customers use their smartphones and tablets as their primary business tools. Intermedia hopes this insight into SMB user preferences will help IT decision makers as they plan for future user productivity and system scalability."
Intermedia's full report — including a sharable infographic — is available at intermedia.net/report/mobile-trends2015.
Additional 2014 trends and developments that are detailed in the report include:
The launch of the iPhone 6/6 Plus was nearly 50% bigger on Intermedia's network than the launch of the iPhone 5s/5c
76% of the users who activated the new iPhone chose the iPhone 6 over the iPhone 6 Plus
The share of iPads among all devices activated on Intermedia's network shrank from 16.2% in 2013 to 13.7% in 2014
The findings of this report were derived from Intermedia's non-personally identifiable log of ActiveSync activations over time. Intermedia's customers use ActiveSync technology to sync mobile devices to their Hosted Microsoft Exchange email account.
In addition to providing many other essential business solutions, Intermedia ranks as the largest independent provider of cloud-based Microsoft Hosted Exchange business email. Intermedia is therefore uniquely positioned to report on certain business mobility trends, as the only Hosted Exchange provider to possess this volume of data without affiliation to any particular device, vendor or mobile operating system.