Apacer has rolled out the first multi-function card reader, the AM700, equipped with OTG (On-The-Go) technology that can be directly connected to smartphones and tablet PCs for data sharing.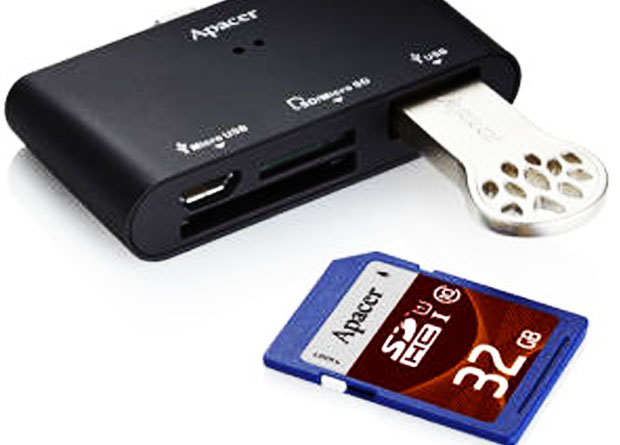 Users can access, transmit and store the data in real time directly through the AM700 card reader with a portable mobile device supporting the OTG technology and no computer is needed. The built-in USB slot of the AM700 further extends the application scope of mobile devices.
In addition to connecting to flash drives and all-in-one card readers, it can even expand the storage space of smartphones and tablet PCs for data backup when inserting SD, MicroSD and MMC cards. Multiparty data sharing is available by activating the USB Hub when connected to a power supply, such as the charger and the mobile power supply through the micro USB slot. The AM700 can also be connected to the hard disk.
Weighing only 13g and featuring compactness and portability, the AM700 is the best way to share your digital content anytime and anywhere. For example, when traveling you simply have to connect the smartphone directly to the AM700 and access the image files in the memory card of the digital camera. Then you can send those photos to Facebook, Twitter, Google+ and other social networking sites through the Internet function of the mobile phone and instantly share your photos.
In addition, when you need to process massive amount of text inputs with your mobile phone or tablet PC, you can connect the AM700 directly to the keyboard for typing or connect the mouse to play Candy Crush or other games, which makes the mobile digital life more flexible and user-friendly.
In addition to the existing calm black series, colorful series will be released in a limited edition in the near future.