Now you don't have to constantly take your iOS or Android device out of your bag or pocket just to check if you have a new message, have incoming calls or missed a call.  Cookoo, a designer watch that connects to your iPhone, iPad, or Android device, is now available in Manila.
Designed in France and engineered in the United States, Cookoo is the world's first designer watch that combines an analog movement with a connected digital display. Its design has gained global recognition as a Platinum winner in the international A' Design Awards.
Complementing Filipinos' social networking and digital lifestyle, Cookoo connects with iPhone 5, iPhone 4S, iPad Mini, iPad 3rd and 4th Generation, iPod touch, and the latest Android smartphones. It requires no charging as it uses a button-cell battery with extra-long life.
The Cookoo watch is designed to work with the Cookoo App, which is available for free on the App Store, to connect with and maximize certain features of your smartphone using bluetooth technology.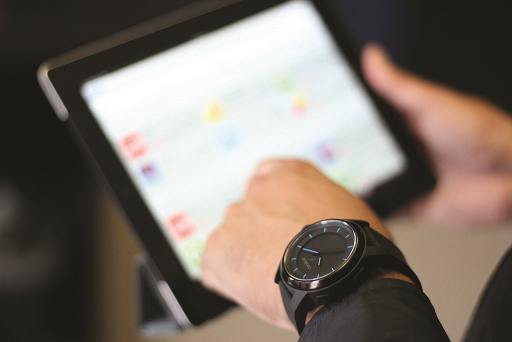 The Cookoo watch has multiple features that are well suited to Filipinos, who are highly engaged users of social networking and the digital lifestyle.  Some of these features include:
1. A camera trigger for taking group pictures from a distance.
2. A remote control for the music application.
3. Different icons on the watch face notify the user of the status' like:
Incoming calls
Missed calls
Email
New Facebook and Twitter messages
Calendar reminders
Low battery
Alarm clock
4. An alarm activated by the watch to detect a misplaced device.
5. Tag locations on the Cookoo App's map via drop pin.
The Cookoo watches are available in black, silver, white, pink, blue, and limited edition green. They come in a matching colored case creatively designed as a mini birdhouse. Environmentally conscious consumers will be happy that the packaging can be reused for this purpose.
One can easily change the standard-sized soft silicon watch straps for different colors and designs as desired. The device is user friendly and the command button is customizable to fit one's preferences.
Cookoo is now available in the Philippines for P 6,500 with a one-year warranty.  You can check it out at Power Mac Center, Mobile 1, Switch, A.Shop, iStudio, Gadgets in Style, Vertex, Parafreaq Hobby Shop, ava.ph, and pormada.com.