Lenovo unveiled its latest ThinkPad X1 laptops featuring recycled materials, updated Lenovo Commercial Vantage software designed to highlight feature settings that can help improve energy efficiency, and a new Lenovo View application offering advanced computer vision technology for enhanced video image quality and tools for collaboration, security, and digital wellness.
In line with its vision of achieving net-zero by 2050 aligned to Science Based Target initiatives, Lenovo continues to focus on supporting a circular economy by increasing the use of recycled materials in its products and packaging, and collaborating with industry partners to help increase energy efficiency of its devices. This includes working with suppliers and global logistics providers to decrease the emissions released in its supply chain and take every opportunity to increase the energy efficiency in Lenovo's factories and workplaces.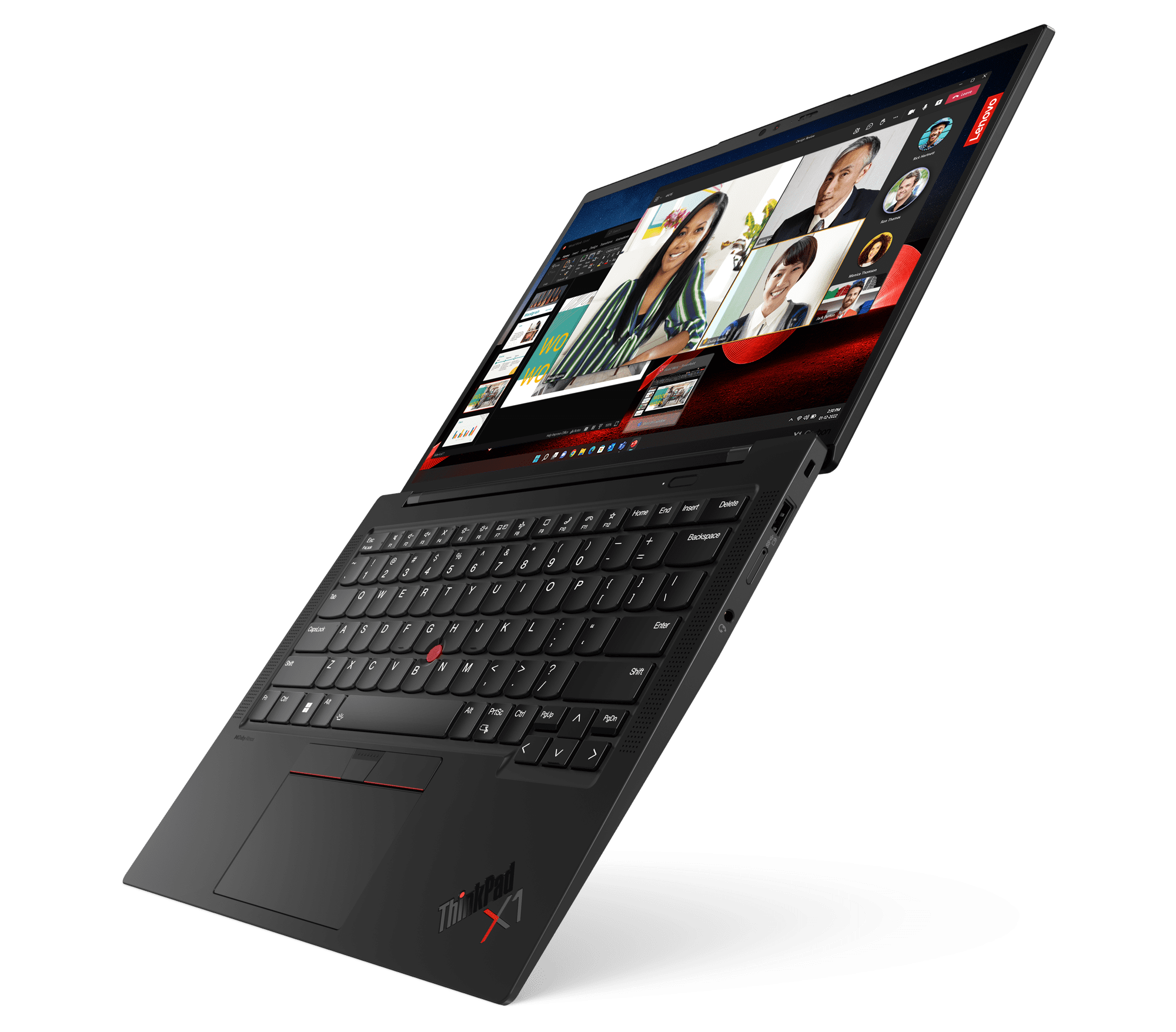 ThinkPad X1's Embrace 30 Years of Innovation
As ThinkPad surpasses 30 years, the brand's evolution continues to set benchmarks for durability, productivity, performance, and user experience. Entering a new era of computing dominated by a need for a more sustainable future, ThinkPad turns its focus toward hardware and software design and engineering to support Lenovo's net-zero vision.
ThinkPad X1 Carbon Gen 11, ThinkPad X1 Yoga Gen 8, and ThinkPad X1 Nano Gen 3 all feature recycled materials in select components:
ThinkPad X1 Carbon Gen 11 includes 90% recycled magnesium in the palm rest and 55% recycled aluminum on its bottom cover
ThinkPad X1 Nano Gen 3 features 90% recycled magnesium hybrid in the palm rest and bottom cover
Furthermore, the retail packaging is made from 100% bamboo and sugarcane fiber, brown box packaging is made from plastic-free packaging with 90% recycled and/or FSC certified content, and the new ThinkPad X1's include Post Consumer Content (PCC) plastic in select components2.
All ThinkPad laptops also qualify for Lenovo's CO2 Offset Service.
In addition to increased use of recycled materials, Lenovo's energy efficiency efforts also extend to the use of its products. The new Lenovo Commercial Vantage application further demonstrates the company's investments in helping businesses manage their carbon footprint. The intuitive software aims to guide and encourage users to enable certain settings that are designed to help reduce power consumption or extend component lifespan. The appropriate features include clearly identified labels and information to help users select their preferred configuration. Efficiency labels can extend to:
Computer Vision Human Presence Detection can reduce energy consumption through Zero Touch Lock function
OLED settings on OLED equipped models can also reduce energy consumption and extend the lifespan of the display
Smart Charge can help extend the lifespan of the battery through setting charge thresholds
Setting the Keyboard Backlight to Off can reduce power use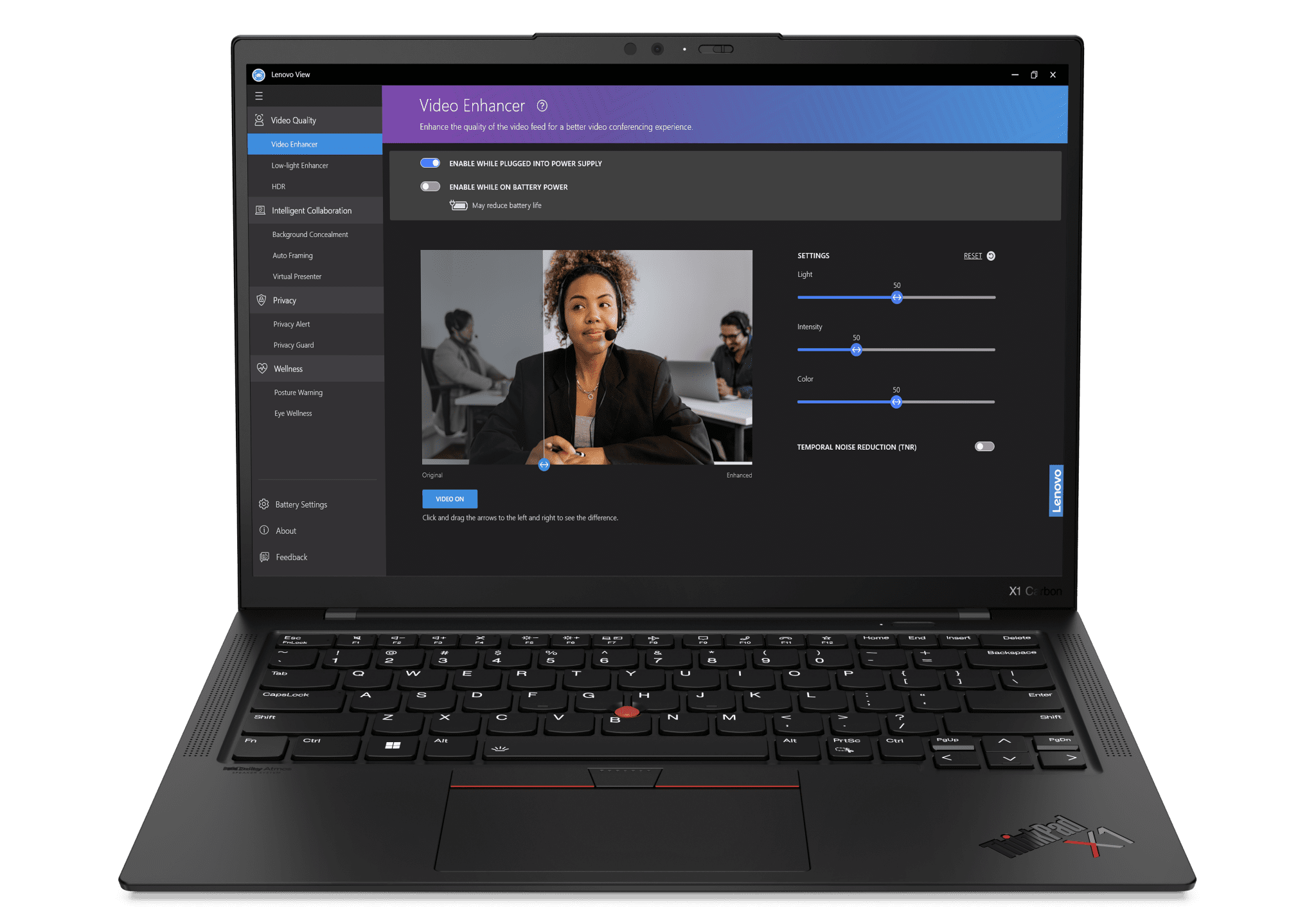 The Lenovo View application provides a superior suite of intelligent camera-based features designed to help users unlock the power of the integrated camera to enhance video call experiences and improve security and digital health. The new release expands the feature set and makes significant IQ improvements to existing ones:
Working on sensitive information in public places can present a security risk. Privacy Guard and Privacy Alert features integrated in Lenovo View provide additional security by activating the privacy blur or showing the privacy icon when an unauthorized onlooker's face is detected viewing the laptop screen.
Shift to hybrid working has highlighted concerns about digital well-being as users typically spend more hours per day in front of screens. Posture warning and eye wellness alerts serve as gentle reminders and can be useful tools to help with maintaining or improving digital wellness.
Hybrid work has also witnessed exponential growth in video conferencing, often highlighting the challenges that a dispersed workforce face in remote engagement. Collaboration features like auto-framing, background concealment, and virtual presenter upgrade those on-camera calls to make the presenter front and center, and help all participants be part of the conversation, even in a virtual or hybrid environment.
AI improvements to the video enhancer algorithm can also boost the image quality of the integrated webcam in any lighting environment – even in darker rooms.
These collaboration and video enhancement settings can be directly applied to the main Unified Communications applications, so users can set up everything and work seamlessly between video conferencing applications with their desired settings.
The flagship ThinkPad X1 Carbon Gen 11, X1 Yoga Gen 8 and X1 Nano Gen 3 laptops continue their history of delivering unmatched performance and productivity through an inimitable design language that marries form and function with amazing foundational engineering know-how. Business users need laptops that help them breeze through inboxes, presentations and spreadsheets; participate actively in video conferences; and have the peace of mind that personal data and privacy are as secure as they can be.
The latest ThinkPad X1's can help deliver a stress-free working environment that is highly productive and efficient to aid more purposeful thinking. In addition to the digital wellness features included in Lenovo View, low blue light-emitting displays including a stunning Dolby Vision enabled OLED option can help reduce eye strain and fatigue, certified by TÜV Rheinland. AI video improvements and smart features for video conferencing platforms are enhanced by the Dolby suite – with Dolby Atmos audio and Dolby Voice with AI noise cancellation – producing an immersive audio experience. ThinkPad X1's feature the robust ThinkShield security suite that is complimented by optional Computer Vision (CV) technology, engineered to deliver improvements in user presence detection by offering smarter privacy, a simpler login convenience, and better energy management. Furthermore, all ThinkPad X1's include a mechanical camera shutter for improved privacy.
ThinkPad X1 laptops have always excelled in performance, and the new generations are no exception. Designed on the Intel Evo platform, the highly configurable models feature the very latest generation of up to Intel Core i7 processors with Intel vPro and run Windows 11. ThinkPad X1 Carbon Gen 11 and X1 Yoga Gen 8 can also be configured with up to 64GB of LPDDR5 RAM for users who frequently conduct memory-intensive tasks.
Producing an outstanding user experience, with more sustainable materials, requires a relentless focus in design, hardware, and software excellence. The new generation of ThinkPad X1 has delivered without question with innovative and intelligent software-driven features, performance-focused hardware engineering and a customer-centric design ethic.