macOS Monterey delivers groundbreaking new features that help users connect in new ways, accomplish more, and work seamlessly across their Apple devices. FaceTime includes new audio and video features that make calls feel more natural and lifelike, and new Continuity tools like AirPlay to Mac enable Apple devices to work even better together.
Live Text and Visual Lookup bring new intelligence features to surface useful information, Safari includes powerful tab organization with Tab Groups, and the ease of automation comes to the Mac with Shortcuts.
Coming later this fall, SharePlay will enable Mac users to have shared experiences together through FaceTime, and Universal Control will make it easy for users to work effortlessly across their Mac and iPad. macOS Monterey is available today as a free software update on Macs with Apple silicon and Intel-based Macs.
New Ways to Stay Connected with FaceTime
FaceTime calls sound more natural and lifelike, and SharePlay offers a new way for users to connect and enjoy time with friends and family. With spatial audio, voices in a FaceTime call sound like they are coming from where the person is positioned on the screen.
Two new microphone modes give users more control over how their voice sounds: Voice Isolation eliminates background noise to ensure the user's voice is crystal clear, and Wide Spectrum allows all the noise to come in so participants can hear everything. Portrait mode, a new feature in FaceTime and available in apps including Webex and Zoom, utilizes the Neural Engine in the M1 chip to keep the user in focus while blurring the background, and a new grid view shows participants of a Group FaceTime call in same-size tiles.
SharePlay is a powerful set of features that will enable users to have shared experiences on a FaceTime call. Users can experience their favorite music, TV shows, movies, and more with friends and family in real time, and shared playback controls let anyone in a SharePlay session play, pause, or jump ahead. They can also share their whole screen or just a specific app, making it easy to collaborate with friends or coworkers on a call. SharePlay will work with apps like Apple Music and Apple TV+, as well as popular third-party services.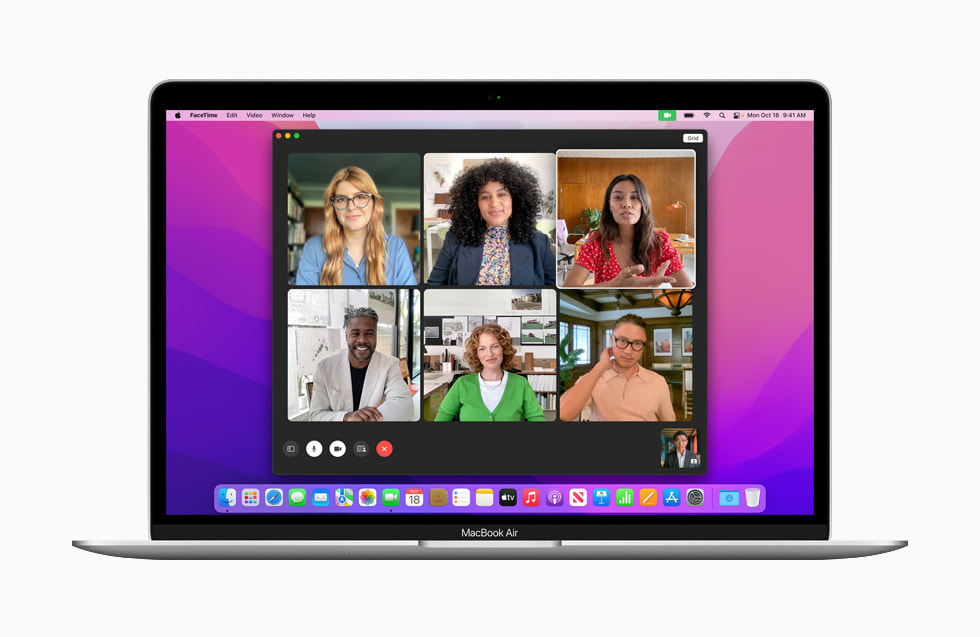 Working Across Apple Devices with Universal Control and AirPlay to Mac
With Universal Control, users will be able to work with a single mouse and keyboard and move seamlessly between Mac and iPad. Users can place devices next to each other and instantly move the cursor from one device to the other — no setup required. They can use their Mac keyboard to type text on any device, or drag and drop content back and forth easily between devices.
Users can even draw with Apple Pencil on iPad, and place their illustrations right into apps on their Mac, enjoying the powerful capabilities of all their devices at once. With AirPlay to Mac, it's easy to play, present, and share just about anything from iPhone or iPad right to a Mac. Use AirPlay to share the latest movies and games, photos, and presentations directly to the Mac's stunning Retina display or to play music from across the room to the high-fidelity sound system in your Mac.