Smart technology has become an essential part of a 21st century home. It is revolutionizing the way we interact, the way we do chores and the way that enjoy entertainment. With a simple voice command, we can create a seamless, smart environment that promotes simplicity, functionality and overall digital zen.
So, if you are looking to upgrade your family home, to make it smarter and more efficient, then here are a few different ways you can do this.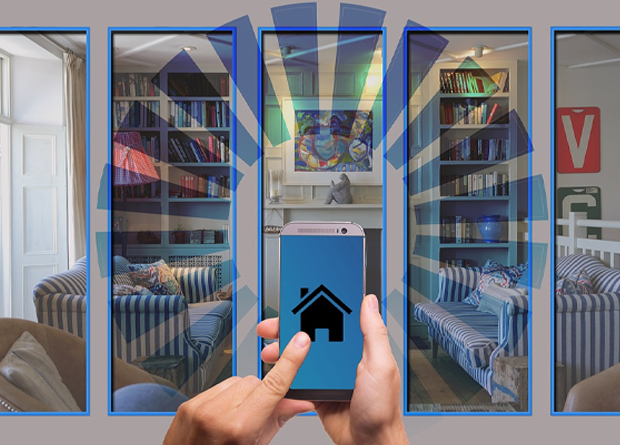 Setting your home up as a smart home all starts with a Smart Home Assistant, along with controlling the rest of the smart technology in your home. Running a home, means you are always on the go, enlisting the help of a smart home assistant, can help make some of the little tasks run a little smoother. These smart home assistants have multiple uses, they can play music, they can book appointments, they can do a timer when you are cooking and they can even read you the news.
Be Smart About Security
Smart security has made keeping your family safe so much easier. With an integrated security system from Vivint, you get the most advanced products and complete control from anywhere. A smart security system ensures that your property is protected by intelligent devices such as cameras, locks and alarms that are available to monitor on a single platform. This means you can be sure that your home is safe when you are traveling, or even just out for the day. The peace of mind that comes with knowing your home and family are safe and secure is invaluable.
Brighten Up With Smart Lightbulbs
Many homeowners are looking for both convenience and eco-friendly options. Smart lighting is the solution to this, lighting has never been so convenient. Smart lighting allows you to control your lights through your smartphone, home assistant or hub. Not only can you access the lighting from anywhere, but you can also schedule it to wake you and the family up in the morning. An eco-friendly solution, the LED light bulbs are energy-saving, making sure that you do your bit for the environment.
Be Hot On The Heating
Not only can smart technology make your house run more smoothly, but they can also help you to save money. An upgrade that will change your life is the smart thermostat, not only will it monitor your houses patterns and adjust the temperature accordingly, but you can also control it from the touch of a button. Meaning on those cold winter days you can make sure that the house is snug by the time you get home. Smart heating analyses data, providing you with a report on your usage, helping you to make smarter, eco-friendly choices.
Say Goodbye to Vacuuming
To be able to switch on a vacuum and let it clean the house is a treat. Robot vacuums are a great way to keep your house tidy. They map your floor and then clean it methodically, to ensure maximum efficiency. Taking themselves back to the charging station when they need a recharge. They are so handy, they have taken one chore permanently off your list.
Technology has changed so many aspects of our lives, with new remarkable advances being invented every day. Upgrading your home to utilize the technology available will make the home a more enjoyable place, with technology making your life easier and less stressful, enabling you to spend more time doing the things you love, with the people you love.