Managing a small business comes with a lot of responsibilities. Aside from overseeing the business operations, you also have to monitor other aspects of your business to achieve better organization and productivity. Thanks to innovative applications, these can make your life as an entrepreneur much easier and manageable. After all, there are plenty of ways you can use technology for your small business.  
However, when choosing apps, you probably need to check whether they can be accessed on the interface you're using. For instance, if you're a fan of Apple's unique interface, you should use applications that'll work on your iPhone or Mac.
To help you find the best one, keep reading this article to learn the top five apps to use on iOS and Mac for your small business.
1. Basecamp 
If you're searching for a project management app for your small business, Basecamp can be a perfect option. Accessible on iOS, Mac, and Android, it comes with an intuitive and systematized interface that allows users to do many things. For example, you can use the platform for project collaborations, chat within projects, making checklists, and many more.
Also, when you choose to use Basecamp, you can make sure that everyone who's working on a certain project is updated with the workflow calendar, as well as the project's progress. So, if you want an easy-to-use project management application, this innovation is highly recommended for all small business owners.
2. FreshBooks 
Generally, small business owners also need great accounting software to manage their sales transactions and finances. Hence, if you're looking for an app that'll work best for your business needs, FreshBooks can be a great choice. It's a popular cloud-based accounting application with plenty of efficient features. These include its user-friendly interface and its ability to integrate several services, such as Basecamp, PayPal, and a lot more.
Moreover, with the FreshBooks app, your small business can take advantage of streamlined invoicing, expense tracking, time tracking for payroll purposes, and generating financial reports. When it comes to payments, this application can charge your customers in any currency. More importantly, it lets them pay using their credit cards. Whether you're using a Mac or iOS device, you can access it with ease. And, since it's a cloud-based system, the backup process will never be an issue.
However, you should note that FreshBooks is just one of the best accounting software to choose from. To know your other options, check out this list of accounting apps for iOS. There are review sites that can help entrepreneurs like you make more educated purchases for your small business.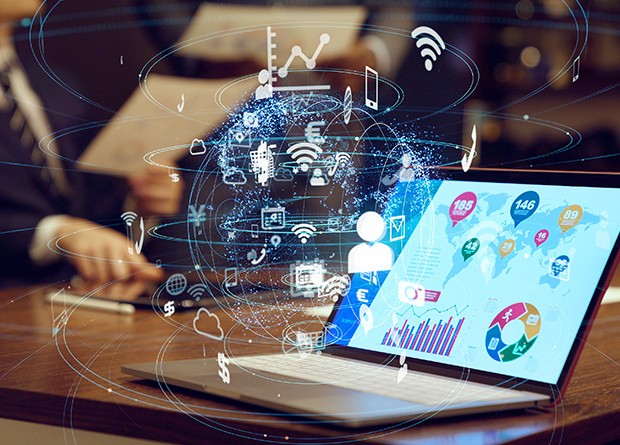 3. Slack 
Effective communication is crucial to your small business's operations. To achieve this, you need a communication app's assistance to make the process more efficient for you and your employees. Luckily, Slack can be a remarkable choice app for communication purposes. It's an instant messaging platform available on iOS and Mac.
Furthermore, it allows you to organize the messages into private or public channels. Also, the platform lets you send a direct message to any member. Aside from being a communication channel, Slack enables you to share files within the chat box. However, if you're searching for something that separates this app from the rest, it can add as many users as your small business wants.
4. RescueTime 
As a business owner, time management is important to help you stay organized with all your tasks at hand. If you want to find a time management application that works for Mac and iOS, RescueTime is highly recommended. For instance, this digital app allows you to keep track of the time you spend on your business activities.
Hence, if you want to become productive in running your business, you can use it to determine the specific amount of time spent on a particular activity. That way, you can manage your time more efficiently
5. Dropbox 
When it comes to file backups, collaboration, and synchronization, your small business can make use of the Dropbox app to ensure things will run smoothly. Typically, it's a go-to file solution to keep your business documents synchronized and easily accessible. For instance, if you download this application, anything that you save on the platform can be uploaded quickly and securely.
Moreover, lost files will never be an issue since Dropbox is a cloud-based system. Not only that, but even if you're working on a certain document, you can simultaneously save changes and upload it immediately to your app's account. This makes this software a reliable storage management solution for your small business transactions.
Final Thoughts
If you have a difficult time running your small business, many apps for your iOS and Mac devices can make the business process much manageable. Thus, if you're searching for the perfect combination of applications for your small company, keep the list mentioned above in mind so you can better manage your finances and streamline your business transactions.