Introducing the X-T100 that has 24.2 megapixel sensor, combined with Fujifilm's signature color reproduction technology, automatic scene recognition, three way tilting touch screen, and the latest Bluetooth technology.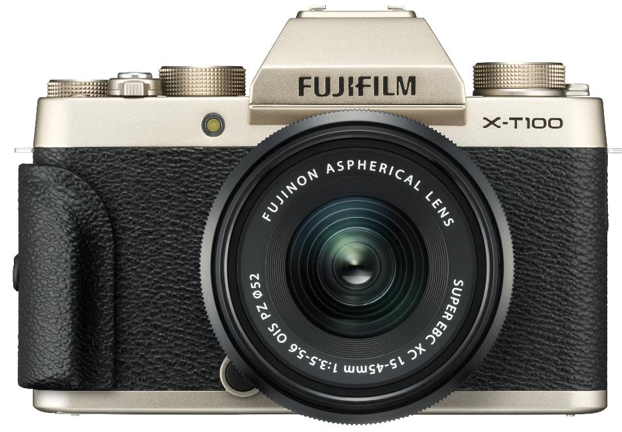 As the latest addition to the X Series of mirrorless digital cameras, it also has a high magnification electronic viewfinder, horizontal tilting rear LCD screen, and an extended battery life of up to 430 frames.
The X-T100 weighs just 448g with an anodized coated aluminum top cover, it has a retro look yet luxury feel. The 24.2 megapixel APS-C size sensor is 14 times bigger than the sensor inside a conventional smartphone and using the built-in Bluetooth technology makes image transfer quicker.
The camera is equipped with a phase detection autofocus system and a newly developed autofocus algorithm which offers faster and more precise focusing.
The X-T100 offers a variety of body colors such as Dark Silver, Black, and Champagne Gold and follows the familiar design of the popular X-T series from Fujifilm, offering three control dials on the top cover.
The X-T100 combines a 24.2 megapixel APS-C sensor with the image processing engine to achieve Fujifilm's photo quality. Combined with the supplied FUJINON lens, the camera boasts ultimate image resolution, lowlight capability, wide dynamic range, and good color reproduction.
The X-T100 features phase detection pixels and a newly developed algorithm, originally developed for the flagship X Series' models. The Hybrid AF system's autofocus ensures that users capture photographs instantly. Furthermore, the evolved SR+ Auto Mode now combines subject and scene recognition.
The X-T100 is compatible with Fujifilm's X Mount lens range, including the latest small and light electronic zoom lens, the XC15-45mmF3.5-5.6 OIS PZ. As a result, the X-T100 can be used to cover any photographic subject and genre.
The 26 lenses of Fujifilm's lens lineup covers a vast focal length from 15mm to 1200mm (35mm format equivalent) including zoom and prime lenses. In combination with newly introduced three-way tilting LCD monitor, high resolution and high magnification (0.62x) organic EL electronic viewfinder, and battery capable of 430 frames per charge.
The X-T100 offers 11 variations of Fujifilm's Film Simulation Modes and 17 variations of Advanced Filters.
In addition, the setting adjustments is quick with one-step operation possible via the function dial, exposure compensation dial, and touch-and-flick function on rear LCD monitor.