Targus, the company that introduced the first universal dual-video docking station, introduced the Thunderbolt 3 DV4K Docking Station with Power (DOCK220USZ).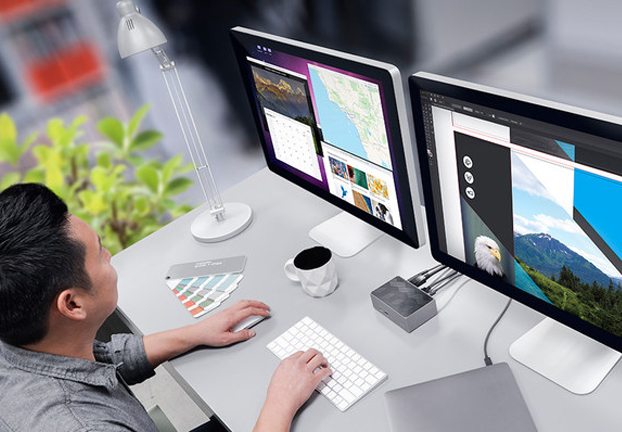 Unlike any other Thunderbolt 3 dock on the market today, DOCK220USZ works with any platform, including macOS and Windows. It's designed to work in Mac environments like design studios and video agencies as well as in mixed-laptop-inventory environments."
The DOCK220USZ gives designers, animators, engineers, and more the best of both worlds — speed and 4K-sharp resolution. Outfitted with one USB-C and two USB-A ports to accommodate workspace peripherals like a mouse and keyboard as well as combo audio, the Thunderbolt 3 Docking Station allows you to listen to music or use an integrated mic with ease. The dock delivers 4K views and combines power delivery and ease-of-use in a compact form factor to help creative professionals stay connected, powered, and productive.
Other features include:
1 Thunderbolt 3 upstream and 1 Thunderbolt port (Gen 1, DP alt mode)
Power Deliver up to 85W
1 DisplayPort 1.2a
1 Gigabit Ethernet port
2 USB-A (5Gbps; BC 1.2) ports (2 battery charging)
1 USB-C (5Gbps, 5V /1.5A) port
2 3.5mm audio and video jacks

0.5M

 passive 40G, 5A cable (C/M to C/M)