AFF Suzuki Cup 2016 title sponsor Suzuki Philippines (SPH) gathered football fans for games and activities last November 19, 22 and 25 to mark what is considered as ASEAN region's most prestigious football competition.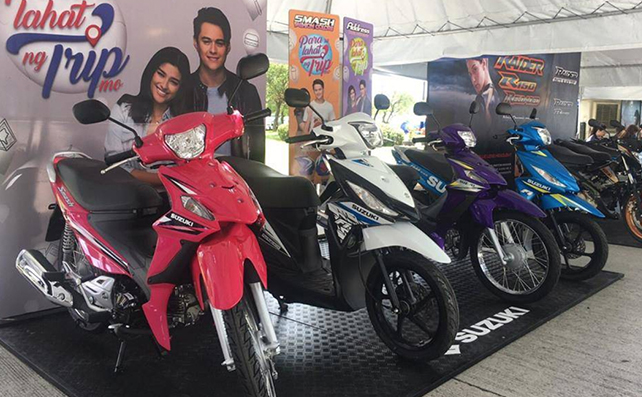 To kick off the tournament, over 1,000 motorcycle club members and 500 Suzuki car club enthusiasts joined the parade to the Philippine Stadium in Bocaue, Bulacan, on the AFF Suzuki Cup's first day.
Braving the traffic to greet the Philippine Azkals and cheer them on at the group stage games were 1,300 students, mostly hailing from the country's top universities, including Ateneo De Manila University, De La Salle University, University of Sto. Tomas, University of the Philippines, University of the East, and Far Eastern University.
On the last day of the group stage games, November 25, 40 children from the JCI Manila – GK Smokey Mountain Football Club witnessed the Philippine Azkals battle for national glory.
Aside from the competition, there were activities and games for tournament attendees.
Displayed at the Suzuki Village as well were SPH's lineup of automobiles and motorcycles. On display were the AFF-specially-dressed Suzuki Swift 1.2, Suzuki Jimny, Suzuki Ciaz, Suzuki Ertiga and Suzuki Celerio. Smash 115 Fashion Colors, Address 115 Fi, and the Underbone King – Raider R150 were also among the motorcycles showcased.
"Suzuki Philippines is honored to be part of this year's AFF Suzuki Cup, which marks the country's official debut as its co-host. With the help of our partners, we were able to bring the Suzuki Cup to full throttle and imbue a strong love for football among Filipinos, the latter serving as a great source of motivation to our Philippine Azkals," said Suzuki Philippines GM for automobile, Shuzo Hoshikura.
For more information on the AFF Suzuki Cup 2016, visit http://www.affsuzukicup.com/2016/index.html and follow official Twitter and Instagram pages @affsuzukicup.