D-Link announced the availability of the 10-Port 10-Gigabit Ethernet Smart Managed Switch (DXS-1100-10TS), expanding its family of 10GbE Smart Managed switches. The DXS-1100-10TS delivers 10-Gigabit Ethernet, ensuring that high bandwidth demand can be fulfilled while providing device flexibility across networks.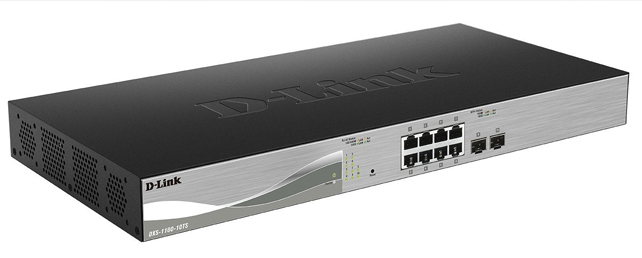 Switching features found in D-Link's line of Smart Managed switches include extensive Layer 2 switching options, energy savings and easy management tools. With eight 10GBASE-T copper ports and two 10GbE fiber SFP+ ports, the new DXS-1100-10TS is ideal for use as a network aggregation device, in server farms, or even for specialized 10-Gigabit to desktop applications.
The DXS-1100-10TS also includes specific features designed for video surveillance and Voice over IP (VOIP) deployments, including Auto Surveillance VLAN (ASV) and Auto Voice VLAN support.
The DXS-1100-10TS offers powerful switch management functions, featuring an intuitive web based graphical user interface that allows network managers to remotely control their network down to the port level. In addition, the switch supports Loopback Detection and Cable Diagnostics to help network administrators find and solve network problems.
Additional benefits include:
Advanced security features with network administrators able to limit network access to authorized devices only and save bandwidth in network throughput with tools including Static MAC, Storm Control and IGMP Snooping
Energy savings
Bandwidth control based on a per port basis for important functions that require larger bandwidth or have a higher priority
Smart and flexible management functions via a web interface, enabling network administrators to network down to the port level
Limited lifetime warranty