Epson announced two new graphics solutions targeting screen printers, the 17-inch SureColor P800 Screen Print Edition and the 24-inch SureColor T3270 Screen Print Edition.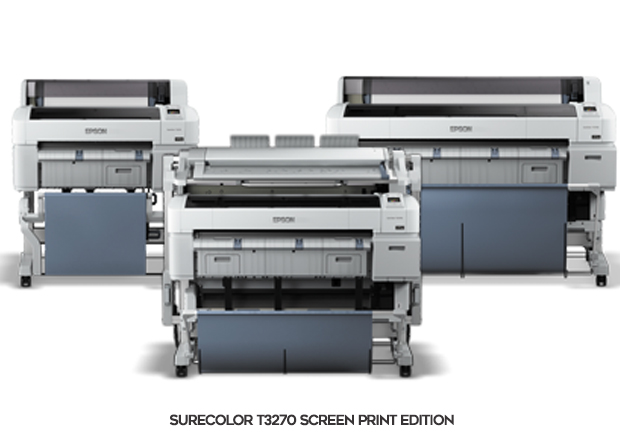 Building on technology featured in the current Epson SureColor P800 desktop photo printer and SureColor T3270 large-format color printer, the new screen print editions come bundled with AccuRIP Black Pearl SE software and Epson Screen Positive Film to produce film positives used to burn screens for the traditional screen printing process.
Leveraging Epson UltraChrome HD Ink and UltraChrome XD pigment inks respectively, the Epson SureColor P800SP and T3270SP provide a complete film positive printing solution. The new printers produce solid and halftone films up to 65 lines-per-inch (lpi) with high UV opacity and a black density up to 4.0 Dmax – in class speeds up to 24 films per hour with the SC-T3270SP. And, because these printers use a full color ink set, screen printers are able to produce comps and even graphics with the same printer used to produce screen positive films.
The SureColor P800 Screen Print Edition is a full 17-inch wide borderless printer capable of high-volume printing with minimal downtime for maintenance. Leveraging Epson MicroPiezo AMC printhead technology with Precision ink drop control, and all-new Epson UltraChrome HD eight-color pigment ink set, the SureColor P800SP delivers output with resolutions up to 2,880 x 1,440 dpi.
Equipped with Epson's PrecisionCore TFP printhead and specially formulated Epson UltraChrome XD pigment ink, the SureColor T3270 Screen Print Edition delivers color and lines on virtually any paper type. The SureColor T3270SP provides a five-color ink configuration, available in a multitude of sizes.
The Epson SureColor P800SP and SureColor T3270SP will be available in February.