Toshiba America Electronic Components, Inc. (TAEC) announced the launch of the TCR5AM series, a new lineup of 500 mA output low-drop out (LDO) regulator integrated circuits (IC)s.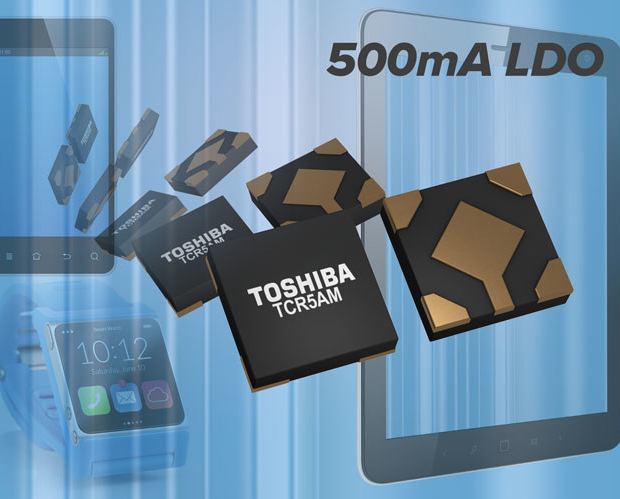 These single-output voltage regulators are available in fixed output voltages between 0.55 V and 3.6 V and are capable of driving up to 500 mA. The TCR5AM series is suited to WIFI chipsets, cameras, power management applications for smart phones, tablets, and wearables – and any application requiring an LDO where battery power is critical.
Toshiba has achieved industry-leading LDO characteristics for the new series by adopting an external bias voltage terminal (VBAT) that is separated from the power source input. This sets the new voltage regulators apart from conventional products and enables them to increase the efficiency of the power source. Additionally, the TCR5AM series incorporates protection functions such as over-current protection and over-temperature protection, making them a safe, efficient LDO solution.
Features of the TCR5AM series include:
LDO voltage: VIN-VOUT=0.072 V (typ.) @VOUT=0.6 V, VBAT=3.3 V, IOUT=300 mA,VIN-VOUT=0.120 V (typ.) @VOUT=0.6 V, VBAT=3.3 V, IOUT=500 mA
A wide range of products are offered with output voltage starting from 0.55 V: VOUT=0.55 to 3.6 V
Protection function: over-current protection, over-temperature protection, inrush current protection circuit, under-voltage-lockout function
High output current: IOUT=500 mA (max)
High power dissipation package: PD=0.6 W, 1.2×1.2×0.38 mm (DFN5B Package)