Prestigio has announced its entry into the local smartphone industry with the launch of a range of smartphones. With this move, the Philippines becomes the company's first distributor in Asia. The new products consist of Multiphone 5550 Duo, 5508 Duo, 3502 Duo, 5454 Duo, 8500 Duo and 3450 Duo.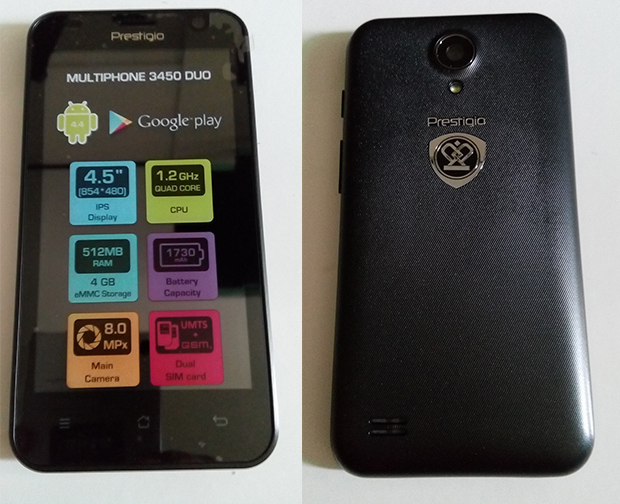 The Multiphone 5550 Duo is a phablet that comes with a 5.5-inch IPS display with a resolution of 720 x 1280-pixel. Powered by a 1.3GHz quad core processor, the phone has a 1GB built-in RAM and supports microSD cards up to 32GB and has a 200GB free cloud storage. Priced at P8,999, the device offers dual SIM slots and a 13MP rear camera, equipped with Sony IMX 179 camera sensor, and energized by a 3000 mAh battery. It also comes with an advanced Gorilla Glass 3 protection.
Powered by quad core CPU and GPU, the Multiphone 5508 Duo sells for P13,899, runs Android 4.4 Kitkat and uses dual SIM. The 5508 Duo has a five-inch IPS display with a 720 x 1280-pixel HD resolution and complemented with a DragonTrail glass protection. It also offers a 13MP rear camera and 5MP front camera, and 200GB of free cloud storage. It also comes with pre-installed applications and services such as Prestigio eReader, Navitel Navigator, McAfee antivirus, and Prestigio MultiStore.
The 3502 Duo, which sports a curved form factor, is powered by 1.3GHz quad core processor and runs Android 4.4 Kitkat. It offers a wide IPS screen that measures five inches. The unit is priced at Php6,199, offering Internet connection with 3G up to 7.76Mbps/21.1Mbps; high speed Wi-Fi; Bluetooth 4.0; an 8MP camera; dual SIM capabilities; and a set of pre-installed applications.
The 5454 Duo supports 4G LTE technology, which is 10 times faster than 3G for high data speed. It also has 4G LTE and Qualcomm Snapdragon 410 as its processor. The device features a bright 4.5-inch IPS display with Gorilla Glass 3 protection. It sells for P8,799; and has dual SIM capabilities; runs Android 4.4 Kitkat; and comes with a 2,000mAh battery.
The Multiphone 8500 Duo runs on Windows Phone 8.1 operating system. The phone is powered by a Qualcomm 1.2GHz quad core CPU with 1GB of RAM; has a Gorilla Glass 2 protected five-inch IPS HD display with a 720 x 1280 resolution; and comes with 2MP front camera and 8MP rear camera. Priced at P9,699, the 8500 Duo has dual SIM slots, and 3G network.
Lastly, the Multiphone 3450 Duo runs on Android 4.4 Kitkat OS, and is powered by a 1300MHz quad core CPU. It has a 4GB built-in storage and 512MB of RAM. It comes with a 4.5-inch IPS display; 8MP camera; dual SIM slots; and a 1,730 mAh battery. The device is sold for P5,699.
The Multiphone series is distributed in the Philippines by Veracity Mobile.
Prestigio was established in 2002 and has headquarters located in Cyprus and Dubai. Its research and development center is located in Prague, Czech Republic.