AOS Technologies has introduced the PROMON SCOPE G2, a portable high-speed streaming camera system that helps technicians quickly isolate problems to get ailing equipment back up and running.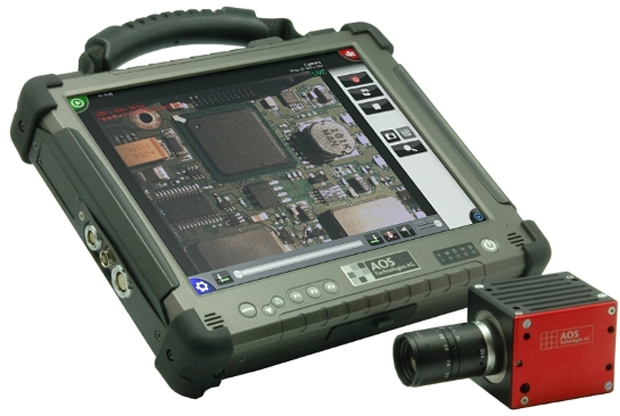 Featuring a recording rate of 3,000 images per second, ultra slow-motion playback and a built-in battery, the PROMON SCOPE G2 is ready to use right out of the box. Thanks to its rugged, shock-absorbing aluminum-magnesium casing, the system is ideal for detecting errors and recording and optimizing production processes in even the toughest manufacturing environments. The PROMON SCOPE G2 is capable of picture-synchronous recording of external analog and digital signals like voltage, pressure, switch-states or PLC signals, which it can overlay on the corresponding video frames to help pinpoint exactly what's happening system-wide at the point a manufacturing or assembly process fails.
"Understanding a process in detail under real-world conditions is key to optimizing and maximizing output," said Stephan Trost, president of AOS Technologies AG. "The PROMON SCOPE G2 gives engineers and technicians multiple data points along with ultra high-speed video recorded right in the actual manufacturing environment. Even sporadic errors and events are easily captured and analyzed."
Available in color, monochrome or near infrared, the PROMON SCOPE G2 features a 10-inch thin film transistor (TFT) flat-panel display with touch screen, similar to a tablet. The 11.1-volt battery is rechargeable and allows over two hours of continuous operation. To preserve battery life, the camera can be set to motion-activated mode. Recording time is around 40 minutes; optional additional memory doubles that.
Standard editing functions on the PROMON SCOPE G2 include sequence playback, cutting and editing, and AVI file storage. Motion analysis software can be added at an additional cost. The entire system, including the camera and controller, weighs in at less than three kilograms. Clients can opt to add on a docking station, solid transport case, extended battery pack or accessory kit.