ViewSonic Corp., a global provider of visual solution products, has introduced the whole new LightStream Series – multimedia projectors offering audio and visual features to meet the needs of small- to medium-sized business and consumers.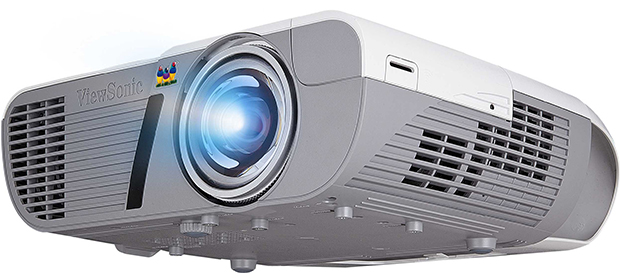 ViewSonic brings the exclusive SonicExpert technology and built-in ViewSonic SonicMode sound system to deliver higher volume and best-in-class sound for premium audio experience. The exclusive SuperColor technology offers a wider color range for true-to-life image projection. Moreover, the series comes in an elegant glossy design with ergonomic features.
The LightStream projectors deliver full-range sound 20Hz – 20KHz for presentations or off-the-clock home entertainment. The speakers have Sound Response Curve, and high efficiency of transferring electric power to sound power.  The PJD6 series projectors also come with ViewSonic's SonicMode presets to deliver optimized audio performance for different applications.
ViewSonic's proprietary SuperColor Technology offers a wider color range than conventional DLP projectors. SuperColor Technology projects images with true-to-life color performance, in both bright and dark environments, without sacrificing image quality. ViewSonic's SuperColor 6-Segment Color Wheel decreases the white segment that may cause washed out images, while increasing the yellow and cyan segments.
Providing five pre-set color modes, users can choose the best one to suit their material. These five modes are: Brightest Mode for environments where extra-high brightness is required; Dynamic Mode for presentations with a lot of text; Standard Mode for matching PC or notebook color; ViewMatch Mode for general viewing; Movie Mode for watching movies with better saturation in a dark environments.
The LightStream projectors are identified by their dot texture and hair-line surfaces, while the brushed pattern prevents fingerprints and scratches.
All new LightStream projectors feature an intuitive remote design. The new remote features a unique "My Button" control that configures to a user's or installer's preferred setting with one simple click. The user-friendly remote also accepts multiple codes so an installer has the flexibility to operate up to eight projectors in the same room with a single remote. Equipped with a 1.3x optical zoom lens, the projectors provide mounting flexibility with a wider throw distance range.
With a 1.5 shorter throw ratio, this lens can also project large images from short distances in small rooms. To enjoy wireless high-definition multimedia in any meeting room or classroom, all LightStream PJD6 projectors include ViewSonic's exclusive PortAll feature—a hidden compartment with an integrated and secure MHL/HDMI port that lets you discretely stream multimedia content from a wireless dongle, or lets you connect to other devices via an HDMI cable.
The LightStream projectors can be converted into smart displays by streaming multimedia such as presentations, movies, music, and games from Smartphones or tablet PCs. Smartphone users can play Full HD 1080p videos on a large 100" screen while simultaneously charging phones.
"Our new generation of LightStream projectors demonstrates ViewSonic's continued dedication to lead the visual display industry with innovative and feature-rich digital projectors that range from affordable entry-level to advanced projection solutions," said Max Hsu, PM director for ViewSonic Asia Pacific. "ViewSonic LightStream series features a stylish design, exclusive audio-visual technologies to deliver excellent color and more brightness than ever possible in this class of projector. ViewSonic will expand the LightStream series with more innovative design and embedded smart functions in second half of 2015 to suit every need."
The new LightStream PJD5 series of projectors including the PJD5153, PJD5253, PJD5255, and PJD5555w are now available. The PJD6352 from LightStream PJD6 Networkable series will be available in June 2015.
For more information about ViewSonic products, visit www.viewsonic.com.