Ruri, a newly released mobile application for the iPad and available to download for free on the App Store, allows users to create attractive and engaging presentations without previous design experience.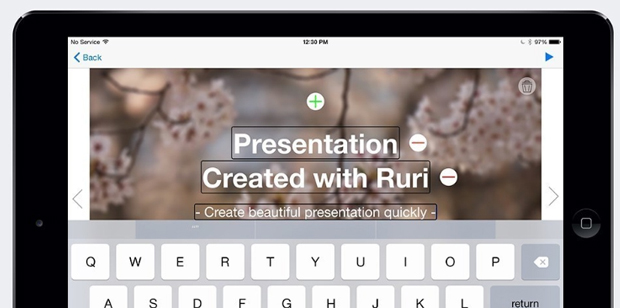 Created by iPad app developer Martians Talk, Ruri comes fully loaded with features and graphics designed to make every presentation look as if it was produced by a professional designer. Ruri includes built-in templates, modern typography, and animated backgrounds to give each presentation an engaging and unique appearance.
"Ruri was designed to provide users with an easy to use platform and the tools necessary to create one of a kind professional presentations," said Kyohei Nakamori, founder of Martians Talk. "While other presentation applications require extensive knowledge, skills, and training to design captivating presentations, Ruri allows users with little or no design experience to create seamless and visually appealing presentations."
The Ruri mobile app allows users to: impress their audience with graphics; create professional-looking slides using well-designed templates; and design presentations easily and quickly on the go.
"Many businesses, entrepreneurs, and individuals are looking for a presentation application and design tools to create striking presentations to get their message across in the most effective and engaging way," said Nakamori. "We understand that some people don't have the skills or knowledge to easily create a presentation or the budget to hire a professional designer, and that is why Ruri stands out. It is easy to use and provides the tools and resources to help people achieve the professional and polished design they are looking for."
Ruri is available for free on the App Store. Diwnload at: https://itunes.apple.com/us/app/ruri-create-presentations/id959336813.
Ruri was developed by Kyohei Nakamori, a Tokyo-based engineer, designer, and marketer. Nakamori helped launch the mobile app, Eight, in 2011, which was selected as "Best Apps of 2014" by Google Play Japan and "Best New Apps" in the App Store Japan.