Futuri Media has announced that its Futuri Mobile Platform will feature integration with Apple's new Apple Watch in early May, shortly after the new device's retail release date. This will enable TV and radio stations using Futuri's mobile platform to send alerts to the watch, display information on the broadcasters' content currently playing on-air, and receive audio from the watch using Futuri's Open Mic feature.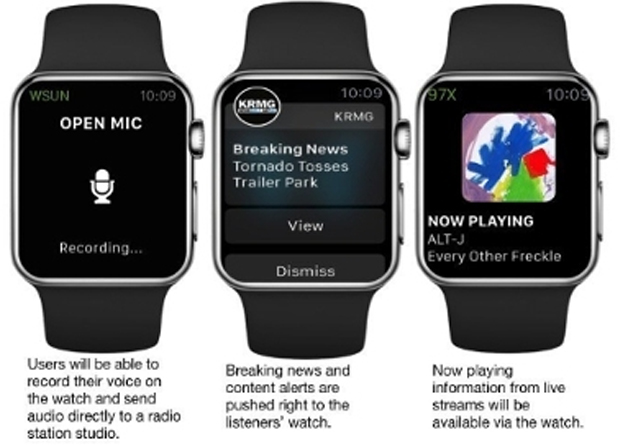 More than 150 apps already have been released by TV and radio stations around the world using the Futuri Mobile platform. Broadcasters and content publishers can create apps with Futuri Mobile in three easy steps:
1. Choose the features you'd like in your app
2. Select your desired user interface design
3. Assign which devices you'd like to place your app on (such as iPhone, tablet, Android)
For stations that already have apps but desire to integrate features from Futuri Mobile, Futuri also makes its features available for "importing" to off-platform apps built by other developers.
"The release of Apple Watch is this year's biggest headline in 'wearable technology,' and we're excited to be the first media app developer to announce integration with this breakthrough device," said Futuri CEO Daniel Anstandig. "Our team is passionate about creating memorable personal experiences for our clients' brand audiences. TV and radio users today demand personal real-time information, and this integration extends our ability to provide live actionable notifications and calls to action for our media partners."
"We're very excited about the possibilities of linking broadcasters directly with consumers through wearable technology. Apple Watch integration will enable stations to have even greater engagement with their users than ever before," said Jamie Arseneault, Futuri director of mobile development.