Indulge in premium style with Beats Studio 2.0, now finished in Champagne and Metallic Sky. The new Beats Studio has been completely redesigned and reimagined to give users a taste of the iconic Beats sound and the most intimate and realistic listening experience. It's lighter, sexier, stronger, and more comfortable, with precision sound, Adaptive Noise Canceling, a 20-hour rechargeable battery and RemoteTalk. It has all the energy and excitement expected from Beats, plus a powerful, reengineered sound, wrapped in an elegantly crafted exterior.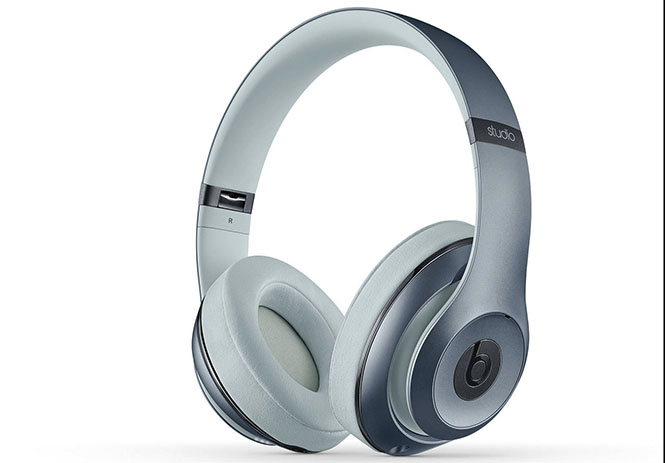 The new Studio 2.0 is both refined and elegant with the new Champagne finish, glistening with a smooth pearly sheen and tasteful golden highlights, matched with a premium build with soulful curves. It has the signature DSP software, generating the emotional experience music ought to make one feel, like it's the artist playing back in person. The Beats Acoustic Engine makes listening experience intimate, personal, and real.
Studio 2.0 is as sleek as sleek can get with the new Metallic Sky finish. It looks subtle but striking, with a lustrous, icy color palette and cool blue accents. It feels as cool as it looks, styled with smooth surfaces and zero visible screws. It sports a lighter, stronger, and more comfortable headband for added durability. This time, the ear cups are softer, complemented by an ergonomic bellow to create a flexible, custom fit for every head shape for a more comfortable listening experience.
Enhance the sound experience with an air of sophistication, luxury and style with the new Beats Studio 2.0. Get it in Champagne or Metallic Sky at an SRP of P18, 500. Beats Studio 2.0 is also available in Black, Red, White and Blue variants.
Beats by Dr. Dre (Beats) wasfounded in 2006 by Dr. Dre and Jimmy Iovine. Through its family of premium consumer headphones, earphones, and speakers, Beats has introduced an entirely new generation to the possibilities of premium sound entertainment. Beats was acquired by Apple Inc. in July 2014.
Call MSI-ECS, the sole distributor of Beats by Dr. Dre in the Philippines, at (02) 688-3180 or email marketing@msi-ecs.com.ph for availability.