Paragon Software Group (PSG), considered a leader in data protection, backup and disaster recovery, has announced the release of Paragon Disk Wiper 15 Professional – for the most secure data protection on hard drives and SSDs – and Paragon Backup & Recovery 15 Home – an easy-to-use data and PC system backup and recovery tool.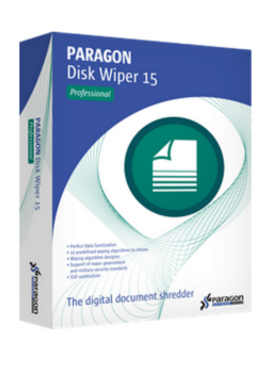 Paragon Disk Wiper 15 Professional accomplishes secure data wiping on hard disks. The new version is now able to sanitize SSDs without affecting their operating life. In addition to protecting sensitive personal information, Disk Wiper frees up space by clearing remnants of deleted files and directories. Paragon Backup & Recovery 15 Home backs up not only users' data, but also the entire operating system with all settings and installed applications. Both versions support Windows 8.1, and purchasers will receive free updates for Windows 10 support.
In the light of recent scandals involving unauthorized access to personal information, the issue of data protection has moved back into the public spotlight. For criminal organizations, access to data can be a gold mine. What options are there for protecting data when an old PC or a hard disk is being replaced? Merely formatting the hard disk is not enough: there are a number of tools on the market that can recover information from a reformatted drive, so it is important to permanently delete sensitive data before disposing of a computer or a disk drive.
The new Paragon Disk Wiper 15 Professional erases data securely, reliably and permanently. Ten different algorithms follow recognized safety standards to make sensitive data or specific data fragments unrecognizable by multiple overwriting, so they are impossible to retrieve by any means.
The new version of Paragon Disk Wiper supports the latest Windows 8.1 as well as all types of hard disk layouts. A special highlight of the new version is support for SSDs. SSDs have a fundamentally different structure than traditional hard drives. Data cleansing by multiple overwriting is not designed for SSDs. For one thing, any additional writing cycle contributes to the durability of the expensive SSD and on the other hand, with traditional approaches it is not possible to delete a specific sector on an SSD because sequential and cyclic writing on SSDs allows for uniform use of the SSD cells. The SSD-delete function in the new Disk Wiper connects directly to the drive's internal controller, and therefore deletes data on an SSD reliably and without compromising the durability and functionality of the SSD.
Wipe stamp is another feature, and can be added to the MBR (Master Boot Record) of the deleted storage medium. The wipe stamp contains information about the used wiping program, algorithm, wiping status, the serial number of the disk, the system ID (recalled through WMI), etc. If this storage medium is restarted, a notification appears of when and how the data volume has been deleted. This option is available only if the total data volume has to be deleted. Sanitization notifications are especially useful to public authorities and institutions to ensure information (for example, health records, financial data, etc.) is protected, and is only accessible by authorized individuals in accordance with federal guidelines.
Macs can be booted from the Linux-based wipe medium to securely erase all data from any selected HDD/SSD.
The built-in Wipe Media Builder creates in just three steps a bootable WinPE or Linux-based wiping environment on a USB flash drive or an ISO image. With this wiping media, data can be deleted from hard drives even if the operating system fails to boot.
Free update for full Windows 10 support.
Supported OS: Windows 8.1/8/7Vista/XP.
Paragon Backup & Recovery 15 Home protects data and the entire operating system so it can be restored in case of a disaster. The software includes a range of backup and recovery options for files and folders, the operating system or even the entire hard disk to any storage of choice (e.g., internal storage, external USB storage, NAS, DVD, flash disks). The 'set and forget' technology allows the user to set up once while the system will accomplish backups automatically.
New features include n backup format with higher compression and faster backups on network drives, as well as an improved recovery environment. The new Paragon Recovery Media Builder 3.0 feature makes creating a recovery environment particularly easy and flexible. Thanks to the latest WinPE technology, the recovery environment can be operated intuitively. Optionally, one can create a WinPE or Linux-based recovery media on a USB flash drive or save it as an ISO file and then burn a bootable CD/DVD. An enhanced mode allows the inclusion of specific drivers and preconfigured network settings.
The new version delivers powerful backup of the system both at sector and file level. The file-based backup and restore to and from virtual containers supports all popular formats, including pVHD, VHD, VHDX, VMDK. Backup to virtual containers (full backups, file increments and supplements) can now also be created on the file level.
The program's redesigned main window makes the functions easier to find and more intuitive to use. The layout used in the previous version (e.g., the PBF Backup Capsule) is also supported in a special Compatibility View mode.
Free update for full Windows 10 support.
Supported OS: Windows 8.1/8/7Vista/XP.
Founded in 1994, Paragon Software Group has offices in the USA, Germany, Japan, Poland, Russia and China delivering its solutions to consumers, small business and enterprise clients worldwide through a network of Value Added Resellers, distributors and OEMs, as well as online through the company website. Paragon Software Group provides technology to companies and partners including Cisco Systems, Dell, HP, Western Digital Corp., ASUS, Seagate, LG Electronics, Logitech, Buffalo, Acer, EMC/Iomega, Siemens, Lenovo, Microsoft, Motorola, and Nokia.
For more information, visit www.paragon-software.com.