Introducing ViewSonic's new MHL 2.0 displays. With MHL 2.0 and HDMI connectivity, it will turn the home display into an entertainment center for everyone to play XBOX or PS4 games, watch movies, or share photos and videos.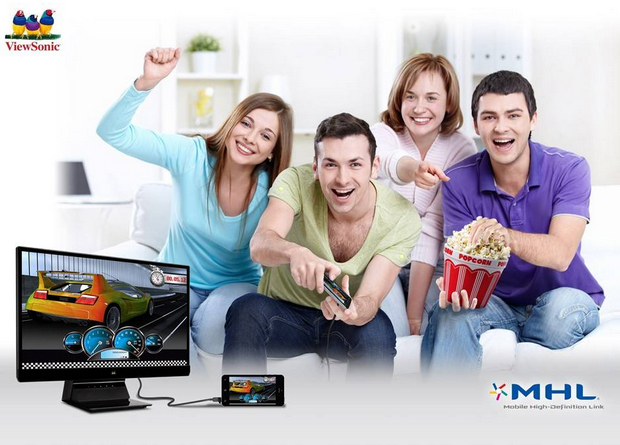 ViewSonic's MHL 2.0 VX-series display, the VX2770Sml-LED, is designed to connect with the latest generation of portable devices, including smartphones, tablets and other monitors to give mobile content greater impact on a large screen. MHL 2.0 technology also simultaneously charges connected devices to prevent them from running out of power while users watch movies, play games or listen to music. With its frameless designs, the VX2770Sml-LED offers impeccable wide viewing angles that allow for the viewing of on-screen content from any angle without color decay. Also, Full HD resolution, a dynamic contrast ratio of 30 million: 1 and SRS premium sound deliver more-detailed colors and sounds to users playing games, watching movie clips and more.
"The number of mobile users has grown rapidly in recent years. Keeping up with the trend, ViewSonic has developed a high-performance product line to meet the needs of mobile users who play games and share multimedia resources. Equipped with MHL 2.0 and HDMI, the VX2770Sml-LED is really perfect for gaming and video streaming; most important of all, people can use mobile devices to share their content on a large monitor, bringing greater convenience and entertainment value.", said Max Liu, product director at ViewSonic.
In addition to the MHL2.0 VX2770Sml-LED display, ViewSonic also offers VX2770Smh-LED and VX2703mh-LED displays with the HDMI interface, so that consumers can play multimedia contents, and connect with DVD players and other high-definition devices.
Getting in front of the trend, ViewSonic VX-series displays bridge the gap between smartphones, tablets and other displays by using MHL 2.0 or HDMI technology to deliver the functionality and services that define the new era of digital entertainment. HDMI offers flexible connectivity to multiple media sources and high-definition devices, and together with MHL 2.0, makes these monitors extremely versatile.