Independent game developer XLUSH has announced that its newest title, Ninja Wrath, is now available for iPhone, iPad and iPod touch, bringing swift arcade action and the thrill of classic beat-'em-ups to mobile players everywhere.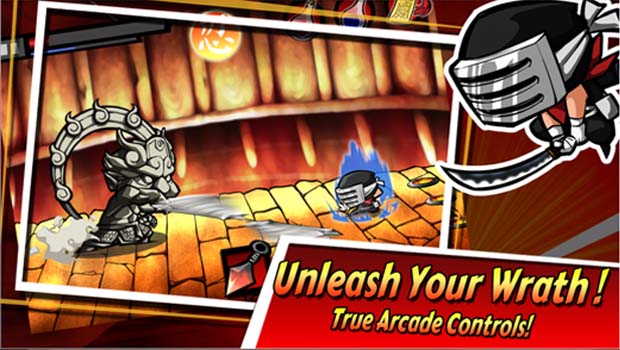 Featuring a unique mix of brawler action and stat-leveling gameplay, Ninja Wrath invites players to become a deadly yet agile ninja warrior. Responsive controls inspired by nostalgic console-game favorites have been tuned for a smooth and intuitive touchscreen combat experience like never before, and allowing players to unleash lightning-fast attacks and string up powerful combos.
Seamless animation and hi-res hand-drawn visuals capture each strike with eye-popping clarity and flair. Waves of mystical foes and fearsome beasts will be asking for trouble across 60 epic stages, including Boss fights, Survival and Time Attack Modes. Players can hack and slash harder, dash and smash faster as they earn experience points, collect items, unlock new attack skills, combos, and weapon upgrades. Magic spells can also be used to crush, poison, burn and snap-freeze enemies in the blink of an eye.
Ninja Wrath features include:
True arcade-style controls inspired by console brawlers and classic beat-'em-ups
Intuitive combo skill system and fast-paced action combat with cartoon flair and a dash of gore
Hours of top-tier gameplay across 60 levels including Boss fights, Time Attack, Survival Mode
Weapon, item, combo, magic, skill stat upgrades and unlocks
Fluid hand-drawn illustrated graphics, seamless framerates, optimized for iPhone 5
Over 30 Game Center achievements
Packed with hours of non-stop action, top-tier combat gameplay and intuitive console-inspired controls, Ninja Wrath is now available for $0.99 and equivalent from the App Store on iPhone, iPad and iPod touch.
Headquarted in Seoul, Korea, XLUSH is an independent mobile developer producing exciting and unique game experiences for the iOS and Android platforms.