EMC Corporation expanded its VCE VxRack System 1000 to provide a turnkey cloud-native IaaS experience through new "Neutrino" nodes. The flexibility of the VxRack System is rooted in its rack-scale design, allowing enterprises, ISV's and Service Providers to leverage different node types for different workloads.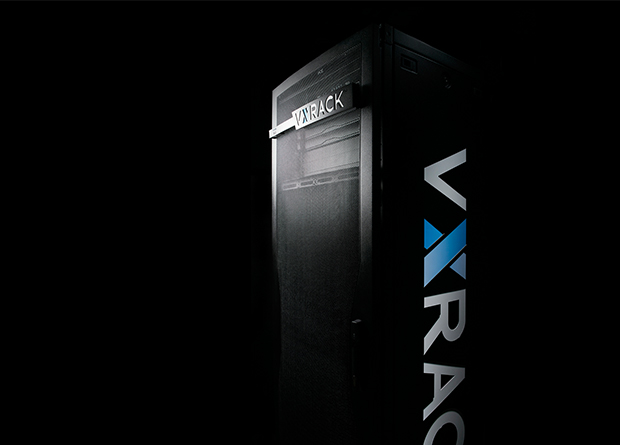 The VxRack System enables workloads to operate at scale by providing a hyper-converged rack-scale system – compute, storage and networking – with integrated management. This, in turn, delivers simplified data center operations to reduce total cost of ownership (TCO) compared to a traditional SAN, as well as scaling-on-demand.
With the VxRack System with Neutrino Nodes, customers can deploy an enterprise-grade cloud-native IaaS with built-in automation, as well as provision resources for the first time. In addition, the software automation layer enables "day two" operations, including monitoring and reporting, single click software upgrades, and single vendor support of open-source, cloud-native IaaS and data stacks. VxRack System with Neutrino Nodes is a foundation for various cloud-native services including OpenStack, VMware Photon Platform, and Apache Hadoop.
VxRack System with Neutrino Nodes serves as one of the underlying IaaS options for the new EMC Native Hybrid Cloud (NHC) platform. EMC provides the ability to map the VxRack System to specific application environments via three software-defined nodes – Neutrino Nodes, FLEX Nodes and SDDC Nodes.
VxRack with FLEX Nodes leverages EMC ScaleIO software-defined storage to create a flexible, open and heterogeneous foundation for delivering IaaS at scale. It is optimized for enterprises data centers and Service Providers. As more nodes are added, throughput and IOPS increase. This system can start as small as a single Node and can scale to many thousands of Nodes – delivering thousands of CPU cores, more than a petabyte of RAM, many tens of petabytes of storage capacity, and tens of millions of IOPS.
VxRack with VMware SDDC Nodes is purpose-built for IT organizations that have standardized on VMware software defined datacenter cloud technologies. The SDDC Nodes comprise of hardware and software components including VMware vSphere Enterprise, VMware Virtual SAN, VMware NSX, vCenter Server, and key components of VMware vRealize Suite.
Regardless of the type of Node deployed, a VxRack System provides the following:
Ability to start small (1/3 rack) and scale big (many racks, hundreds or thousands of nodes) by adding nodes in increments to meet demands.
A fully integrated Cisco rack-scale spine-and-leaf network fabric with pre-integrated physical networking that is architected for scalability; each Node type also brings software-defined networking capabilities in addition to the physical network layer.
A simple user interface.
Complete lifecycle management through software and hardware releases and upgrades.
Software-defined storage, compute and networking for the deployment of next generation mobile, cloud and mixed workloads including traditional and cloud focused applications.
More than 30% improved TCO compared to a traditional 30% through reduced resources for administration, elastic expansion and non-disruptive software and hardware upgrades.
Lower power, cooling, and floor space compared to traditional infrastructure.
The VxRack System will also take advantage of the VCE Vscale Architecture and VCE Vision software to provide data center scale resource pooling with converged operations and management.
VxRack System with Neutrino Nodes support for OpenStack is orderable and available in Q3 2016. VxRack System with Neutrino Nodes support for Photon Platform and Hadoop Apache will be available next year. VxRack System 1000 is highly customizable and configurations start at $300,000, or the local conversion.