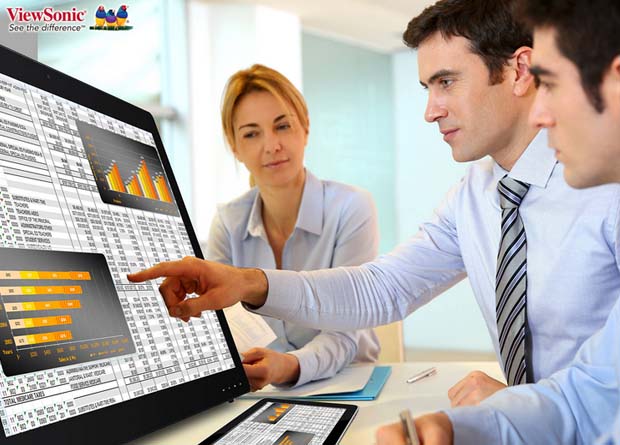 In line with the rising trend of touch technology, ViewSonic Corp., a provider of computing, consumer electronics and communications solutions, has incorporated multi-touch technology into the TD series of monitors, coming out with a product portfolio in a range of sizes in 22″, 23", 24" and 27″. The series supports both Linux and Windows, and features ViewSonic's innovations, such as SuperClear technology, ergonomic design, and Eco Mode.
To go with Windows 8.1 advanced edition launched last October, ViewSonic cooperates with other vendors to develop new applications for touch technology and delivers a versatile solution for use in schools, hospitals, restaurants, hotels, museums, or exhibition displays. ViewSonic's touch screen monitors offer a highly intuitive touch experience and versatile applications that make ViewSonic a market leader in commercial displays market.
These may also be used in information kiosks, allowing users to access real-time and interactive information to meet individual requirements. In healthcare industry, many hospitals kiosks come with ViewSonic touchscreen monitors to improve self-service check-in process, and deliver information including schedule, directories and finding ways. The high accuracy of ViewSonic touchscreen technology enables multi-points gestures such as zoom in/out, rotation and drag.
For enterprise users, ViewSonic TD40 series (21.5-inch TD2240, 23-inch TD2340 and 27-inch TD2740) with 10-point projected capacitive touch screens offer a highly accurate and ultra-responsive touch experience—whether for web-browsing, gaming, typing, or applications execution. Compatible with both Windows 8 and Linux, the series provide flexibility for businessmen to operate. The TD series features ergonomics that allows the screen to be tilted and adjusted from 15 degrees to 70 degrees for more-efficient working environments, and the solid bookstand design keeps the display stable when touched. ViewSonic's SuperClear IPS technology offers 178-degree vertical and horizontal wide viewing angles and features accurate color reproduction.
Moreover, TD2240 Integrated with Mobile High-Definition Link (MHL) enables users to connect compatible mobile devices, such as smartphones and tablets, directly to the TD2240 display. This allows digital content from a mobile device to be viewed in stunning Full HD resolution on the larger screen of the TD2240, while also simultaneously charging the batteries of the mobile device. The TD2740 includes an integrated 1.0MP front webcam, speakers, and a microphone for video conferencing with Internet access.
To players in the amusement industry, hotels and casinos, ViewSonic touchscreen monitor offers a number of touch screen add-on options, such as checking for game schedule, game result, prize breakdown, game highlights, and game prediction. The multi-point projected capacitive touch screens allow even multiplayers to make bets on screen.
The implementation of touchscreen technology to POS in food service industry allows restaurant customers to engage with touch-screen ordering options, such as ordering meals, changing table cloth, gaming or checking out. The interactive ordering brings benefits while improving the speed and efficiency of a restaurant.
All of the TD40 touch displays feature a 7H scratch-resistant surface hardness to ensure a consistent, high-quality touch experience even in high-traffic areas.
"As touch screens have enjoyed widespread use in commercial applications, the traditional keyboard and mouse is no longer the only interface for people to get interaction with information system. ViewSonic is dedicated to develop touch screen products from the users' perspectives. Without the limitations of tools, the users can get a smooth experience with interactive interface." said Max Hsu, product marketing director of ViewSonic Asia Pacific.